The most expensive watches in the world. Top-15
14th place: Franck Muller Aeternitas Mega 4 - the most sophisticated mechanical wristwatch in the world, the cost of which reaches 2.7 million dollars. This creation of watchmaking in the body of white gold consists of 1483 parts. They are equipped with 36 functions, 25 of which are represented on the dial, dotted with nineteen hands. Aeternitas Mega 4 displays the time of three time zones, have a 999-day Gregorian calendar, a chronograph of the return course and the Westminster battle. You can buy unique watches only in New York and Geneva.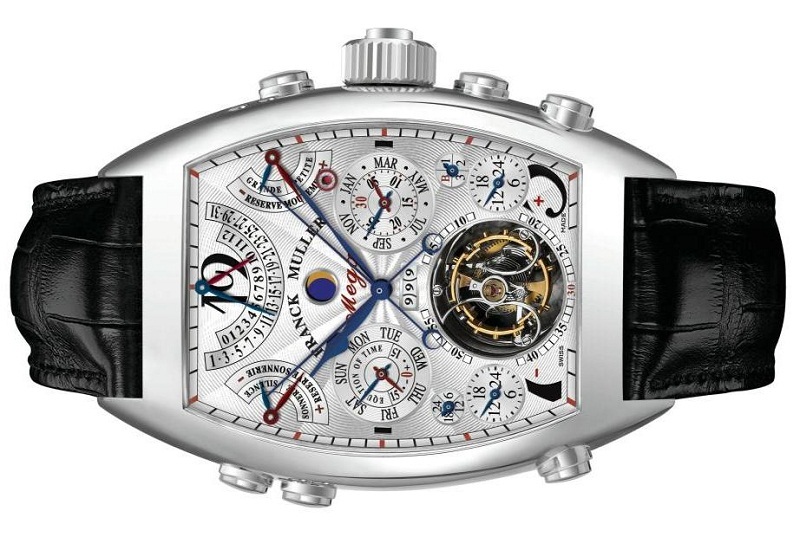 13th place: Cartier Secret Watch with Phoenix - a wristwatch in the form of a phoenix, made of rhodium and covered with 18-fold white gold. The body of the mythical bird is encrusted with 3010 diamonds weighing 80.13 carats. The eyes of the phoenix are pear-shaped emeralds and diamonds of 3.53 carats. The cost of this work of art is 2,755,000 conventional units.


12th place: The unique wristwatch of the famous Swiss company Patek Philippe, made in the distant 1942.Made of 18-carat gold, the accessory is equipped with a lunar phase indicator and an eternal calendar. Patek Philippe( 1942) were sold in November 2009 at Christie's auction in Geneva for $ 2,773,721.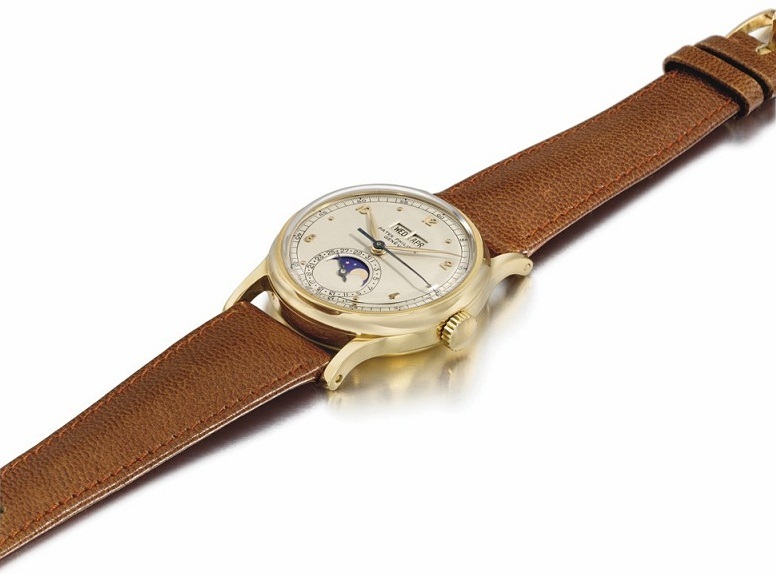 11th place: Patek Philippe Model 2523 Heures Universelles( 1953) - another creation of the famous watch manufacturer, sold in May 2012 at the Geneva auction of Christie's for 2,990,154 dollars. Gold wrist watches with sophisticated design show time in 24 time zones. The dial of the model is decorated with a picture of a map of North America from enamel.


10th place: Piaget Emperador Temple - a wristwatch representing a true triumph of luxury and brilliance. The accessory, made of 18-carat gold and inlaid with a huge amount of diamonds, was created in 2010.The top cover is decorated with 481 round diamonds and 207 baguettes. The dial is covered with 11 cut diamonds and 162 round cut diamonds, and the bracelet accommodates 350 baguettes. In total, two copies of Piaget Emperador Temple were released, but some of them have already been sold. The cost of the clock is 3.3 million dollars.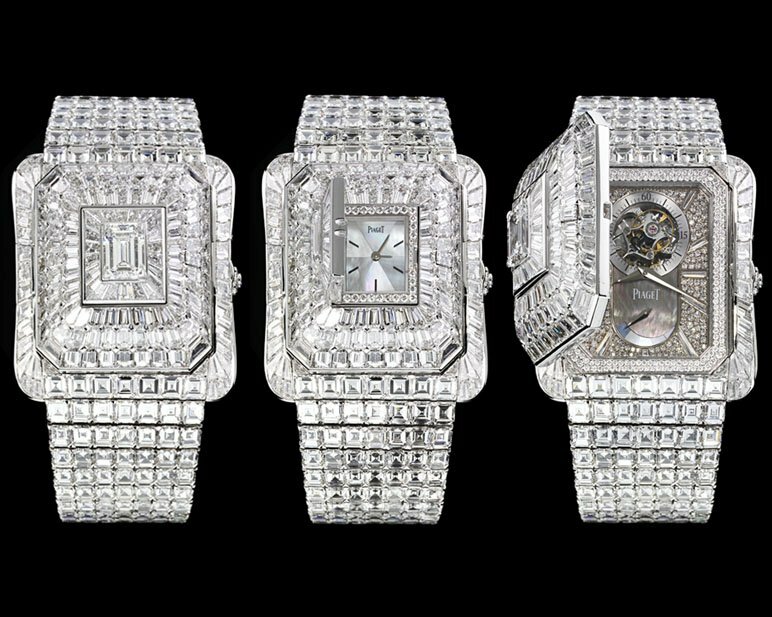 9th place: Patek Philippe Single-Button Chronograph Watch( 1928) - one-button chronograph pillow-shaped, created in 1928 by order of an anonymous buyer. They are made of 18-carat white gold and decorated with 28 precious stones. The sale of watches took place in May 2011 at Christie's auction, and the price paid for them was $ 3,637,408.


8-seat: JB Champion's platinum observatory chronometer - Wrist watch of 1952 produced by the masters of Patek Philippe company, commissioned by the legendary American collector J. B. Champion. In November 2012, at Christie's auction in Geneva, they were sold for 3,992,858 dollars. These are the most expensive watches in the world without complicated functions.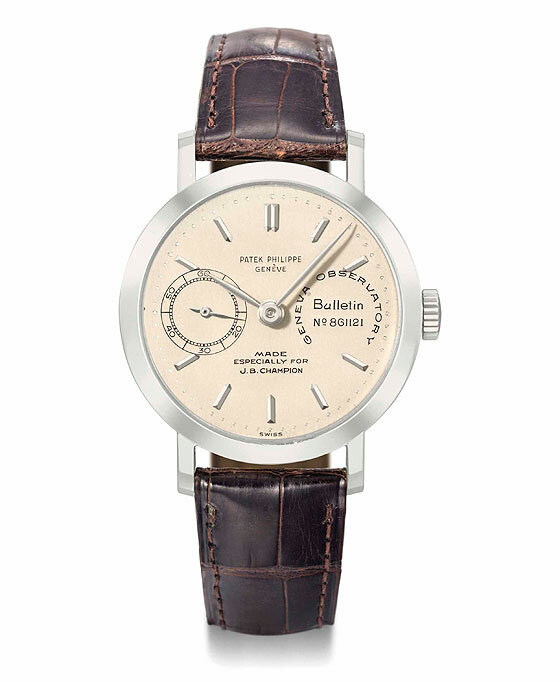 7th place: Patek Philippe Platinum World Time( 1939) - wristwatch of the great Swiss company, created by the famous Geneva watchmaker Louis Cottier in 1939.They are equipped with a self-winding mechanism that allows you to find out the time in any of the time zones of the globe, while the watches are distinguished by a reliable mechanism and elegant design. Patek Philippe Platinum World Time were sold at the Geneva auction of Antiquorum in 2002 for 4,026,524 conventional units.


6th place: Paris Precision Stopwatch by Breguet &Fils.- exquisite pocket watch with a stopwatch, made of 18-carat gold and platinum and decorated with precious stones. They represent the first experimental chronometer from Breguet, equipped with two dials with Roman and Arabic numerals. The first clock was purchased by Mr. Garcia in August 1814 at an auction in London for 5,000 francs. The latest price, which was given for them in May 2012 at Christie's auction, was 4,682,165 conventional units.


5th place: Patek Philippe Caliber 89 - a pocket watch with two dials, created in 1989 to the 150th anniversary of the famous Swiss company. They became the most difficult hours, released by Patek Philippe. In total, four copies were produced, each case of which was made of precious metal: yellow gold, rose gold, white gold and platinum. A luxurious accessory, the manufacture of which the watchmakers needed as much as 9 years of work, is decorated with 126 precious stones, consists of 1728 parts and has 33 functions. Weigh a unique watch 1.1 kg. The main features of Caliber 89 include: a calendar, a moon phase indicator, a chronograph, a thermometer, a chime and a star map. The cost of a unique watch is $ 5 million.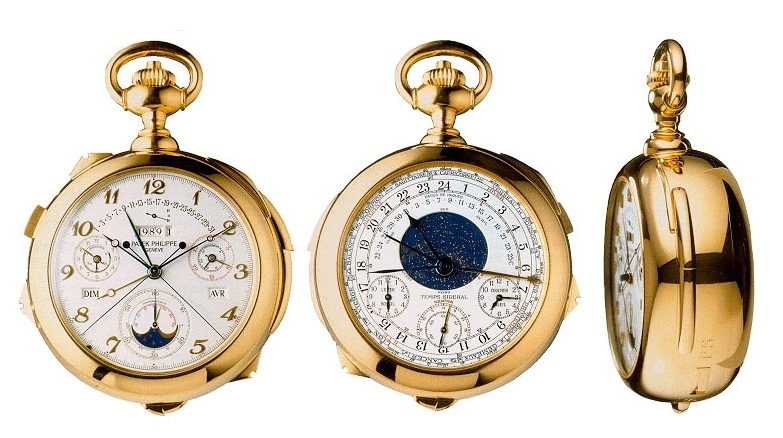 4th place: Patek Philippe Reference 1527 - classic wristwatch in 1943, made of gold using 23 precious stones. Originally belonged to the Stern family, which owns the brand Patek Philippe. The watch is equipped with a perpetual calendar and a phase indicator of the moon. At Christie's auction, which took place in May 2010, Patek Philippe Reference 1527 was bought for 5.63 million conventional units.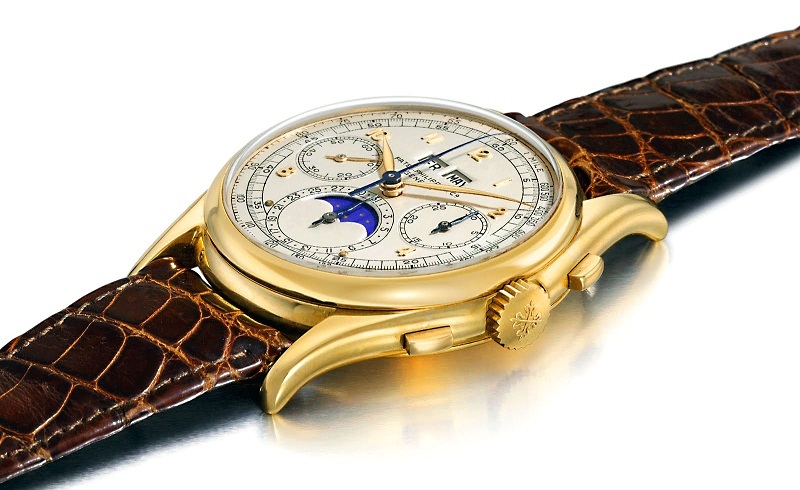 3rd place: Patek Philippe Henry Graves Supercomplication is a superexclusive watch model, born in 1932 as a result of a dispute between two rich American friends. They argued which of them will be the owner of the most difficult hours in the world. The winner was the New York banker Henry Graves, who ordered a watch from Patek Philippe. The fulfillment of this incredibly complex order took as long as 5 years. The watch, made of 18-carat gold and consisting of 900 parts, is equipped with 24 functions. An interesting feature of Patek Philippe Henry Graves Supercomplication is the starry sky on the dial, which looks exactly like the window of Graves' house in New York. In 1999, at the auction Sotheby's they were purchased by an anonymous buyer for 11,002,500 dollars and are now in the museum of watches in Geneva, Switzerland.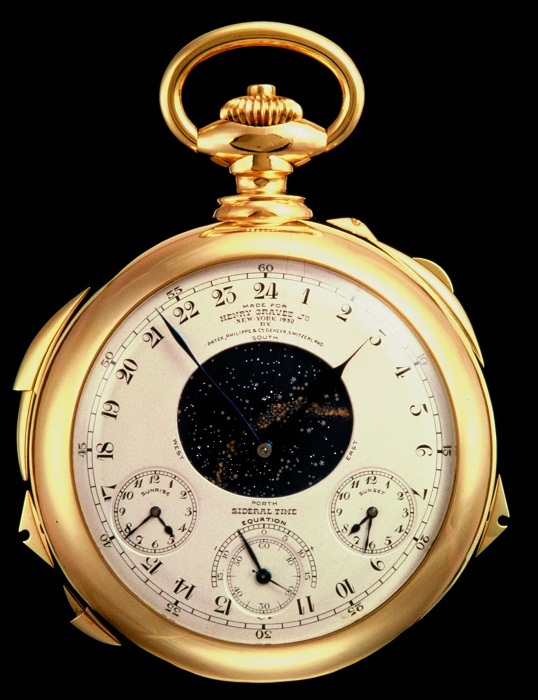 2nd place: 201-carat Chopard - exclusive watch-bracelet, combining the achievements of jewelry and watchmaking. Chopard released them in 2008.The watch is generously strewn with a mountain of diamonds, among which is a small dial. The three main heart-shaped diamonds - white, red and blue - are located around the dial. Their total weight is 38 carats, while the weight of all precious stones, the number of which reaches 874, is 200 carats. This work of art is estimated at $ 25 million.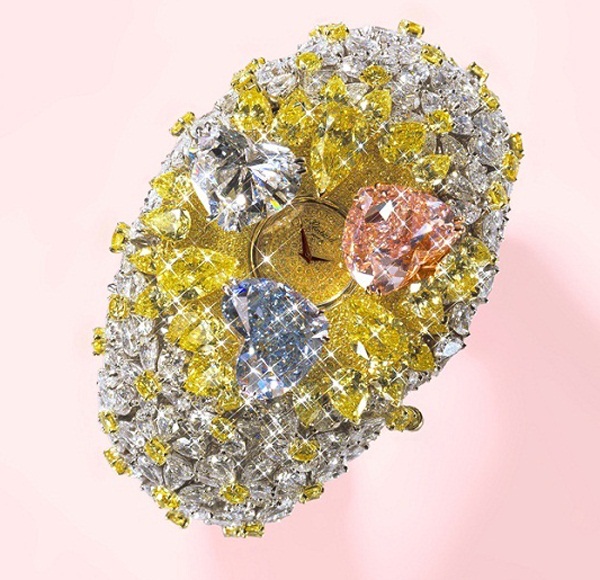 The winner of the rating is the watch of the Swiss brand Jaeger-LeCoultre - Joaillene Manchette, the approximate cost of which is 26 million dollars. They represent the latest model of the Joaillerie 101 series, equipped with a manual winding. The watch strap, made of white gold, is encrusted with 576 diamonds and 11 onyx crystals, and the silver dial of Joaillene Manchette is covered with sapphire crystal.
The watch is a timeless classic accessory that is not only a device for determining the exact time, but also an important component of the image of a modern person. Some of them are real works of art, striking not only for their beauty, but also for the complexity of the mechanism, which, of course, is reflected in their price.
We present to your attention 15 most expensive pocket and wristwatches in the world , the cost of which exceeds 2 million dollars.

15-place: Parmigiani Fleurier Fibonacci is pocket watch in white gold, decorated with inlay in the form of a lotus flower, which simulates the principle of the golden section of Fibonacci. The flower is strewn with diamonds, rubies, emeralds, sapphires and semiprecious stones weighing 49.5 carats. The watch is equipped with a perpetual calendar, minute repeater and a lunar phase indicator. Manufactured by Parmigiani Fleurier Fibonacci exclusively on request. The cost of a luxury accessory will be 2.4 million dollars, and the manufacturing process will last about 2 years.