The rating of the best vacuum cleaners for 2017.Top 10

9 place.
KARCHER SE 4002
The average price is 17 699 rubles. Washing vacuum cleaner with dust bag. Designed for high-quality cleaning of carpets, sofas and floors with hard coating. Easy to use, easy to clean and store. Separate tank for clean water: dirty water does not come in contact with clean water. The capacity of a container for clean water is 4 liters, for a dirty - 4 liters. There is a function of aromatization and a fine filter.
Reviews:
"Excellent quality of cleaning. All dirt easily merges into the sewer. Easy to clean. No consumables for wet cleaning. Powerful. If you shed something - it will easily collect everything. Serves for a year and no complaints. You can clean upholstered furniture by wet cleaning - all the dust leaves it. "
"Washes and vacuums. All this does very well. Easy to manage. Easy to disassemble and wash. There are no corners of any kind, and so on, wherever the dirt gets clogged tightly. Big wheels are easy to roll. "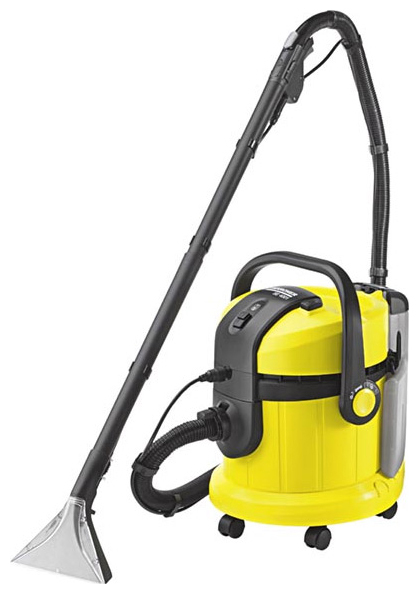 8 place.
ARNICA Hydra Rain Plus
The average price is 15 990 rubles. The washing vacuum cleaner with the aquafilter perfectly captures the dust with the help of the filtration system DWS.There is the possibility of sucking spilled liquids, as well as the function of blowing air and supplying shampoo. Easy to use. Suitable for allergy sufferers - there is a fine filter. After cleaning, the air becomes clean and fresh, and if you add water to the water, the whole house will be filled with an excellent fragrance.
Reviews:
"Excellent vacuum cleaner. Very high quality cleaning and washing. Carpet with strong and deep spots for 2 applications became like new, I did not expect at all, the color became like the new one. Turbobrushka in general a charm, all hair, all small mote simply sweeps out. The air becomes purer. "
"Strong, pulls out the oldest dirt. It is enough once a week to make a full cleaning with it, and the apartment will be perfectly clean( dust will not fly out of the cracks).Easy and convenient, even children cope. And how much we saved on dry cleaning of upholstered furniture! "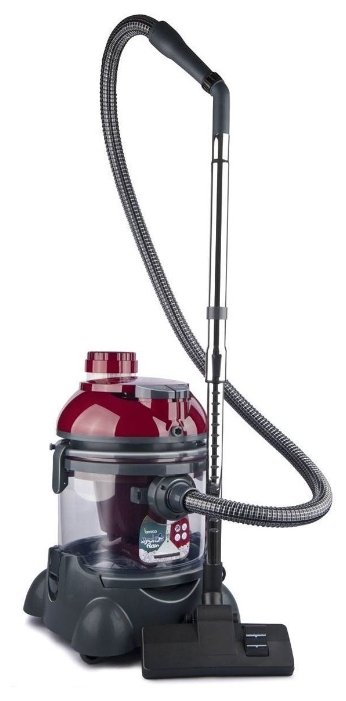 7 place.
Vax 6131
The average price is 17 990 rubles. Multifunctional washing vacuum cleaner with a dust bag with a capacity of 8 liters. The presence of a combined floor nozzle allows you to clean both carpet products and hard floor coverings. Also there are nozzles for cleaning upholstered furniture, stairs and hard-to-reach places. Fibneflow technology provides a deep wet cleaning of carpet nap. Vax 6131 washes away dust and dirt, leaving clean and updated carpeting. There is a function of collecting spilled liquids.
Reviews:
"Effective: after a weekly cleaning you realize that even if you just sleep at home, there is still dirt. Simple: a bucket, two filters, a motor. Convenient: because of the simplicity of the construction, it is enough to pour water into the toilet and rinse the bucket. In case of wet cleaning, flush the hose and hang it. Is going to be easy. "
"Wonderful vacuum cleaner washing, has been working for 15 years and perfectly cleans carpets. I am an asthmatic and for me it was just a rescue. Sucks just to death all. Carried out in the winter carpet by habit of snow, cleaned, and there was nothing to clean, the vacuum cleaner tried to glory. "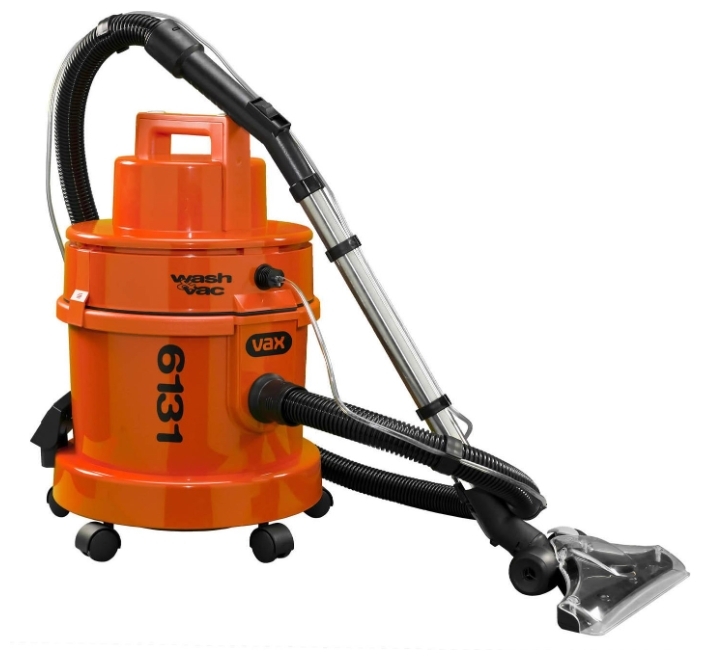 6 place.
Thomas SUPER 30S Aquafilter
The average price is 16 400 rubles. Washing vacuum cleaner with aquafilter. This device copes with pollution of any complexity due to the ability to combine wet and dry cleaning. As a dust collector here stands a container with a significant volume( 30 liters), which allows to clean up huge rooms. The volume of suction water in the wet harvesting mode is 11 liters, in the collection mode of liquids - 23 liters. Impressive and the capacity of the tank for detergent - 10 liters. Despite its size, the Thomas SUPER 30S Aquafilter consumes only 1400 watts, but this figure can be reduced if desired.
Reviews:
"I bought this vacuum cleaner for a country house. We have quite spacious areas there and it was important to choose the model that could master such a volume. So we did not lose. Due to the fact that he has just installed a huge water tank, you can wash the whole house without changing the water. "
"Wash the vacuum cleaner in 1 minute. Indispensable for repair, removes piles of construction debris, without reducing suction power and without dust. Excellent washes the floor, carpets, upholstered furniture, removes the dog's fur. Very unpretentious apparatus, can collect dust and pieces of concrete, a bucket of water from the floor collects for 1 minute. "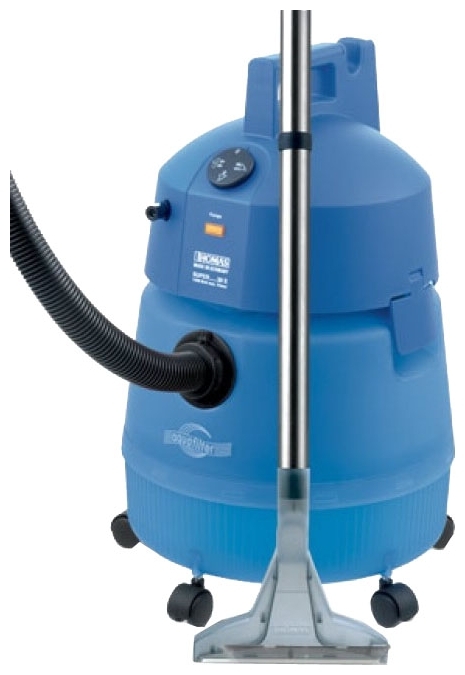 5 place.
KRAUSEN AQUA STAR
The average price is 19,990 rubles. Budget separator vacuum cleaner. A high degree of air purification( 99.9%) is provided by an aquafilter and a molecular separator. The possibility of connecting an electric brush-peening out allows to make a deep cleaning of carpets, carpets and upholstered furniture. There is a complete set of nozzles for any type of cleaning, as well as the functions of moisturizing, disinfection and aromatization.
Reviews:
"Very satisfied with the purchase - simple and powerful! For 20 minutes, I thoroughly vacuumed the kopeck piece.sucks in even the debris next to the brush. Very easy to operate. Care for him took another 5-7 minutes. The result of cleaning is impressive! "
" Vacuum cleaner is some kind of beast, sucks everything! By the way, they also clean the hamster cage - and with the sawdust, too, copes well and you can not be afraid that the filter will clog. Remarkably collected needles after the New Year tree. Easily disassembled and washed. "
"Very clean cleaning, easy cleaning, no extra.spending on bags, filters and other marketing nonsense. I use the fifth( !) Year. Family 6 people. Today I decided to check whether there are still such vacuum cleaners on sale, and if not enough. .. After using this model, interest in others disappeared completely. "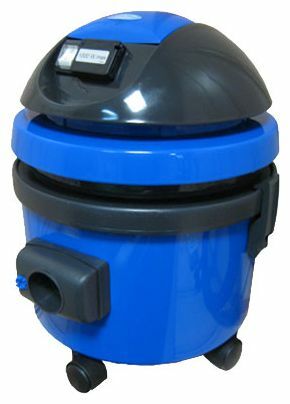 4 place.
Bissell 17132
Average price - 25 990 rub. Vertical washing vacuum cleaner for cleaning different types of coatings. In one pass this model will collect garbage, wipe off dirt and wash the floor. The vacuum cleaner is equipped with an aquafilter and has two water tanks: 820 ml for clean water and 480 ml for dirty water. Tanks are easily removed for easy filling and emptying. The fine filter effectively keeps the smallest dust particles. The brush is equipped with a backlight, the control is performed using the touch buttons. Removable electric brush is easily disassembled and cleaned. Due to its light weight, thoughtful design and a 7.5 m long power cord, the owner can easily move around the room during cleaning. There is a function of collecting fluid.
Reviews:
"We chose a vacuum cleaner for a long time, becausethe floor is whimsical to the water( the seams of the cork are swollen).The choice is very satisfied. Water collects perfectly, despite the low power. Divorce does not leave even on a glossy laminate. Mud( even dried up) collects much better than usual washing, wool collects. The tank for dirty water is very easy to clean, the brush is also washed in an elementary way( it takes 3 minutes to rinse the vacuum cleaner). "
"The presence of a wet cleaning and a soft roller do their job. Remarkably cleaned the rug at the front door - like a new one. Laminate also cleans up well due to a wet roller, all dust and hair are guaranteed to be removed. "

3 place.
Thomas Allergy &Family
Average price - 29 720 rub. The washing vacuum cleaner Thomas Allergy &The family is equipped with a HEPA 13 filter and microfiber inserts that hold small particulate matter, preventing them from entering the air. Eliminates more than 99.9% of fine dust and all common allergens. The Aquabox water filter cleans and saturates the air during cleaning. The set includes a large number of nozzles designed for cleaning various types of coatings and furniture. There is a function of collecting fluid. An external tank with a large capacity allows replenishing water and detergent supplies without disassembling the housing of the device.
Reviews:
"The option is just super suitable for families with children and animals! He just perfectly removes the wool from the sofas and other furniture, leaving the air cleaner than the incoming! They are my carpets, and they are now brand new! "
" Excellent cope with upholstered furniture and carpet. No cleaning services are required, the vacuum cleaner fully justifies the investment. "
"Very pleased with the purchase, for quite adequate money received 2 to 1. Now it is enough 2 times a week to vacuum and the apartment is clean and there is no need to wash it. Water absorbs so that this picture is fascinating, in the eyes of the puddle is dried and there are no stains and divorces. "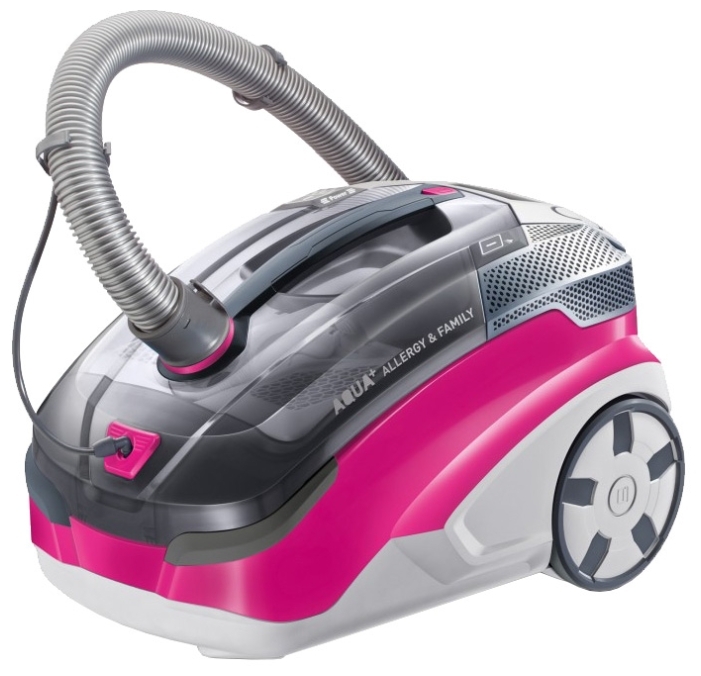 2 place.
MIE Ecologico Maxi
Average price - 41 940 rub. A vacuum cleaner with a water filter, a separator and a fine filter provides a highly efficient air purification from dust. A wide range of MIE Ecologico Maxi vacuum cleaners makes it possible to use it for a wide range of tasks: to remove dust from upholstered furniture, curtains and other interior items;for cleaning carpets and smooth surfaces;to eliminate hard-to-remove dry dust, and also to clean various equipment, household appliances, clothes and shoes. Also there are special nozzles for dry cleaning of upholstered furniture, carpets and carpets. Especially for the detergent the vacuum cleaner is equipped with a tank of 3 liters.
Reviews:
"I was interested in this model, becausefirst, it is separator, and secondly, it has arranged me at a price, it is much cheaper than analogues. They can vacuum the whole house without shaking the bag, all the dust settles in the water, just rinsed the tank after work and everything. And he also cleans the air, this is a nice bonus, after vacuuming he smells not of overheated vacuum, but of freshness. "
"Only aquafilter, without additional replaceable filters. High suction power, long cord, many additional attachments, low price for vacuum cleaner with separator. Quickly cleaned after cleaning. "
"This is a universal cleaning machine. I - dust allergic immediately noticed that the air became purer. The vacuum cleaner has a high suction power, so it cleans carpets and furniture, tiles well. "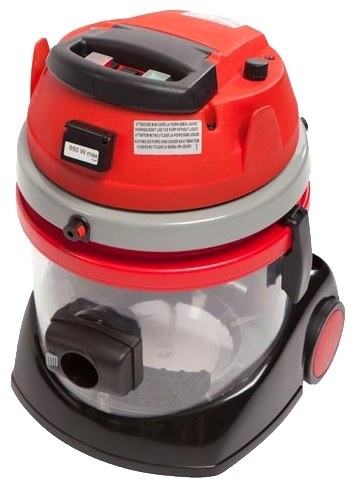 1 place.
Polti FAV30
Average price - 32 390 rub. Steam cleaner, combining a steam cleaner and a vacuum cleaner with aquafiltration. Steam under pressure quickly cleans the surface, and all dirt is absorbed by the vacuum cleaner. Ideal for deep cleaning of any surfaces, fighting ticks, microbes and pathogens. It is intended for people suffering from allergies, as well as for families with young children. In this model, an economical engine up to 1350 W is used. There is a collection function and a fine filter.
Reviews:
"I helped get rid of mold in the bath, steamed all the joints, carpets, all the problem areas. The most important thing is that all this without straining, which always accompanied me during cleaning. There are all running nozzles, a foot switch on the body, a power regulator on the handle. Made with the mind. "
"Good suction power, convenient handle with a steam feed button, a variety of nozzles. Well steamed carpets! For a long time, there is enough water for the steam boiler( more than a liter!) "Goes" in different directions, wherever you kick it - it goes well! "
" I sat on the Internet for a while choosing a model. Chose in the end Polti FAV30, albeit a little expensive, but as it turned out it's worth it. Removes the vacuum cleaner with just one easy movement of the hand. You enjoy the cleaning. It does not work loudly, but the absorption is excellent. In general, it is worth its money. "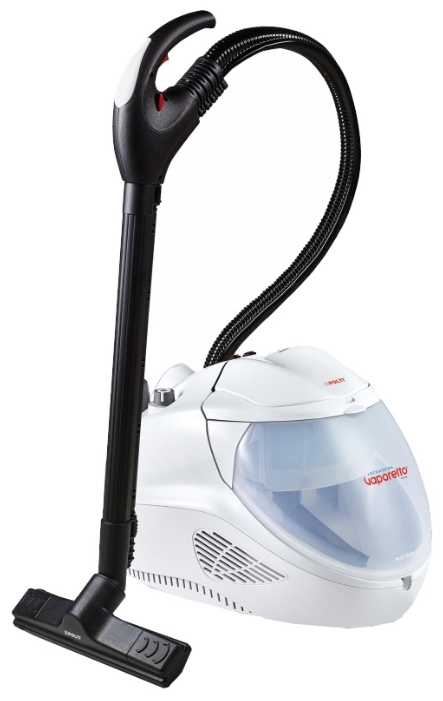 Vacuum cleaners of washing type not only clean the surface of dust, but also allow wet cleaning. To buy a good vacuum cleaner you need to take into account the features of the main characteristics of the proposed models.
As dust collectors in modern detergents vacuum cleaners are used:
• Dust bags.
Vacuum cleaner with an ordinary bag will cost less, but it will have to regularly shake out the garbage, which is not very pleasant, but for allergic people and is completely unacceptable.
• Cyclonic filters.
Cyclonic filter is much easier to clean - the dust in it is pressed and easily shaken out of the container. However, a vacuum cleaner with a cyclone filter is usually more noisy than other models and does not handle the fine dust well enough.
• Aquafilters.
All collected dust in such a dust collector settles in the water and air in the room after cleaning becomes much cleaner. To empty the container, pour out dirty water. However, it is necessary to do this after each use of the vacuum cleaner and this is the only drawback of dust collectors of this type.
To keep dust inside the vacuum cleaner, fine filters are installed at the output. For people suffering from allergies and chronic diseases of the respiratory system, their presence is mandatory. The task of cleaning the air coming from the vacuum cleaner is perfectly handled by HEPA filters.
Additional functions of washing vacuum cleaners can be: air aromatization, liquid suction, pipe cleaning. If the vacuum cleaner has a deodorizer, then during the cleaning it will be possible to use the possibility of spraying aromatic liquids.
Water suction function is useful not only in force majeure situations, such as water pipe leakage or washing machine breakage. It is necessary, first of all, to care for the vacuum cleaner itself, since after cleaning it is necessary to wash the container and the pipe with the hose and nozzles. Manually, this is quite difficult, it is much easier to lower the nozzle into a container of clean water and turn on the suction function.
In today's rating, we tried to determine which washing vacuum cleaner is better and made the top 10 most successful models for 2017.

The rating took into account the technical characteristics of washing vacuum cleaners and reviews from the Yandex-Market.

10 place.
Philips FC 6400
Average price - 16 990 rub. Vertical rechargeable vacuum cleaner with cyclone filter. Light and compact, able to work up to 30 minutes on a single charge of the battery and perform cleaning up to 50 square meters of room with a single filling of the tank. Switching between dry and wet cleaning is done in one motion thanks to the magnetic attachment of the nozzle;The dust collection container is also quickly cleaned. A three-layer washable foam filter detects microscopic particles from 3 microns, is easy to clean and can be reused. There is a collection function and a fine filter. The absence of wires allows you to easily reach the most remote places in the house.
Reviews:
"Very light and compact, the battery lasts for 20-25 minutes, it's enough to vacuum a 2-room apartment. Very easy to clean. With regard to wet cleaning, roughly the same as that of the Thomas, only there water is supplied under pressure and absorbed along with the mud, then water is fed to a rag that rubs the floor behind it. The result is the same! Only the filips are lighter, without a wire and 100 times easier to clean! ".
"This vacuum cleaner is ideal for daily cleaning, but not for the general. This should be taken into account immediately when buying, so that you do not get disappointed. He will come to the rescue at once, if something is spilled / spilled, if the house has children and animals. It does its job qualitatively. In our family he became an indispensable assistant. "