Music raises our mood, makes us relax or gather, forget about problems and rejoice at every moment. And every car enthusiast wants to enjoy only the cleanest and most powerful sound during long trips. Therefore, to improve the sound of car radio, you want to choose the best amplifier, combining excellent quality for a reasonable price.
To get confused when choosing a car 1-channel amplifier, presented on the market by various manufacturers, it is quite simple. Therefore, based on the data obtained through weekly monitoring of customer demand, we compiled a rating of 1-channel monoblocks , which included the five most popular models.
5 place: Kicx QS-1.350
4th place: MacAudio MPX Mono
3rd place: DLS MAD11
2nd place: Kicx QS-1.900
1st place: Mystery MR1.300
5th place: Kicx QS-1.350
Inexpensiveamplifier, which has quite high technical parameters, capable of pumping your subwoofer and CD player to the maximum. Low distortion of sound at very high power, unpretentious to the load, very clean low and high frequency filters bring the timbre of sound closer to the level of home HI-FI.
4th place: MacAudio MPX Mono
Amplifier developed by the oldest European manufacturer of car audio systems. Has a high-quality, clean and balanced sound, and at the same time has a fairly democratic price.
LPF 40-300 Hz, 12 dB / ok;
Bass Boost 0-12 dB, 45 Hz.
3rd place: DLS MAD11
Amplifiers that have not only great sound, but also impressive design have long won the recognition of car enthusiasts all over the world. Has excellent technical characteristics, which fully justify the cost of a monoblock:
low pass filter LPF: 15-150 Hz( 24 dB / oct);
Bass Boost 0-18 dB;
2 place: Kicx QS-1.900
Excellent output power performance, which few of the analogs succeeded to surpass, and even more to surpass:
Frequency of LPF 40 - 180 Hz;
Bass Boost - 12 dB
Cost, with such parameters leaves behind many competitors. A special feature are the power clamps, which allow you to connect a cable with a diameter of 12.5 mm.


1 place: Mystery MR1.300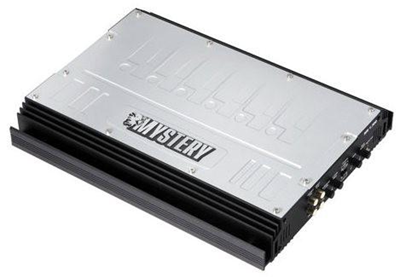 And the title of the best 1-channel amplifier deservedly gets Mystery MR1.300.Low cost and high enough technical parameters, not inferior to the best analogs, allowed this audio amplifier to break into the leading position in the weekly rating:
Low-pass filter 50-250 Hz( 18 dB / Oct);
Low-pass filter: 20 Hz( +18 dB).