The best inflatable pools for villas( according to reviews).Top 5
With the choice of a swimming pool for a dacha where children can swim or lie in the water, adults, sooner or later, most owners of suburban areas face. It is very convenient on hot summer days: you do not have to go anywhere, the pond is always near and you can refresh yourself in cool water at any moment.
If you want to save money and choose an inflatable pool, then it is worth considering that this design is not too durable. Even high-quality models can lose weight as a result of improper storage. In addition, the pool material is easily pierced with sharp objects, including claws of animals.
But inflatable pools are compact and easy to install. They can easily be inflated and filled with water alone. Inflatable structures do not require special surface preparation. This is the cheapest option compared to other types of family pools.
Modern inflatable pools have a similar design: a soft inflatable shaft attached to a waterproof base. For installation it is necessary to spread the pool on the surface where it is planned to use it and pump the shaft. When filling with water, the inflatable part will independently float, and the waterproof base will hold water, gradually forming the walls.
Despite the fact that the inflatable pools are not longevity, with the right choice, proper care and storage, they can serve you more than one season. On an example of models of average sizes in volume about 2 thousand liters we have made a rating of 5 most reliable family inflatable pools.
5 place.
Bestway Fast Set
Average price - 4 450 rub. Diameter 244 cm. Depth 66 cm. The volume of 2300 liters. There are models, both classical round shape, and elongated oval. The base is made of reinforced polyvinyl chloride. The bottom of the pool is hard. It is installed on a flat solid surface. Water pump with cartridge filter included. Some owners complain about insufficient tightness of a cork of an inflatable shaft.
From the reviews:
"We got an excellent pool! No complaints whatsoever. Children from it do not go out in the heat, and we are adults the same way. Very capacious, three children( 5, 7, 13 years old) find their place to freely buy and splash. Four adults are also free to sit( sit and refresh).Yes, and for such a price. So we are happy! ".
4 place.
Bestway 57265
Average price - 2 040 rub. Diameter 244 cm. Depth 66 cm. The volume of 2300 liters. The walls of the pool are made of reinforced PVC with an external polyester layer. The bottom of the pool is hard.
Reviews:
"It turned out strong, we have been using it for several years - it does not break. It is not very convenient that you often have to change the water - five times the minimum. And to wash it is inconvenient, since it is necessary to wash it down. "
"The pool for three months we poured ten times and drained( because the water becomes turbid).During this time, nothing happened to the pool. He survived May, June, July and August. So I can safely recommend it to buy. Comfortable and high-quality. "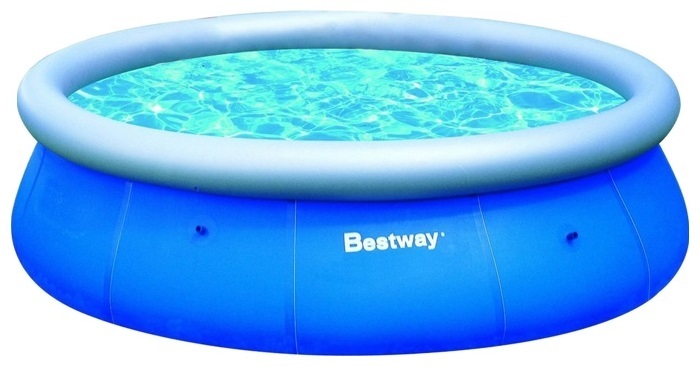 3 place.
Jilong Prompt Set
Average price - 4 790 rub. The diameter of 240 cm. Depth of 63 cm. The volume of 2074 liters. Made of durable three-layer PVC.A special support structure with a hard bottom preserves the spatial stability of the pool. Water pump with cartridge filter included.
Reviews:
"The material from which the pool is made is very durable, you need to try to damage it. It's time to clean the pool - and that's not a problem. It is not difficult to fold back into a compact position. I recommend those who will have to put up and clean the pool during the summer. You will not regret".
"Super strong, jumped three together - not torn. True, the sidewalls were slightly blown away, apparently from the anomalous heat. "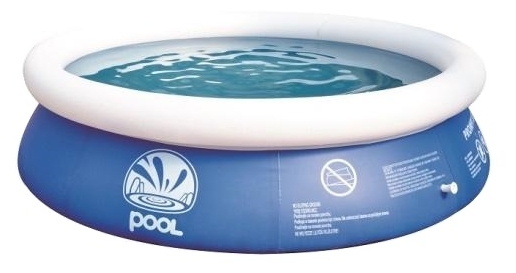 2 place.
Summer Escapes Р21
Average price - 2 343 rub. Diameter 243 cm. Depth 76 cm. The volume of 2960 liters. Inexpensive and roomy. The base consists of three layers of dense vinyl and one outer polyester for special strength. The bottom of the pool is hard. Does not require special preparation of soil.
From the reviews:
"Comfortable, durable, roomy. Have got this pool in the summer, it is good and comfortable, pretty durable, I like everything with my family, I advise everyone! ".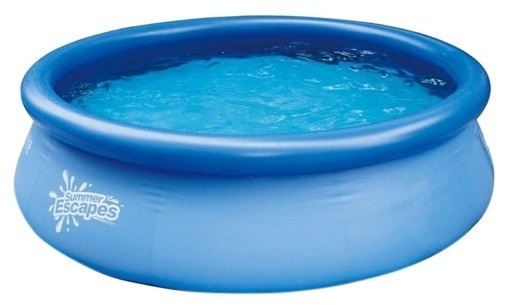 1 place.
Intex Easy Set
Average price - 2 328 rubles. The diameter is 244 cm. The depth is 76 cm. The volume is 2420 liters. Comfortable and high-quality model at a bargain price. Technology SUPER-TOUGH( two layers of dense vinyl and one - external - polyester) gives the walls of the pool triple strength. The bottom is soft inflatable. Installation of the pool does not require special ground preparation.
Reviews:
"I like both adults and children. Without a filter, water was often changed. We bought a filter - now it's good. "
"Two seasons have worked on hurray, on the third the inflatable ring began to" etch "in connection with what, it needs to be pumped 2 times a day. I'm buying a new one now, the same. "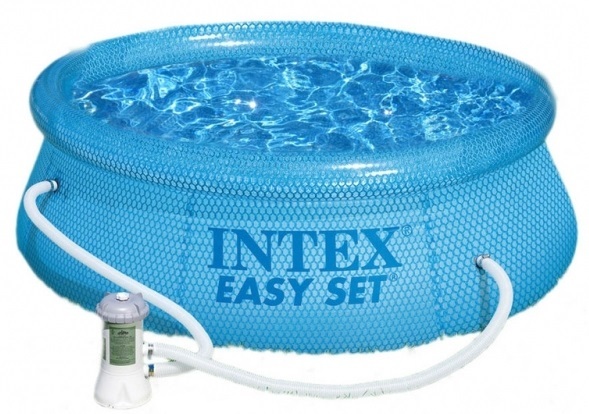 see also The best framed pools for summer cottages