The best face powder for buyers' reviews
The choice of the ideal powder for any woman is akin to finding the meaning of life. Ladies buy up new items and simultaneously look for old models that they once liked. On the dressing table and in the cosmetic bag there are lots of cases: for day and evening make-up, for the base and finishing make-up. Separately acquired shades for winter and summer, when the face will be covered with sunburn. In general, powder does not happen much. But how to avoid disappointment when buying another magic box that does not live up to expectations? Yes it is very simple - to get acquainted with our rating of decorative cosmetics, compiled from the reviews of the same looking customers.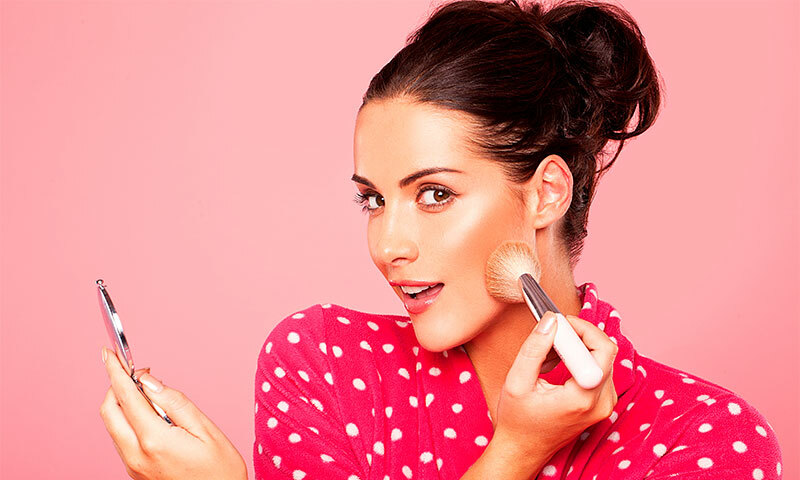 Contents:
Face powder which company choose
Best compact powder
Best powdery powder
Best baked powder
Best ball powder
What face powder to buy
Face powder which company to choose
The list of the best manufacturers of quality decorative cosmetics is extensive andmany are known. They are mostly eminent brands, which we see every day in magazines and on TV:
1. Christian Dior
2. Bourjois
3. Max Factor
4. Givenchy
5. Chanel
6. Guerlain
7. Pupa
There are worthy copies of less popular brands that have recently entered our market or are known only in the narrow professional make-up environment. These include the brand:
1. Shiseido
2. Smashbox
3. Viviene Sabo
But, of course, the powder should be chosen not by the name on the case, and in accordance with the characteristics of the skin and make-up requirements.
Top compact powder
Diorskin Forever Compact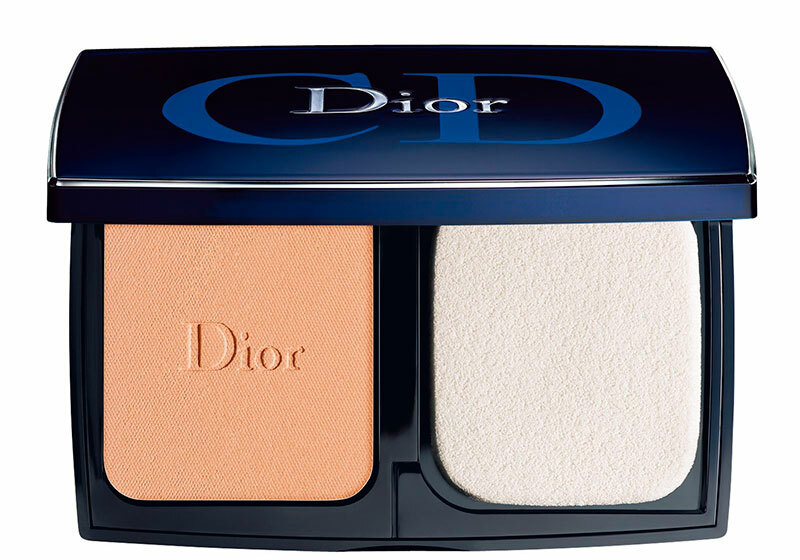 Resistant to moisture powder-base provides an unexpectedly high level of skin protection against ultraviolet radiation - SPF 25. The case comes in a velvet pouch, and if the box to turn, you can see that the main unit in it - shift. When the beloved powder is finished, it is enough to buy a "spare" with the right number and use it further - it will be cheaper.
Pros:
Pleasant texture and very fine grinding;
Gives the skin a light satin glow;
It does a good job of masking small defects, redness and dark circles;
Copes with greasy sheen up to 6 hours;
Economically consumed;
There is a compartment for sponge in the case;
Pretty stubbornly tolerates the fall.
Cons:
Displays flaky skin areas;
On repeated application, the layer becomes too heavy and noticeable.
It's not advisable to correct Diorskin's make-up - it can only be applied again on cleansed skin or use lighter finishing agents. For maximum correction, it is better to take a sponge, the brush will give a layer of medium density.
Bourjois Healthy Balance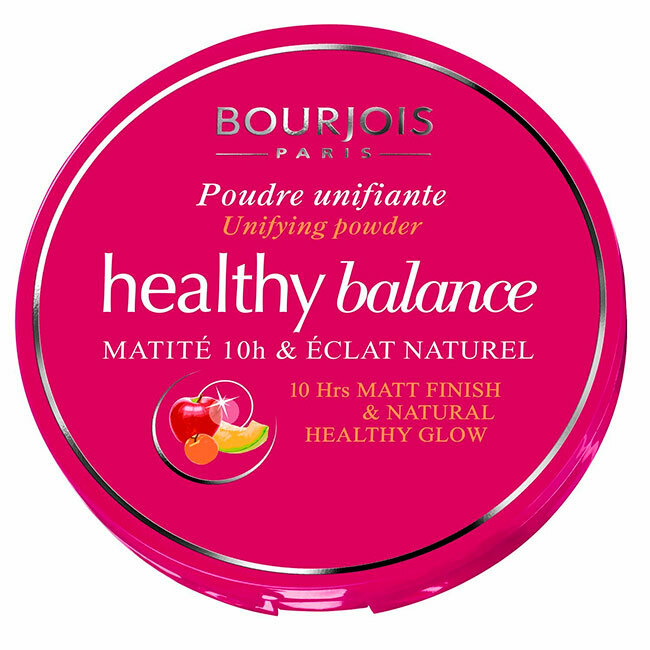 «Healthy balance" contains natural fruit extracts to nourish the skin: a good mix of antioxidants, regenerating and moisturizing ingredients. Compact powder is suitable for all skin types, because, among other things, it also has a matting effect.
Pros:
Pleasant fruity smell;
Keeps on the skin for 5 to 10 hours without slipping or showering;
Good matting;
Does not overdry the skin;
Does not clog pores;
Hypoallergenic composition;
Affordable price - all the same this powder from the category of masses-markets.
Cons:
The standard sponge does not fit into the case, but its own is not provided;
Some shades are given in yellow and orange;
Does not hide redness on the skin.
Shiseido Pureness Matifying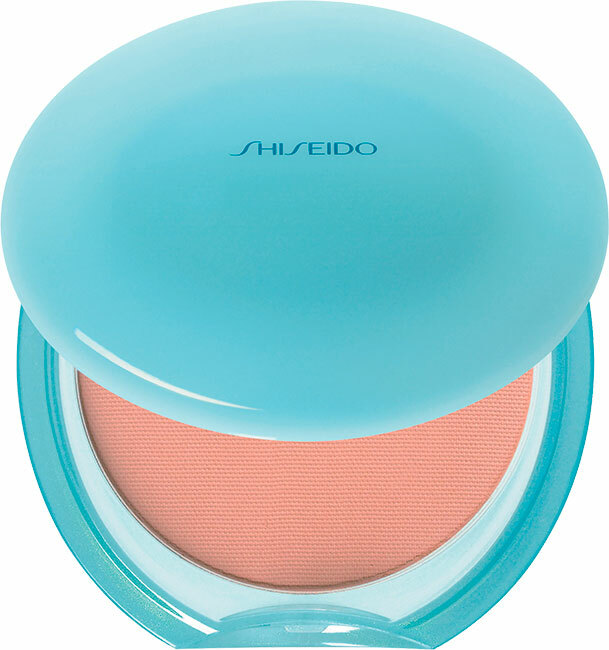 Compact powder, developed for oily skin, can be used on both normal and combined, prone to acne. Also in its formula included components SPF 15, protecting the face from photoaging.
Pros:
Well masks extended pores;
Aligns the overall tone;
Has a long matt effect even in hot weather;
Gentle texture and very fine grinding;
Oil-free;
On sale you can find interchangeable blocks;
Very compact package, although the powder weight is slightly more than usual - 11 g.
Cons:
Small mirror;
With serious defects can not cope;
On dry skin, it emphasizes peeling, but this powder is not intended for it.
Shiseido Pureness is suitable for finishing make-up, but can be applied directly to an easy base. However, when choosing shades, you need to remember that almost all the colors come with a yellow sub-ton. But on a summer tan or a swarthy skin they lie perfectly.
Max Factor FaceFinity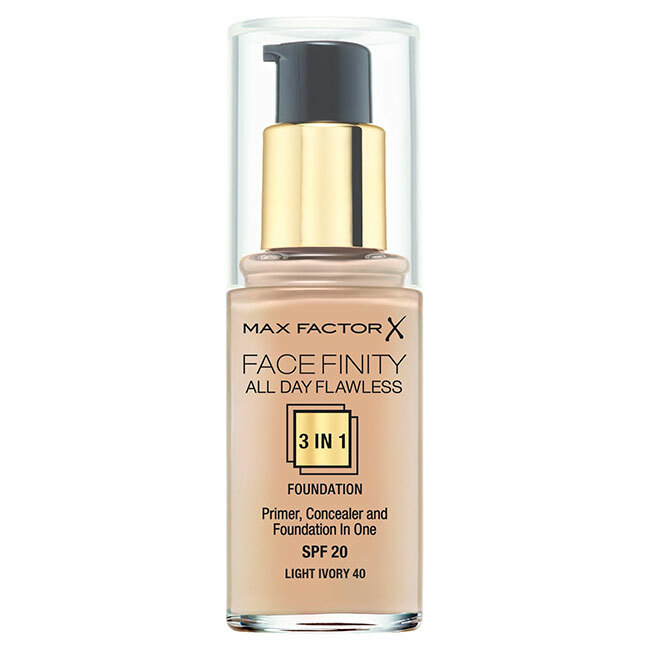 Compact powder with a level of protection SPF 15 gives a light matt effect, while it has good water resistance. It includes nutritional and moisturizing components, extremely necessary for dry skin. This product is universal and can be used as a basis or for final fixing of make-up. It is produced in 7 popular shades - alas, only 3 of them are suitable for fair-skinned Slavs.
Pros:
Well masks small defects;
Evenly falls even on oily and combination skin;
Allows re-application without mask effect;
Does not shower and does not float during the day;
Does not contain fragrances;
Large mirror in the case;
Adequate price.
Cons:
Without foundation or concealer does not cope with serious flaws on the face;
Not suitable for application with a wide brush - it is better to use a sponge or dense kabuki.
This powder is suitable for daily use and correction of make-up. Moreover, the type of skin does not play a decisive role - the product does not cause a sensation of dryness and does not cause fatty patches. But the coating gives an average density.
Best powdery powder
Givenchy Prisme Libre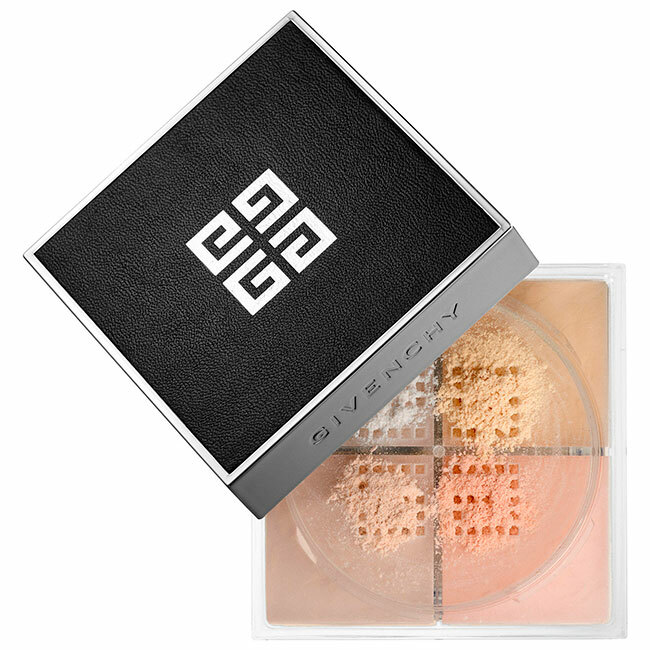 Probably the most famous powder in the world, the demand for which has not fallen for 11 years. It is a whole palette of 4 natural shades - each in a separate compartment of a transparent box( 4x3 g).The texture of all four means is absolutely identical, so that you can create your own shades from them. Powder is perfumed with a composition with the aroma of rose and white flowers.
Pros:
The puff does not allow shades to pour out through the dispensers and mix themselves;
Economical consumption;
Beautiful fragrance of perfumed perfume;
A good clarifying and matting effect for 4 hours;
Lays down very light, imperceptible layer;
Aligns the color, but it remains invisible.
Cons:
Does not hide skin defects;
Stresses peeling;
The puff is too small and is suitable only for recruiting the right amount of powder.
Prisme Libre is available in 6 different palettes. In all "light" sets, white powder comes with the addition of shimmers, which create a pearl shine on the skin. It is applied as a fixator on a foundation, practically without changing its shade.
Chanel Vitalumière Loose Powder Foundation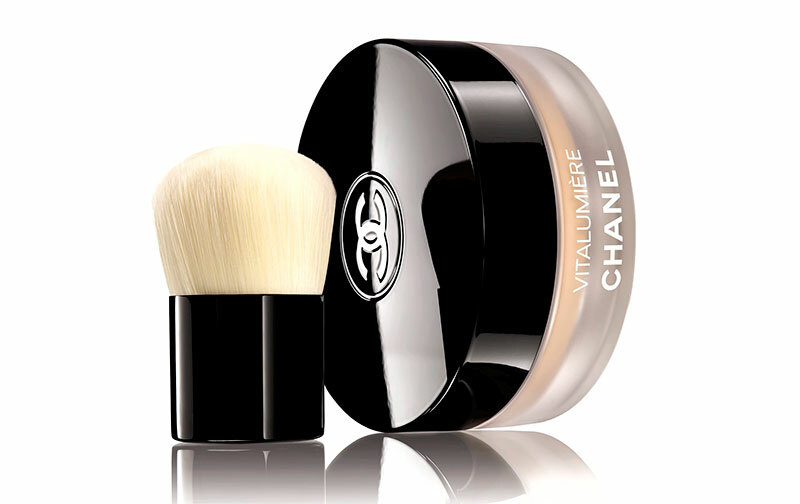 This is a miracle of makeup on the market for only 3 years, but already quite claims to be a legend. In the jar, it looks like an ordinary "rassypushka", but on the face turns into a coating akin to a soft foundation. Reflective particles optically mask small age defects, and the powder itself has a level of UV protection SPF15.
Pros:
Convenient mesh dispenser made of fabric;
On normal skin it lasts up to 6 hours, although it will swim earlier on greasy skin;
Comes with a kabuki brush - very dense and gentle;
A pleasant and unobtrusive smell with pink notes;
Silky texture;
Aligns the overall shade of the skin and visually makes it smoother;
No sensation of severity after application;
Needs no finish.
Cons:
If you overdo with the amount of powder, you can get the effect of a mask;
With dense application or polishing, it emphasizes large pores;
Unsuccessful shade step - some women simply will not find "their" color.
This powder is able to replace several cosmetic products at once: foundation, highlighter, finish. It all depends on the chosen tool and the method of application. The easiest effect can be obtained with a simple soft brush for make-up.
Smashbox Halo Hydrating Perfecting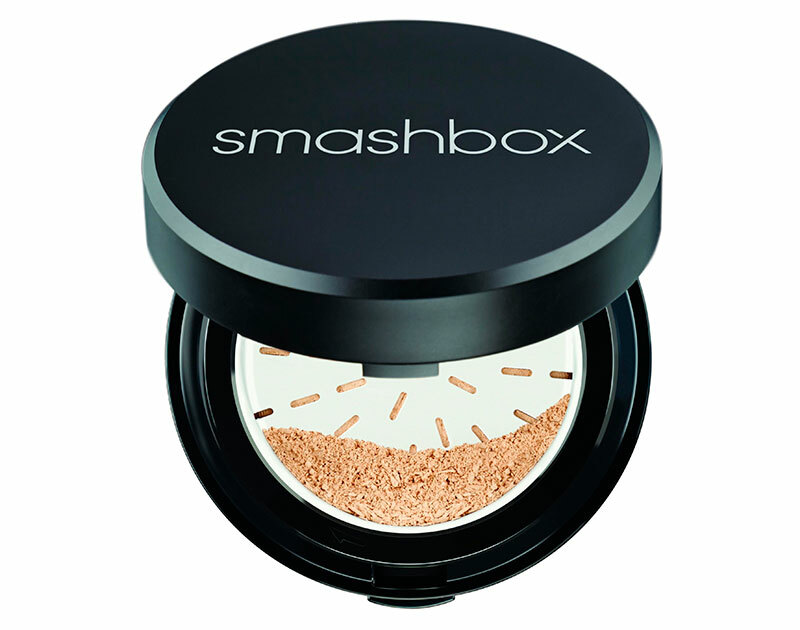 Velvety friable powder for all skin types - moisturizes dry and matters greasy. The composition includes natural antioxidants( extract of berry derebs) and anti-aging components. Unlike other "rassypushek" this powder originally pressed. In the case under the rotatable lid is hidden the blade, which cuts off a thin layer of the medium and only then it is fed to the dispenser grid.
Pros:
Excellent durability;
Gives a thin veil coating;
Aligns complexion and hides transitions from foundation;
The effect of the internal radiance of the skin;
Slightly smoothes the pores;
Has an average matting effect;
Sensible hydration;
Mirror under the lid is a great rarity for "home" friable powder.
Cons:
Small package - 3.4 g;
Not everyone likes the smell, but it quickly vanishes;
Rarely found in the domestic market;
A small selection of shades.
This powder can also be found in the set of sets from Smashbox, but its price frightens off many. On the other hand, we are talking about a professional means for make-up, and not just about luxury cosmetics.
The best baked powders
These newfangled products do not contain fragrances and perfectly suit everyone who has a pronounced allergy to cosmetics. Alas, the use of baked powder is not recommended for oily skin - on it such makeup is kept worst of all: quickly rolls down and creeps. Hence, there are some negative reviews.
Pupa Luminys Baked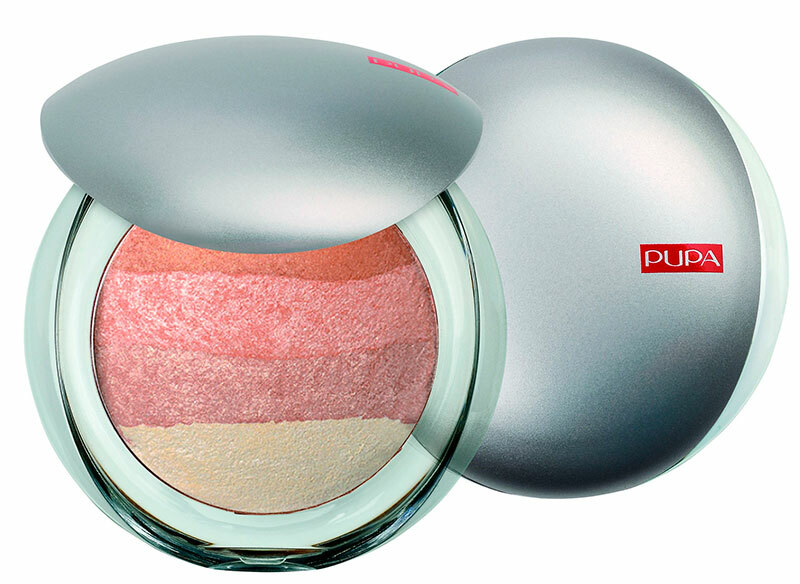 The most popular baked powder in our market contains jojoba extract, which cares for the skin and retains moisture in the cells. The capsule is 8 cm in diameter, but not at all compact due to its bulk. The powder itself deserved very high marks from the customers.
Pros:
Good mirror under the lid - clear and distortion-free;
Not a bad masking effect, including large pores;
Economical consumption;
Does not cause allergy;
Moderate amount of light reflecting particles;
Does not emphasize fine wrinkles;
Light, non-irritating scent;
Lays flat and natural, without clogging pores;
Does not require the use of tonal basis, maximum - concealer for problem areas.
Cons:
Dear;
Sponges of poor quality quickly become unusable;
Dense texture - to apply better, take a hard brush.
Chanel Luminys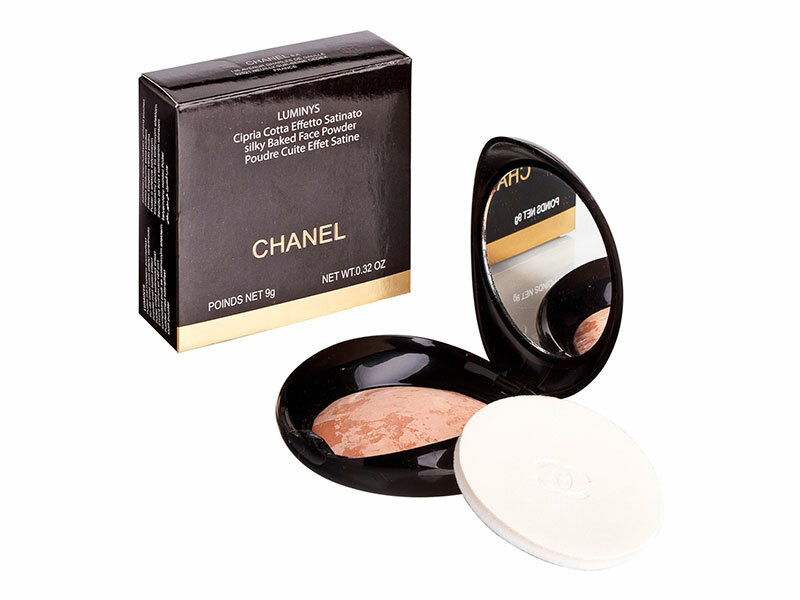 This baked powder is not as popular as Pupa, but it also has its advantages. Chanel Luminys with matting effect well aligns the skin tone with a medium-density texture. Contains photoreflective particles that give the skin a more fresh look. The powder is intended for dry application and is produced in weight in 9 g. On the sale there are more often dark numbers, which are positioned as bronzers, but for the light skin there are suitable shades.
Pros:
Very resistant - on the face holds up to 12 h;
Masks various skin defects and redness;
Unobtrusive aroma;
Convenient sponge in the kit;
Affordable price.
Cons:
It's not easy to find on sale;
There are no light colors - all give the effect of at least an easy tan on the face.
The best ball powder
Guerlain Meteorites Light Revealing Pearls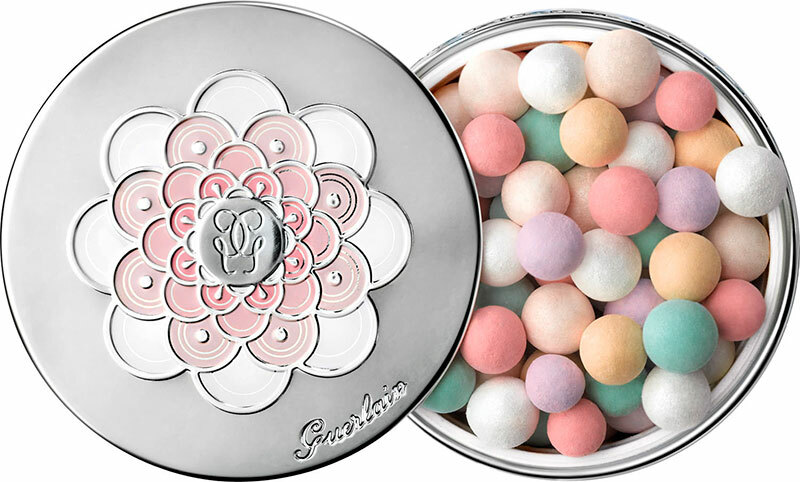 A veil with a shimmering sheen is a mixture of colored mineral balls. Each shade here is responsible for its effect: pink animates and refreshes the face, green hides the red, white gives clarification, the lilac reflects the rays, creating optical masking, and the golden one gives the skin a special radiance."Meteorites" are available in 4 palettes for different shades of skin.
Pros:
Soft beads - powder is easily recruited by brush;
Can be applied to the face dry and wet, as well as polishing;
Invisible transitions between powdered and clean skin areas;
You can put pink balls and use them instead of blush;
Luxurious jar, persistent fragrance;
Very thin coating - really like a veil.
Cons:
The effect of damp skin due to the excess of mother of pearl is not everyone likes;
It is not recommended to apply combined skin to the T-zone.
Guerlain Meteorites - great for bright evening make-up. In the electric light sequins literally shine on the face, under natural light they are not so noticeable.
Vivienne Sabo Poudre Mélange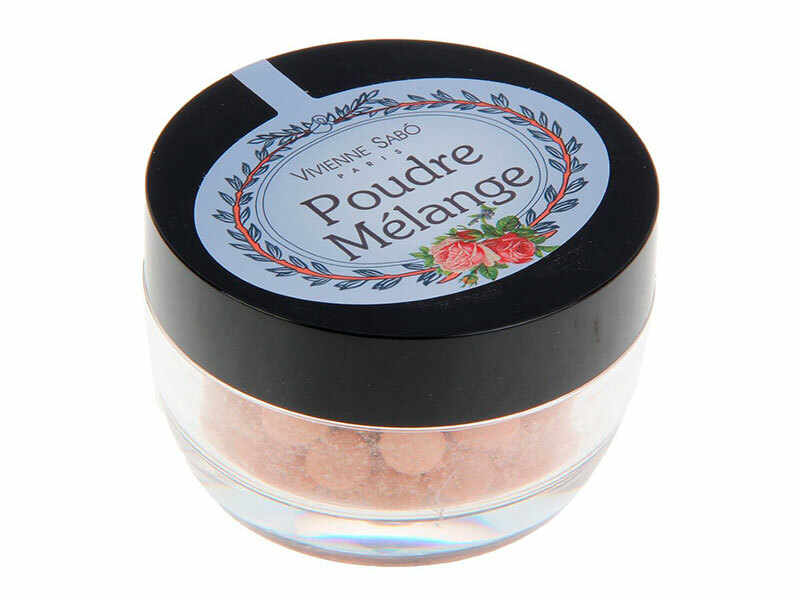 This powder, on the contrary - has a matting effect due to the talc content and is ideal for daytime makeup. However, a light elegant flicker after application is also present here, but it is noticeable only under artificial lighting.
Pros:
Natural shades;
Soft texture of the balls;
Easily replaces blush;
Gives the skin a beautiful and healthy hue;
Does not dry;
Cost effective and affordable price.
Cons:
There are only 2 palettes in the line - in pink and brown;
Not immediately taken on the brush;
A fragrance for an amateur - gives a sweet retro cosmetics.
As with any ball powder, the sponge here is not intended for applying makeup - it simply holds the granules, preventing them from breaking into a box. You should also be more careful with the use of such cosmetics if you have problematic skin prone to acne. This powder is able to parade even carefully plastered acne.
What face powder to buy
1. For skin with small defects, but without peeling as a basis for make-up will suit compact powder Diorskin Forever.
2. To do without foundation creams, but at the same time hide too large pores, you can take the baked powder Pupa Luminys Baked. But keep in mind: women with oily skin, it does not fit.
3. If you want a baked product with a good matting effect, look for Chanel Luminys. This same makeup can also be used as a bronzer for the face.
4. For owners of problem or shiny skin in the summer, it is better to carry a Pureness Matifying CD of Shiseido brand. In the cold season and in wet weather it will be replaced by Max Factor FaceFinity.
5. If there is not enough space in the cosmetic bag, you should choose Bourjois Healthy Balance every day in a very compact case. This powder is great for oily and mature skin, which needs a high-grade diet.
6. As a universal tool that is suitable for masking imperfections, and for fixing the finish, you can recommend loose powder Vitalumière Loose from Chanel.
7. Want professional make-up? Smashbox Halo Hydrating Perfecting - it's perfect for any type of skin.
8. For spectacular make-up completion, select the fixing "rassypushku" Givenchy Prisme Libre - it aligns the overall tone and gives the person the right shade. And if you want to use it outside your home, it's better to take a compact version of Prisme Visage Mat.
9. To complete the spectacular evening make-up, ideal ball powder with sparkles Meteorites Light from Guerlain. The only thing - do not put it on the fat skin, although the pearly peas can simply be put aside in another jar.
10. Sorry for the expensive "meteors"?Try to start a budget option - Poudre Mélange brand Vivienne Sabo. A beautiful ball of powder will give the skin a beautiful shade and a restrained flicker.