Studio Is a one-room apartment. Its characteristic feature is that there are no partitions in this apartment (the bathroom, of course, does not count). Neither the bedroom, nor the dining room, nor the study are fenced off into a separate room. And the food still needs to be cooked! And this place in ordinary houses is called the kitchen. The atmosphere there, and the climate, and smells. And in the studio, all the same, the kitchen is not fenced off from other functional areas. And skilled designers manage to hide it in the general interior.
Read in the article
1

Reasons for hiding the kitchen

2

Methods for highlighting the kitchen

3

Materials (edit)

4

Conclusion
Reasons for hiding the kitchen
Everyone has their own reasons to play hide-and-seek with the kitchen - a small area, an area with eternal disorder, and generally do little cooking. You can also remove it from your eyes.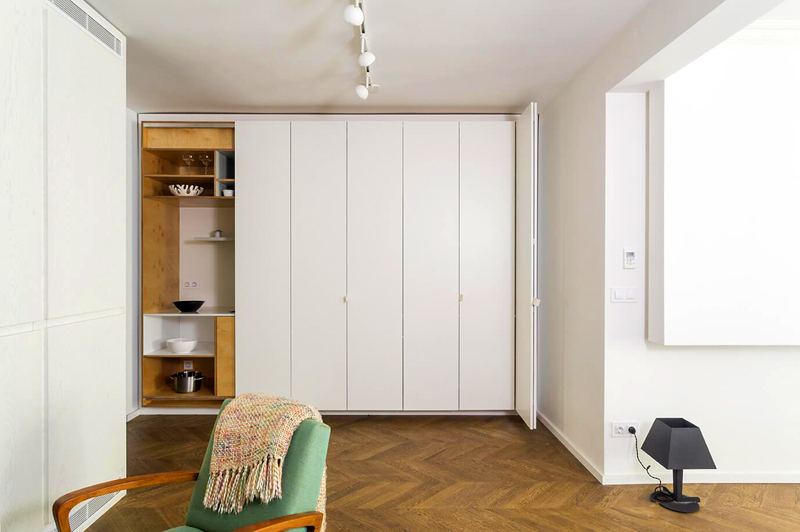 Methods for highlighting the kitchen
The kitchen is characterized by an obligatory set of items, without which it cannot perform the functions prescribed to it, such as: hob, a kind of dishes, washing, work table, cutting boards.
With the most minimal requirements, you need a stove or small-sized cooker - electric or gas, you need a sink with hot and cold water, you need at least two or three pots and a pair of pans, kitchen knives, spatulas, cookers, cutting boards.
Let everything be in an extremely small amount, but you cannot do without it in the kitchen. It is also advisable to attach an extractor hood - after all, the kitchen is located in a common living space. And the owner of the studio probably has his own requirements for the style of the interior.
In recent years, a new architectural and design solution has appeared - the creation of invisible kitchens. The essence of the idea is that at rest the kitchen is really invisible, it is hidden behind a sliding or folding partition. That is, a place has been allocated for the kitchen in the common room, which can be completely fenced off from the common space with a partition.
The partition itself when closed, it is perceived as a standard room wall - in color, in the texture of the surface. Achievements of small-scale mechanization make it possible to make this partition either sliding, or folding. One press of a button - and the electromechanics drags the partition or folds it like an accordion. The same goes in the opposite direction. The kitchen is there, and when it is not needed it is not there, it is invisible. Moreover, if the place for it is chosen successfully, then it will be a fully functional kitchen.
If the apartment has a niche in one of the rooms, then a hidden fully functional kitchen can be placed in it. When the kitchen is not needed, it can be covered with a thick curtain or folding partition.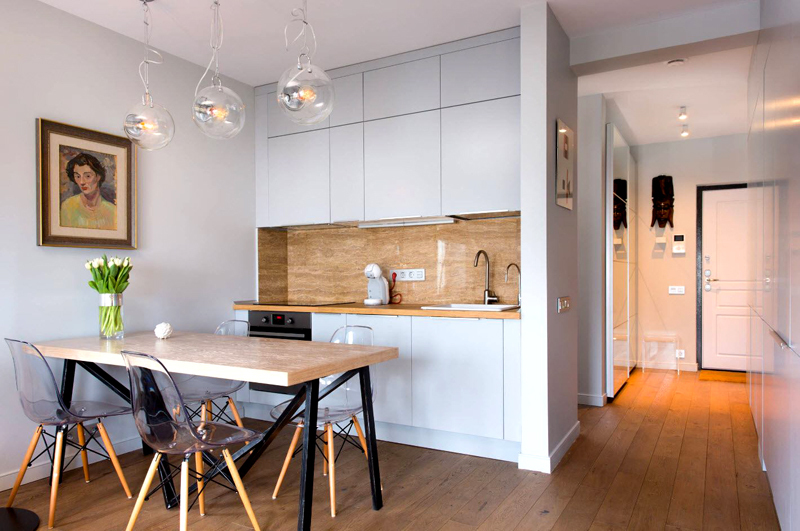 And in a spacious room it is possible to create an invisible kitchen.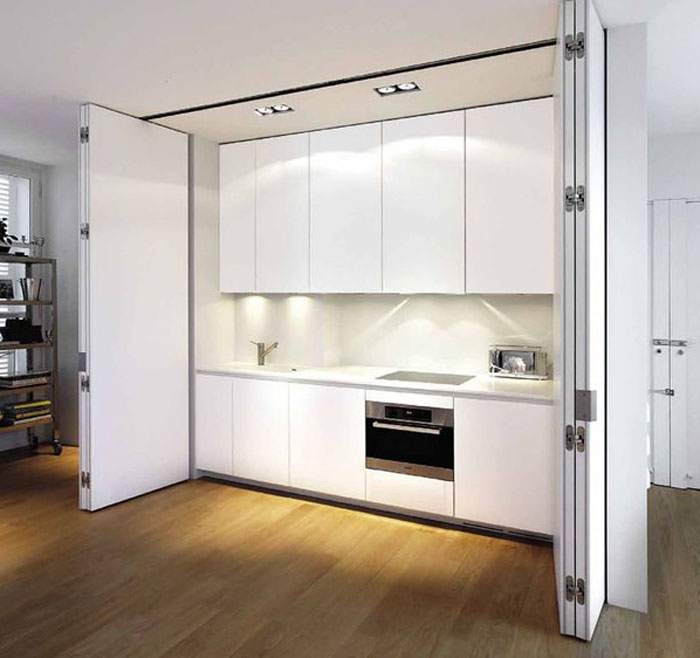 Modern furniture firms produce special furniture for hiding kitchens. Furniture is made to order according to the size of the premises according to a personal project.
The kitchen area can be easily separated from the general space and with ordinary swing doors, which are equipped with glass inserts, it is possible with pictures, as well as beautiful fittings.
A very promising solution is a monoblock kitchen. This piece is manufactured and completed with all the necessary equipment and technology directly at the furniture factory. There are very tiny monoblocks that occupy an area of ​​about 1 m2.
They are thought out according to the nomenclature of their equipment and their technical characteristics. There is a sink with mixer, a two-burner hob, a miniature refrigerator and a small work surface.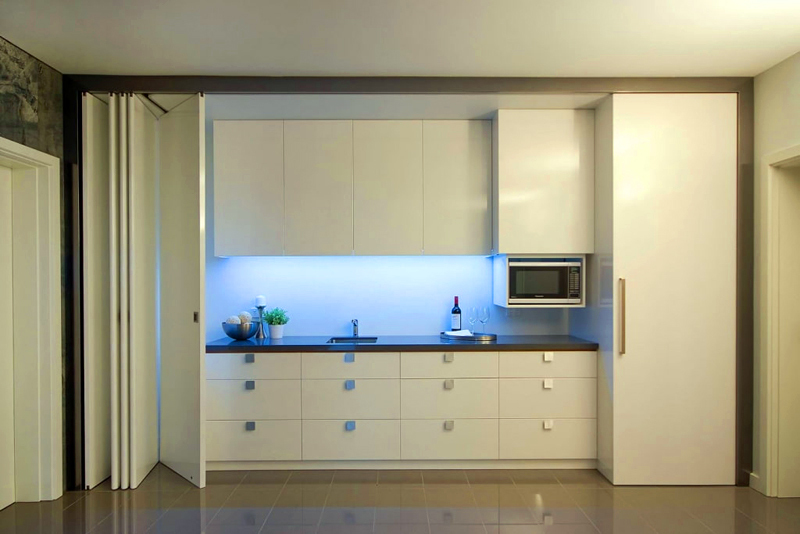 Materials (edit)
When creating a mini-kitchen, you need to choose the right materials from which it is made. Best fit laminated MDF panels and countertops made of artificial stone or metal. They will last a long time without losing their appearance. On sale there are many proposals for the color and materials of the facades, so that you can choose for any requirement.
Conclusion
The arrangement of any apartment requires thoughtfulness and artistic taste. And for the arrangement of a small studio, a certain ingenuity is also required. Only talented and inventive designers manage to hide the kitchen in the interior. Fortunately, there are many of them.
He was once a good journalist. But... he got sick and became a propagandist! Maybe not so ...
Thanks for the interesting article! I opted for Decorazza. Elegant silk effect ...
I have Londix Effect tablets, they are not in the author's list, but in vain. The pills are cool, not p ...
Good day! My name is Dmitry. I am the owner of several internet projects. Together with couples ...
Good day! My name is Dmitry. I am the owner of several internet projects. Together with couples ...
And now we also have a revolts dealer in Lipetsk. Recently appeared. Of course ud ...
I agree about the dealer. We also need a dealer in Volgograd. As you took directly ...
In the fall of last year, plasterboard heating was installed in a cottage on the second floor ...
At first glance, it seems boring and a collective farm. at a second glance, you begin to notice not ...
Judging by the apartment, we can say with confidence that these are the hateful walls of a lonely woman ...
It's too much of a problem for you. Dyakuyu! Information bullet cikava, korisna i vchasna. I wish you good health and ...
My father, a notable carpenter in the area, said that a tree should be taken in November then wood ...
I like it very much, well done Julia Baranovskaya.
The title of the article promises accessories for organizing order, but in fact cardboard for rice ...
Brains are felt in everything. Even in the apartment (choice of a house, method of obtaining, footage, oh ...