With a song in life! This is the motto of millions of people around the world. Of course, you can listen to music through a smartphone, tablet or other mobile device, but modern MP3 players have their undeniable advantages. Some models provide really high quality of sound, others are unusually compact, and still others are so functional that they can replace a tablet computer.
A dozen worthy devices went into our today rating of MP3 players of 2013 .
Contents:
10. TeXet T-2
9. Ritmix RF-7650 P
8. Sony NWZ-W273 4Gb
7. Samsung Galaxy Player 4.2
6. Iriver Astell &Kern AK100
5. Apple iPod nano 6gen 16GB
3. Apple iPod shuffle 4gen 2Gb
1. Apple iPod touch 5gen 32Gb
1. Apple iPod touch 5gen 64Gb
4. Apple iPod nano 6gen2013 weighs only 15 grams and has a built-in memory of 4 GB.The compact size excludes the presence of a screen, but this player is also very inexpensive - about 600 rubles. The upper panel made of metal makes the player resistant to shock.

9. Ritmix RF-7650 P
The MP3 player of 2013 easily fits in the palm of your hand. The gadget allows not only listening to music, but also working with text, video and pictures. Technical specifications allow the player to replace a web-camera or a budget camera.
8. Sony NWZ-W273 4Gb
Weightless, only 29 grams, the player allows you to enjoy music even when you dive into the water( though not deeper than 2 meters).It is as good as possible for active recreation and sports. In order to listen to music for an hour, it's enough to hold the player on charging for only 3 minutes. A fully charged battery will provide 8 hours of continuous sound.
7. Samsung Galaxy Player 4.2
As the name implies, the player is running Android. The proprietary SoundAlive technology allows you to significantly improve the quality of audio files, and the AllShare application will help bring content to any other device that supports DLNA with Wi-Fi. Cameras in the number of 2 pieces( main and front) have a resolution of 2 and 0.3 Mp, respectively.
6. Iriver Astell &Kern AK100
The player is designed for the most demanding connoisseurs of quality sound. In addition to the standard file types, the device supports the MQS format used in studio recordings and provides the best sound quality. The touch screen has a diagonal of 2.4 inches with a resolution of 320x240.The memory of the device is 32 GB, with 2 slots for memory cards.
5. Apple iPod touch 5gen 64Gb
If it were not for the absence of the GSM module, this device could well have passed for the iPhone, thanks to a 4-inch screen having a resolution of 1136x640 and dual-core A5 that make it comfortable to watch FullHD video files. The camera allows you to shoot video in the same quality. Wi-Fi and Bluetooth 4.0 - included.
4. Apple iPod nano 6gen 16GB
Compared with the previous version, this model has acquired a touchscreen display and significantly decreased in size. In addition, the player carries on board the FM receiver and pedometer. However, you will have to forget about shooting photos and videos - there is no camera here. The player keeps charge for 24 hours with active use.
3. Ritmix RF-3360
This budget player closes the top three of the 2013 rating and has a decent amount of built-in memory - 4 or 6 GB, and also provides the ability to work with memory cards. A decent battery allows you to listen to music for up to 10 hours without a break for recharging.
2. Apple iPod shuffle 4gen 2Gb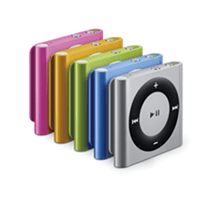 The fourth generation of miniature audio players Apple differs from previous models in the shape of the case, it became almost square, and the back buttons of control. As usual in this series there is no screen - instead of it the device sounds the names of playlists and songs with the help of a specially selected button. The battery capacity allows you to listen to music for about 15 hours without interruption.
1. Apple iPod touch 5gen 32Gb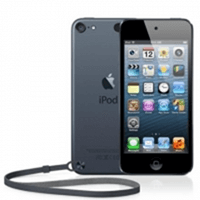 This premium-class MP3 player has the ability to replace a miniature tablet with its functionality. The device has a 4-inch display, 2-core processor, 32 GB of internal memory, Wi-Fi and Bluetooth. The device is able to shoot Full HD video and communicate via video communication with the front camera.