Best children's creams according to buyers' reviews
If you, like all modern moms, use diapers, and do not smear a child with bearish fat in the cold, it means that you can not do without special children's cosmetics. Of course, I want to protect the baby from any "chemistry" as much as possible, but a baby cream for his delicate skin is simply necessary. Therefore, it is so important to find a good remedy that will protect the child's skin from any external influences, but it will be natural and safe. The search will help our review, where we collected the best baby creams, having studied the reviews and observations of the parents.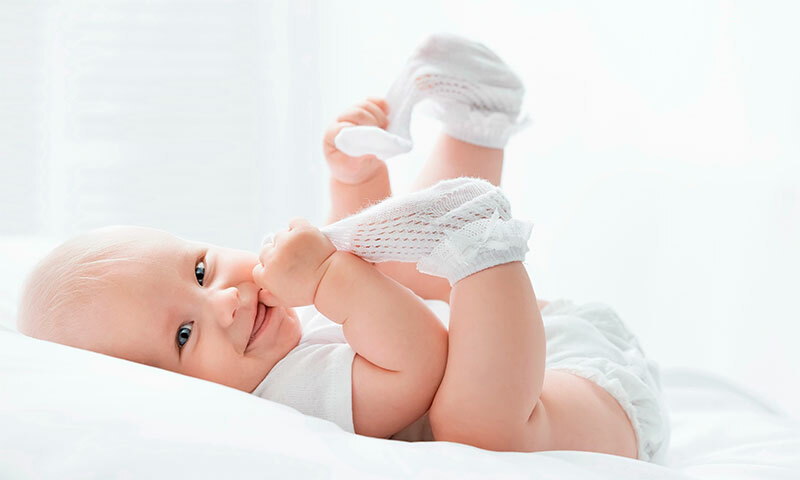 Contents:
Baby cream of which firm to choose
Best moisturizing creams for children - daily care
Best creams for diaper
Best cream for winter protection
Which children's cream to buy
Children's cream of which firm to choose
We are already accustomed to a one-sided classification where foreign children'scosmetics are extremely natural and safe, and domestic - just cheap. But the responses of young parents show that today it is easy to find good baby creams from Russian producers. Many firms have taken a course to produce natural products, while retaining the affordable cost of their products.
These are the trademarks:
1. Umka
2. Children's drugstore
3. Kurbits
The famous Avanta brand is slightly out of the list. And although its products are also very effective, parents are deterred by the complex and not always natural composition of children's creams. But they are made according to GOST and certification pass without problems, so that the quality here is all right.
The German company Weleda and the representative of the British brand Mothercare in our country were recognized as the best from foreign manufacturers.
In fact, there are many other well-known brands of quality children's cosmetics, but the high prices for their goods did not allow them to get into our rating. Parents do not see the point of buying an expensive branded cream, if you can buy an identical, but more affordable, caregiver.
The best moisturizing creams for children - daily care
The baby's skin is not yet able to "work" at full strength, protecting the body from loss of moisture and the penetration of bacteria from the outside. In the first years of her life, she can not even protect herself. And when during bathing you wash off a weak lipid barrier, it can be restored only with the help of a moisturizing baby cream.
Umka "Moisturizer" - the lightest
Hypoallergenic baby cream is made on the basis of olive oil and is suitable for everyone - from newborns to their moms complaining of dry skin. The composition includes panthenol, which accelerates the regeneration of cells and relieves inflammation, as well as bisabolol. Naming should not be frightened: it is absolutely natural component - extract from essential oil of tropical kandei, which has antimicrobial and antifungal activity.
Pros:
Light, not too greasy;
Pleasant smell;
Hypoallergenic;
Contains a complex of protective substances of wide action;
Chamomile and beet extracts soothe inflamed or damaged skin;
Convenient snap-on cover;
Affordable price.
Cons:
Liquid consistency;
Short moisturizing effect - up to 2 hours
Baby cream "Umka" - the best caring tool in Russia. It does not cause complaints from the customers, it is suitable for daily use, quickly absorbed, leaving no traces on clothes and diapers. A light texture allows you to use it even in the summer.
Weleda nourishing with calendula - absolutely natural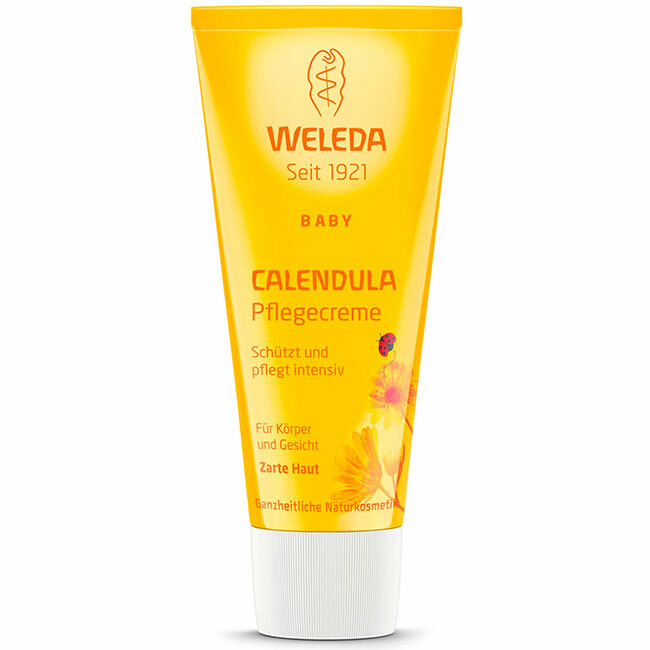 German-made cream with a soothing effect consists entirely of natural ingredients. Its formula is dominated by oils and esters of sweet almonds, sesame, calendula and apothecary chamomile.
Pros:
Absolutely safe;
Cost-effective;
Mixture of essential oils instead of perfume and fragrances;
Eliminates redness, dry skin peeling;
Quickly heals small wounds;
Soothes itching.
Cons:
Feels zhirnovat and not immediately absorbed into the skin, leaving on the surface of a sticky film for 10-15 minutes;
Inconvenient metal tube;
Contains beeswax and herbal extracts that can cause allergies.
High cost.
Thick and dense children's cream Weleda is a sample of a safe and completely natural skin care product for a baby. But its price is an order of magnitude higher than that of domestic products, so this purchase will not be affordable for everyone. In the responses of the parents there is a not too successful decision with an unscrewing lid - it is difficult to cope with if one mother has one hand.
Best diaper for a diaper
Modern diapers are easy to use and make life easier for young mothers. But for children's skin a constant "compress" on the ass is fraught with intertrigo, redness and itching. To avoid this, the skin of the baby should be lubricated with a special cream every time, not missing a single fold.
Mothercare baby nappy cream - the safest
The thick diaper cream perfectly copes not only with diaper rash, but also with small scratches, as well as insect bites. The composition can not be called 100% natural, but there are no complaints from the parents. The only advice: after applying, you need to give the cream a few minutes, so that it absorbed into the skin.
Pros:
Pleasant smell;
Economical consumption and a large can of 150 ml;
Has antibacterial and antifungal effect;
Healing effect due to castor oil;
Relieves itching and anesthetizing.
Cons:
Jar with a wide throat does not all seem comfortable, and the lid is tight;
Thick pasty texture - poorly distributed over the skin and remains in wrinkles;
Sold only through the Internet or in specialized Mothercare stores.
In fact, this is a slightly more expensive analogue of the famous Sudokrem with an identical composition. However, the scent of Mothercare is much more pleasant.
Diaper cleats - the most affordable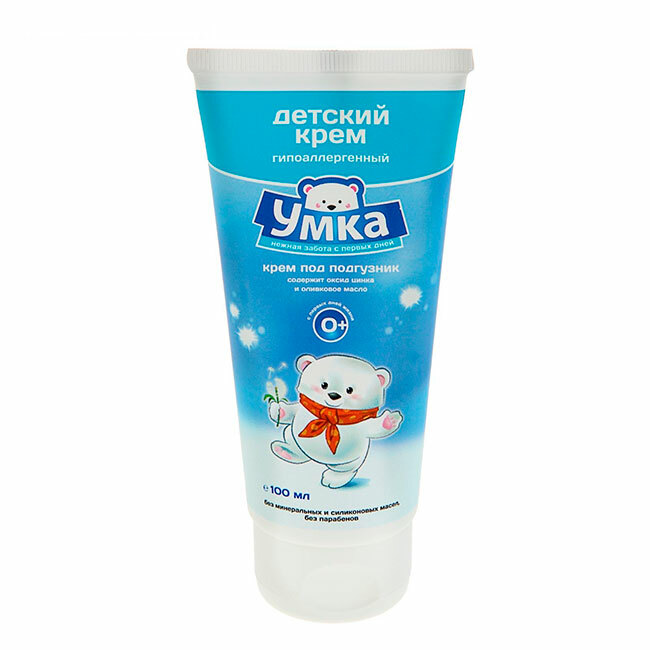 Children's cream with zinc oxide and olive oil not only protects and heals damaged skin, but also perfectly hydrates it. It can also be used for dermatitis.
Pros:
Economical consumption;
Hypoallergenic;
Moisturizing and wound healing effect;
Quickly removes redness and swelling on the damaged skin;
Availability and low price.
Cons:
Zhirnovat, there is a feeling of sticky skin;
The standard snap-in cover "Umki" was uncomfortable this time - the thick paste is squeezed out badly through a small hole.
In a few cases, the dryness of the skin after application was noted. But this is, rather, an individual reaction to the components of the cream, as the olive oil has a good moisturizing effect.
Cream for diaper Quilts - "first aid" for diaper rash
Russian cream of medium price with a good softening and moisturizing effect. It includes D-panthenol, which improves skin regeneration and metabolism in epidermal cells.
Pros:
Large volume of tube 120 ml;
Economical consumption;
Unobtrusive pleasant smell;
Copes with already arising intertrigibilities;
Easily absorbed into the skin without leaving traces and stickiness;
Good consistency - not as thick as analogues.
Cons:
Screw-on cover;
Contains parabens - the harm of these antiseptic preservatives has not yet been proven, but allergic reactions to them are possible.
Children's cream Kournoshiki under the diaper, judging by the reviews, with its main task copes well. But because of doubtful components in the composition it is better to use it for "emergency help" with already arising diaper rash. And for the prevention of redness and daily use is to choose another caregiver.
The best cream for winter protection
Since the fat glands in children have not yet learned how to work effectively, and moms tirelessly wash their babies, before the wind and frost their skin becomes defenseless. To avoid airing, redness and mechanical damage to the face and hands, in the cold period of the child it is necessary to smear with a special cream.
The blizzard "Universal" - gives a feeling of warmth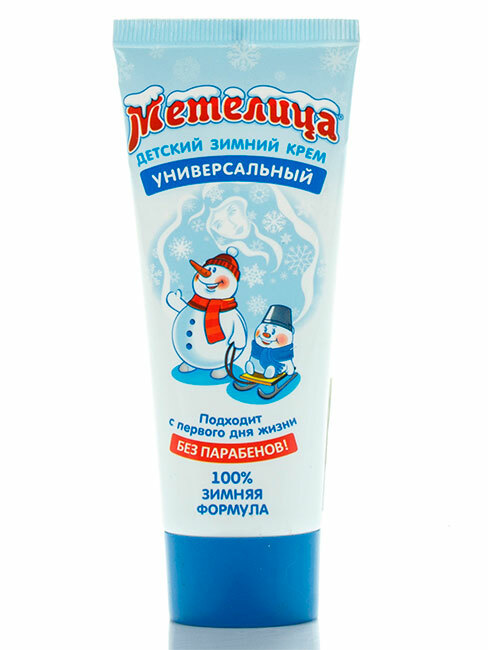 The Ukrainian brand produces a truly multifunctional baby cream for winter. It can be used not only to protect from the weather, but also to eliminate dry skin problems. The formula contains D-panthenol and an emollient component - allantoin, known as a powerful healing and anesthetic.
Pros:
Does not cause allergy;
Nourishing and moisturizing effect;
No strong odor;
Quickly cures redness and flaking of the skin;
Subjective feeling of warmth in windy weather.
Cons:
Dense consistency and a feeling of oily film;
Short-term effect.
The cream is recommended to apply on the face and hands of the child for half an hour before going out. Also, it is effective at already manifested peeling or reddening of open skin areas.
Children's winter cream "From peeling and cracks" - perfectly softens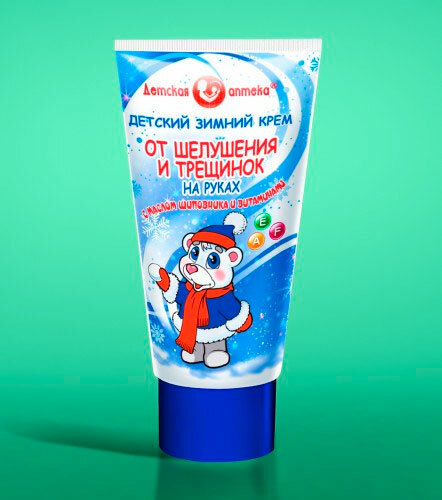 Cream "Children's pharmacy" with rosehip oil protects the skin from the weathering, moisturizes it and eliminates peeling. Despite the fact that the manufacturer indicated the use of the hand for packaging, parents use this tool to care for the child's face. Pros:
Formula enriched with vitamins A, E and F;
Moisturizing and soothing effect;
Low cost;
Pleasant smell;
Soft texture.
Cons:
Contains paraben and triethanolamine, which can provoke allergic reactions;
Not immediately absorbed - it is better to apply it on the skin for 15-20 minutes before going out.
The winter series of "Children's Pharmacy" also includes other directional creams: protecting, softening and warming.
Avant "Ruddy cheeks" - the most popular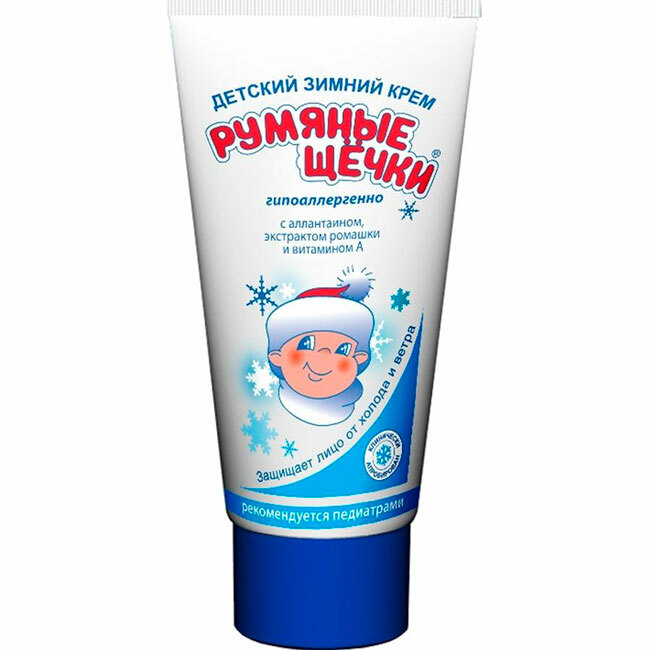 The cream is quite popular, and the brand among the mothers is well-known. However, it is difficult to speak about its absolute naturalness and security. Most reviews of "Ruddy Cheeks" are positive, but there are isolated cases of allergy.
Pros:
Low price and absolute availability - can be bought at any pharmacy;
Pleasant sweet smell;
Effect of nourishment and softening of the skin;
Caring formula with chamomile extract and vitamins( A and E).
Cons:
Not immediately absorbed, in the first minutes a feeling of sticky greasy film on the skin;
There are a lot of paraben preservatives in the composition;
Does not always show a 100% effect, especially if the child has too sensitive skin;
Contains a potential allergen - beeswax.
To make sure that the cream "Ruddy cheeks" does not harm the baby, try first to apply it on a small area of ​​the skin and watch the reaction for a day. If redness is not present, you can safely use the remedy all winter.
Which baby cream to buy
1. If you are looking for a good and inexpensive cream for daily skin care for your baby, you can safely use hypoallergenic moisturizing formula Umka.
2. Those who do not spare any money to provide their baby eco-cosmetics, we advise you to buy a nourishing cream Weleda.
3. You need a cream under the diaper, so buy a Mothercare baby nappy jar for every day or again, refer to TM "Umka" products.
4. In case of diaper rash( for example, when changing the diaper brand), the tool of the Hooker will quickly cope with them.
5. Beginning in autumn and before the arrival of heat for a walk with a child, you can go, only after applying the winter cream from the "Children's Pharmacy."
6. If the baby is extremely cold in the winter or suffers from cold urticaria, it is better to take the universal agent of the Metelitsa brand.