Xiaomi Redmi Pro. Review and Feedback of Owners
Chinese company Xiaomi( in Russian Xiaomi), which is fighting with another Chinese company Lenovo for the 4th place among the world's leading manufacturers of smartphones, is constantly replenishing the lineup of the favorite family Redmi. The next novelty of the family was the Xiaomi Redmi Pro. In this brief review we will look at the variations of this model and compare it with another novelty - Xiaomi Redmi Note 4.
Xiaomi Redmi Pro has three varieties, differing in memory and processor.
Xiaomi Redmi Pro 32Gb
Younger variety - Xiaomi Redmi Pro 32Gb. Specifications: OLED screen 5.5 inches with a resolution of 1920x1080 pixels, Android 6.0 operating system, 32 GB permanent and 3 GB of RAM, support for two SIM cards, support for an external memory card( slot for it is combined with a slot for a second SIM card).Battery capacity 4050 mAh.10-core processor MediaTek Helio X20( MT6797).There is a fingerprint scanner.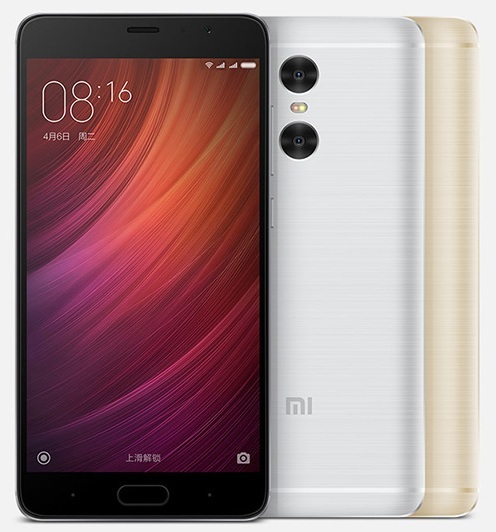 Separately it is necessary to say about the cameras. Like the 7th iPhone, or LG G5, Xiaomi Redmi Pro has 3 cameras at once. The 13 megapixel Sony IMX258 sensor is responsible for capturing the main picture, and Samsung's 5Mp auxiliary module provides a beautiful bokeh( part of the image that is out of focus in the photo) and helps in postfocusing the finished images. Both cameras are taken simultaneously. The front camera has a resolution of 5 mp. The average price of Xiaomi Redmi Pro 32Gb in Russia is 15,150 rubles.
Xiaomi Redmi Pro 64Gb
Another version - Xiaomi Redmi Pro 64Gb. The difference from the younger model is that in this case 64 GB of permanent memory with the same 3 GB RAM.Also, a more powerful processor is the 10-core MediaTek Helio X25( MT6797T). The average price in Russia is 12,900 rubles. Buy Redmi Pro 64GB on AliExpress can be for 9.8 thousand rubles( shipping to Russia is free).
Xiaomi Redmi Pro 128Gb
The older version is Xiaomi Redmi Pro 128Gb. From the model Redmi Pro 64Gb it differs only in that it has more permanent memory( 128 GB) and more operational( 4 GB). The average price in Russia is 15,800 rubles.
Xiaomi Redmi Pro vs

Xiaomi Redmi Note 4
What is the difference between Xiaomi Redmi Pro from Xiaomi Redmi Note 4 ?For convenience, we compare the versions with 64 GB of permanent memory. The Redmi Pro OLED screen, Redmi Note 4 - IPS-screen. In general, the OLED screen is more qualitative( it's brighter, the brightness and contrast remain unchanged at all viewing angles) than IPS, but the OLED screen is more energy-intensive, so despite the same battery capacity of the compared models, the Xiaomi Redmi Pro battery will be discharged a little earlier. It is also worth noting that the OLED screen flickers( ie changes the brightness), but for the human eye it remains invisible. However, one of the users of Xiaomi Redmi Pro wrote in the recall that he sees flicker( see reviews below).
Another difference is that Xiaomi Redmi Note 4 - standard 2 cameras, and not innovative 3, as in Xiaomi Redmi Pro. Also, the Xiaomi Redmi Note 4 64Gb model has a weaker processor than the Xiaomi Redmi Pro( MediaTek Helio X20 vs. MediaTek Helio X25).So Xiaomi Redmi Pro is definitely better than Xiaomi Redmi Note 4.
Reviews
Redmi Pro 32Gb has scored 60% of fives in reviews in Yandex Market, Redmi Pro 64Gb - 47% of fives, Redmi Pro 128Gb - 60% of fives. Below are the feedback of owners of different variations of Xiaomi Redmi Pro from various sites. For publication, only useful and informative reviews are selected, both positive and negative.
see also The best smartphones Xiaomi