How to choose a hair dryer - reviews of professionals
Hair dryer has become an indispensable thing not only for women, but for men. It allows you not just to quickly dry your hair, but also make a variety of styling options in the shortest time and with maximum comfort. There are several types of this electrical appliance. Each of them is suitable for certain purposes and tasks. For home, salon, road, absolutely different options are required, however, the choice still depends on the type and quality of the hair. To understand the diversity and understand what specifically suits your needs, read our article.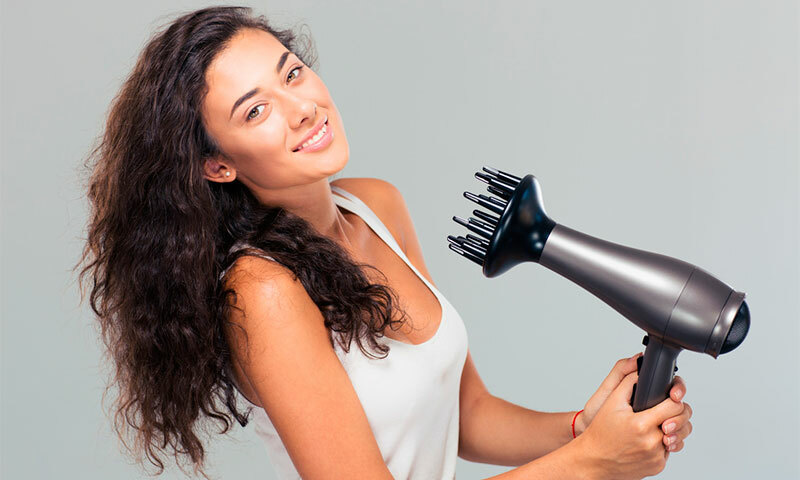 Contents:
The best hair dryer companies
How it works and how to use the hair dryer
Types of hair dryers
Hair dryer options
What hair dryer to choose
How much does a hair dryer for
? What are the best hair dryer manufacturers for?
Today's Russian market represents a lot of various hair dryers from a variety of brands. They differ from each other in quality, price, technical capabilities, functionality and many others.
When choosing it is desirable to pay attention only to the products of well-known manufacturers, because it has time to prove itself, and this is a good guarantee for a long service life.
For those who decided not to go any further into the article, we selected several of the most popular brands:
Moser;
Babyliss;
Valera;
Remington;
Bosch.
The listed companies do not require additional advertising of their products, almost all the devices they manufacture belong to high-quality, powerful and functional high-class hair dryers. They have the necessary certification, which means they will not harm the health of the hair. To find the right model, we suggest you read our rating of the best hair dryers.
Principle of operation and the device of a hair dryer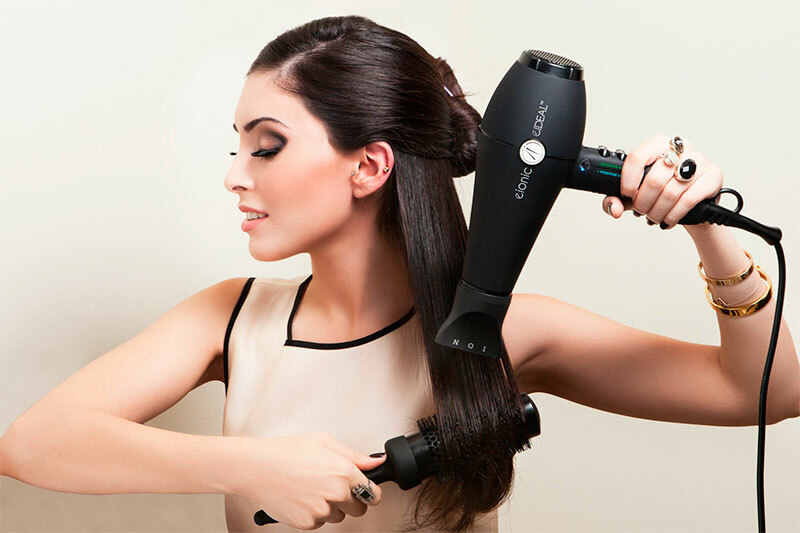 A hairdryer is an electrical appliance that generates a stream of cold, warm or hot air in working condition. To explain its device, let's take the basic model as an example. Most often it has two main switches: on and off, as well as adjusting the airflow. Inside there is a motor, a heating element and a fan.
The shape of the hair dryer usually resembles a gun. The device operates due to the transfer of cold air through the electric heater. At the exit, the heated jet enters the hair web, thus accelerating the disappearance of moisture. Due to the increase in temperature around the hair, the mutual molecular attraction decreases, which facilitates the evaporation of water.
Available switches can change the speed of air flow or its temperature( in more advanced models).This occurs when the fan speed decreases and the heating element cools down. The hair dryer can be equipped with different attachments.
In the simplest configuration there is a nozzle-concentrator. It is a narrowed nozzle resembling a slot. Turning it vertically or horizontally, you can differently style your hair. When used without nozzles, the air stream has a large spreading area, which is very convenient for drying the root zone.
Types of hair dryers
Household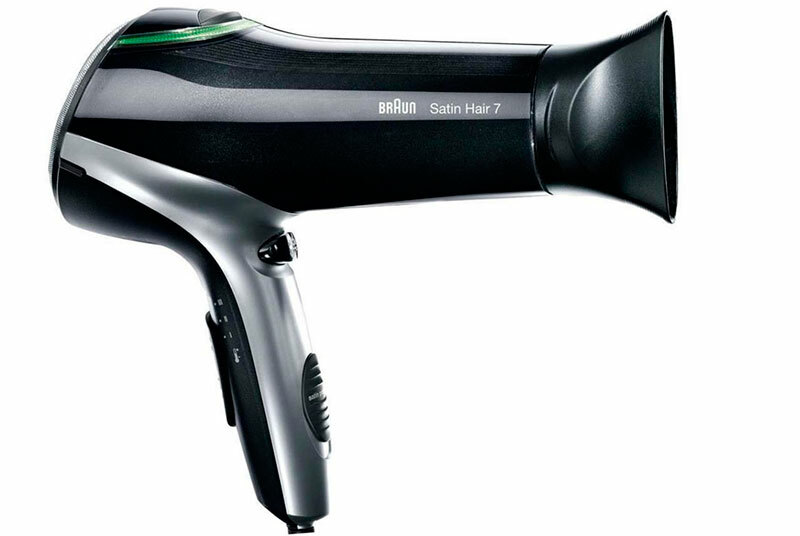 Hair dryers for household use are available at an affordable price. They do not have high power( from 400 to 1.600 W), therefore they are not designed for long-term operation.
If you need to dry out thick and long hair, you should do this in several stages so that the motor does not overheat. Such devices have a small weight, a minimum set of functions and attachments.
It is convenient to lay hair with a household hairdryer conveniently, as hands do not get tired and you do not need to understand the settings of the parameters. It is best to use it in case you have healthy, undamaged hair.
Advantages:
low price;
light weight;
simplicity of operation.
Disadvantages:
low power;
slow drying;
uneven heating of air;
short service life;
is not suitable for regular use.
Professional
Hairdryers for professional use are designed for long work and are able to withstand up to 6-8 hours of almost continuous use. The power of such devices is large( from 1,600 to 2,400 W), so even a thick mop of hair will be dried in a very short time.
If such a hair dryer is purchased for the house, then the power should not be chosen higher than 2.000 W, otherwise there is a risk not to calculate the temperature regime and damage the hair or burn the scalp.
The heating element here is not metallic, as in domestic, but ceramic. Usually professional hairdryers have a large number of very different functions and are equipped with a variety of attachments for giving the hair of any kind.
Advantages:
high power;
uniform heating of air;
quality materials of manufacture;
multifunctionality;
is a rich package;
short drying time;
long service life.
Disadvantages:
Compact( road)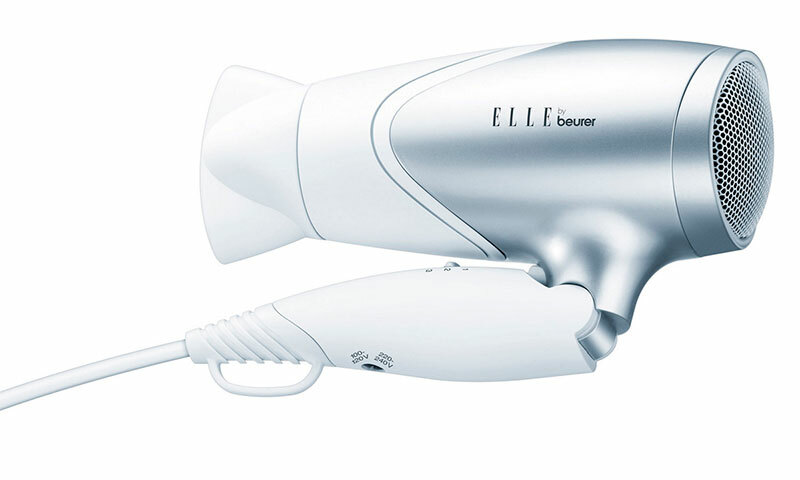 The road hair dryer is perfect for people who travel often. Its difference from previous models in lightness, compactness and simplicity. Such devices most often have folding handles, so as not to take up much space in hand luggage. For these purposes, they do not have nozzles.
Compact hair dryers can be equipped with a battery in the event of a lack of access to the electrical network. The power of the device is low( from 400 to 1,200 W), so it takes a long time to dry and lay. Cases of compact hairdryers are made of inexpensive materials, which is reflected in the price.
Pluses:
reasonable price;
folding handle;
light weight;
compactness;The
is powered by a battery.
Disadvantages:
low power;
lack of attachments and functions;
one mode of operation;
are not suitable for frequent use.
Styler( fen-brush)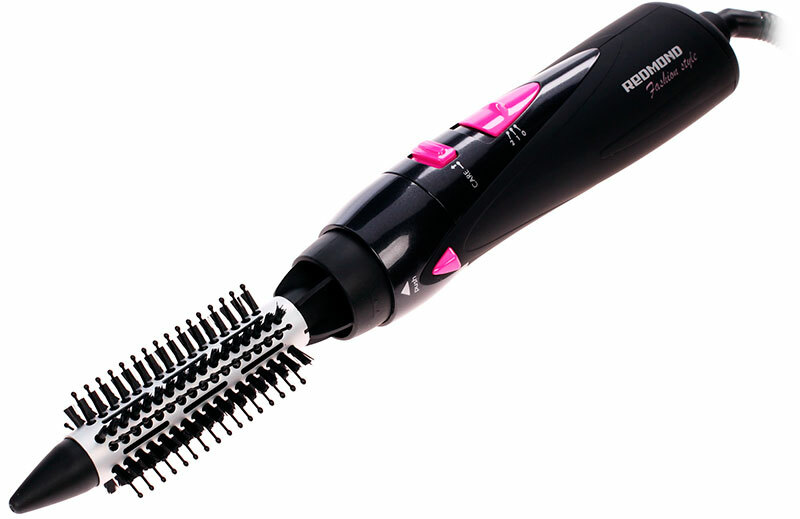 Fen-styler even visually unlike previous types. He has not the usual form of a pistol, but a cylindrical one. This device is equipped with a brush head, in extended versions, other nozzles may be included in the package.
Such a hair dryer does not just dry his hair, he immediately puts it. If you use a standard round brush, then the ends of the hair can be turned inward or outward, it is also possible to create various curls and other hairstyles without using additional stowage.
The power of the styler is small( from 200 to 1,000 W), a higher one could damage the hair, as the air flow is not directed from a safe distance, but directly to the selected strand.
Advantages:
low cost;
light weight;
versatility;
is ideal for short haircuts;
ease of use.
Disadvantages:
does not suit owners of thick and long hair.
Options for choosing a hair dryer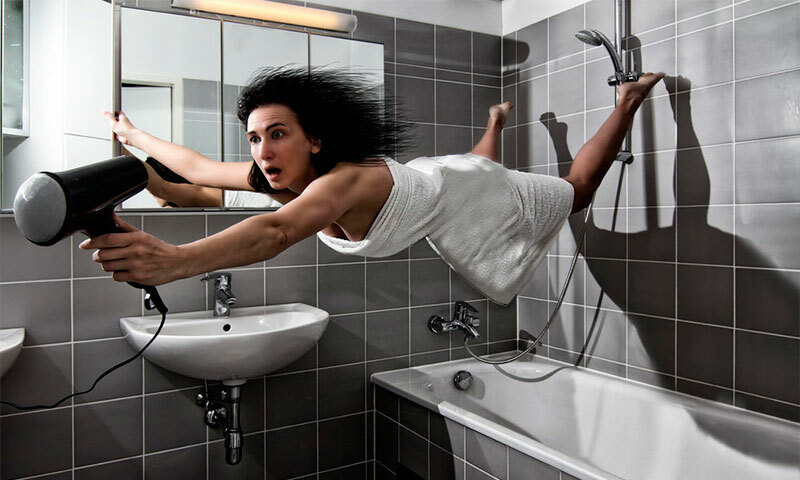 Heaters and body
First of all, evaluate the appearance of the device, the quality of its materials and assembly. It is best to choose rubberized plastic, because it does not slip in the hands and is rather pleasant tactile. Pay attention also, where are the switches, you should conveniently switch them with one hand, in which the hair dryer is located.
Heater prefer ceramic, rather than metal. Let the price be more expensive, but due to the uniform heating of the air flow your hair will not be exposed to an increased risk of injury, they will be quickly and well laid.
The most expensive option is a hair dryer with tourmaline technology, which allows you to dry your hair even faster, giving them a smoothness and shine. This effect is achieved due to the high productivity of positively charged ions.
Weight
To ensure the convenience of using a hairdryer, you need to hold it in your hands, estimating the weight. The more professional and powerful the model, the heavier it is, which means that self-drying will not be easy and comfortable.
Choosing the best option, do not hesitate to make some familiar manipulations of the device, it will help you to understand whether it will be easy to manage it in life.
Power
The speed of the air jet is the power of the hair dryer. High indicators mean strong flow, and low - weak.
For compact( road) hair dryers, the power does not exceed 1,200 watts, the stylers have 1.000 watts, the domestic ones have 1.400 watts and the professional ones have 2.400 watts. At the same time, values ​​up to 1.500 W are typical for gentle drying and styling, medium, up to 2.000 W for everyday, frequent use, and from 2.000 W and higher for rare, usually professional use.
Number of temperature modes
There are three main modes: hot, warm and cold. They adjust the optimum flow temperature. Wet hair is recommended to dry with cold or warm flow, so they are less damaged, and with the evaporation of moisture, when you go to the styling, you can turn on the hot.
Number of speed modes
The condition and length of the hair are constantly changing, which is why a hair dryer with several speed modes will be more practical. Most often distinguish three adjustments, where the first - quiet mode, the second - the middle, the third - a strong one. The more thin and damaged hair, the less powerful the feed rate should be.
Ionization
A useful ionization function helps to reduce the negative impact of hot air on the hair, thereby protecting them from drying, giving the hair silky smoothness. Also contributes to the removal of static voltage.
What hair dryer is better to choose
1. To sum it up, we will note that low and medium power hair dryers are good for everyday gentle drying and styling, especially for those with severely damaged hair.
2. Devices with high power are better to choose holders of healthy, thick and long hair, as well as professional hairdressers and stylists. It is these devices that can work and not overheat for a long time.
3. If the hair dryer is purchased for independent and home use, it is better to stay on the household model, or professional, but with a low weight.
4. When planning a frequent use of a hair dryer, choose a device with a ceramic heating element. For rare drying, the presence of a metal electric heater is acceptable.
5. The more the speed and temperature modes are, the more practical the model is. Stop your attention on those devices that have three modes. This is the best option.
6. The ionization function is perfect for anyone who wants to make hair more well-groomed, smooth, shiny and silky, and also to remove static electricity.
How much does a hairdryer for a hair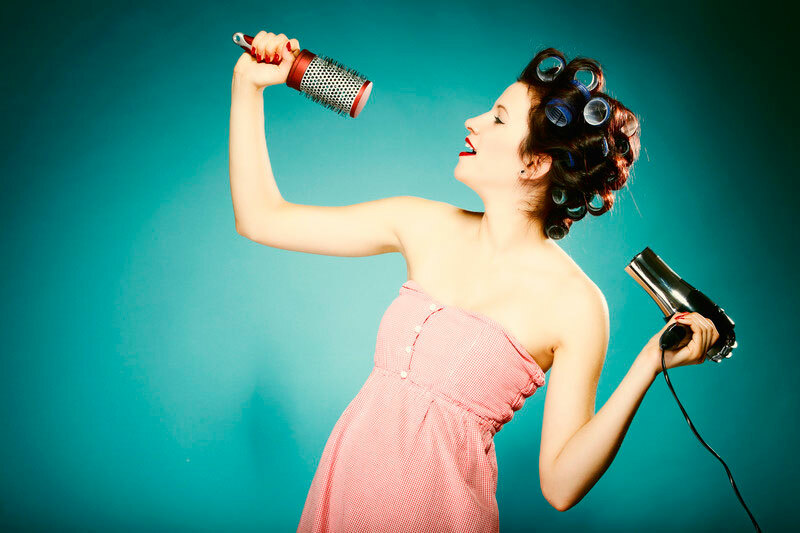 1. Household hair dryers without additional functions will cost only 500 - 800 p.
2. Professional models will cost significantly more, it all depends on the functionality and configuration. The approximate price for such devices varies from 3 to 10 thousand rubles.
3. Compact( road) hairdryers can be purchased for a modest 300 - 500 p.
4. For models with a large number of temperature and speed regimes, as well as with a lot of different attachments, you will have to give no less than 2 thousand rubles.
5. Stylers( hair dryers) are sold at reasonable prices, on average they cost from 500 to 1,500 rubles.
6. The presence of the ionization function and tourmaline technology in the hair dryer increases the price many times. Usually they are available only for expensive devices, the cost of which varies from 3 to 7 thousand rubles.