The most expensive women's bags in the world. Top 21
20th place: Marc Jacob's Carolyn Crocodile Bag - one of the most popular bags of an American designer, whose value reaches 38 thousand dollars. A luxurious accessory, made of quilted purple crocodile skin, looks very elegant and stylish.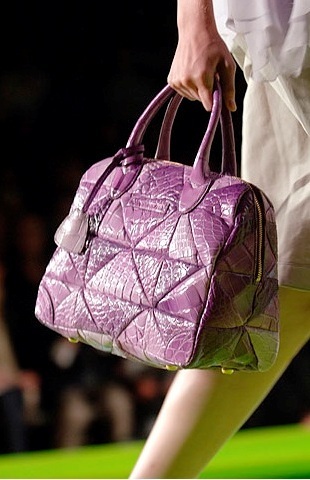 19th place: Fendi Selleria bag - silvered kid's bag of the famous brand, whose leather was hand-worked by an ancient method, used in antiquity. This rather capacious model can be made to order, taking into account the customer's preferences, which is offered a choice of a trim from such valuable materials as sable fur or chinchilla. This work of the designer house Fendi is estimated at 38 000 USD.Beyoncé Knowles and Victoria Beckham gave a truly refined accessory.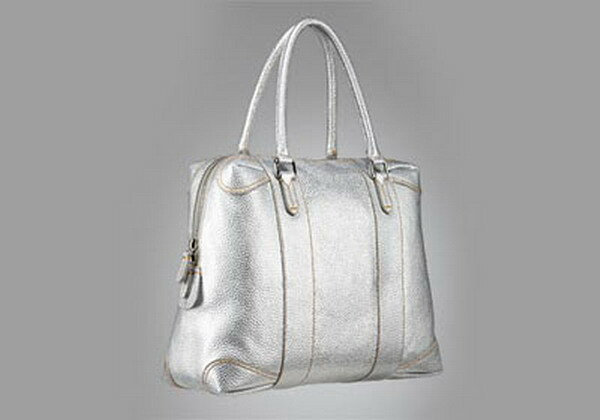 18th place: Gadino Bag is a creation of the Norwegian designer Hilda Palladino, which is a bag made of crocodile leather decorated with 39 colorless diamonds, which are placed in a buckle in white gold. The cost of an exclusive designer product is 38,470 dollars.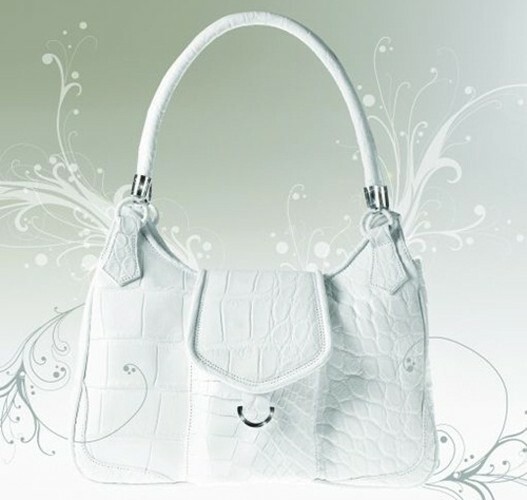 17th place: Louis Vuitton Tribute Patchwork bag - the work of the famous designer and part-time creative director of the famous French fashion house Louis Vuitton, Mark Jacobs. It is a kind of mix of different pieces of 15 bags from summer, spring and cruise collections, previously created by the brand. This accessory combines incompatible: fabric, leather, fur, precious materials and many other materials. Such a bold idea was approved by far not all connoisseurs of design creations, but fans of shocking were delighted. A total of 24 copies of this model were sold for sale. For three years, all bags, the cost of which was 45 thousand dollars, were sold out. In the ranks of the famous fans of the Louis Vuitton Tribute Patchwork bag enters the singer Beyonce Knowles.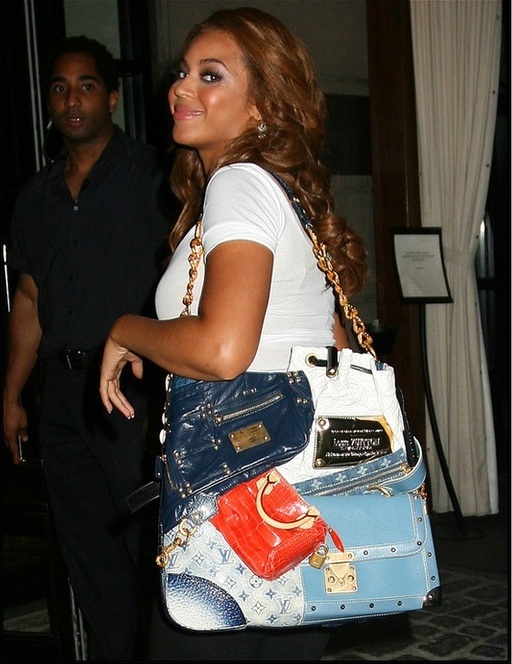 16th place: Louis Vuitton New Age Traveler Backpack - a backpack for travelers, made of crocodile leather, is a pretty original creation of a prestigious fashion house. A non-standard combination of materials makes it an art object rather than a travel accessory. The cost of Louis Vuitton New Age Traveler Backpack reaches 54 thousand cu.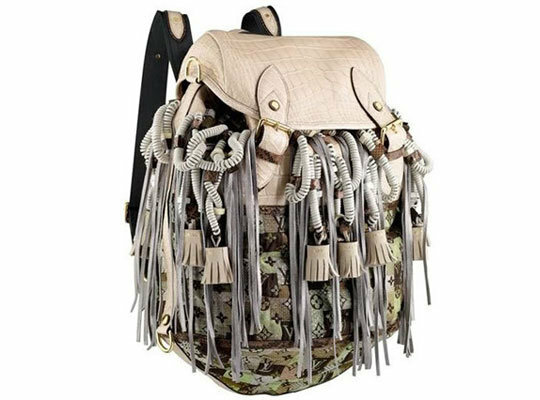 15th place: Hermes Black Crocodile Birkin Bag is a vintage black crocodile leather handbag with a clasp and lock made of 14 karat white gold and completely covered with 484 diamonds, the total weight of which is 14.11 carats. The product was sold at an auction in New York in 2005 for $ 64,800.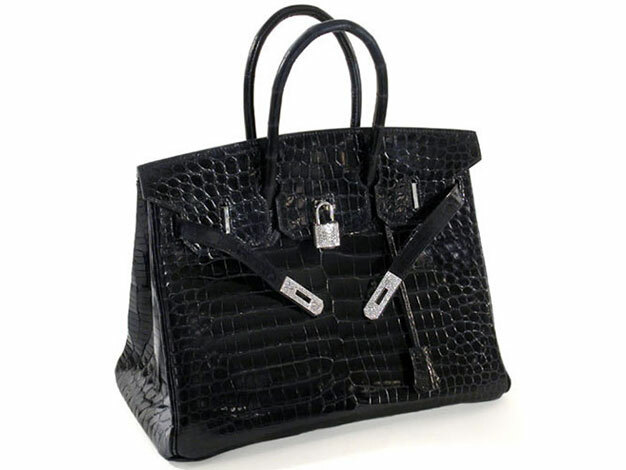 14th place: Nilo Birkin Bag from Hermès - a bag made of matte crocodile skin with a traditional palladium clasp and a key that hides in a leather case. The interior finish of the product is made of goatskin. At an auction in Dallas, Texas, which took place in 2011, the accessory was sold for 65,500 dollars.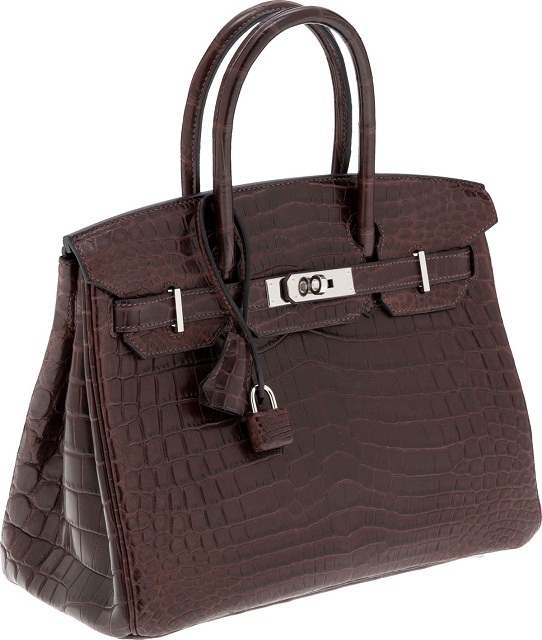 13th place: Shiny Violet Porosus Crocodile Birkin Bag from Hermès is a designer product made of glossy crocodile leather in purple with a palladium clasp that includes a lock and a key hiding in a leather case. The cost of the popular Birkin bag model in the original design is 74,500 dollars.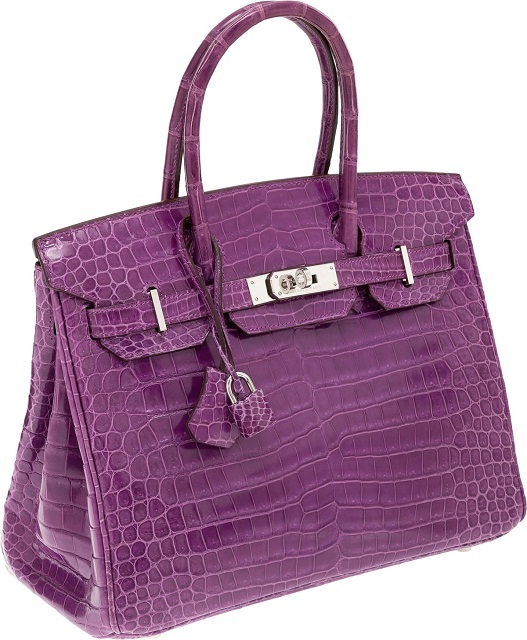 12th place: Hermes Himalaya Matte Crocodile Birkin - another work of the well-known brand, made from the expensive matte leather of the Himalayan crocodile. The clasp and inserts of this model are made of palladium. An exclusive accessory is estimated at 80,000 USD.The star holders of this accessory include Victoria Beckham and the model Silvia Van der Wart.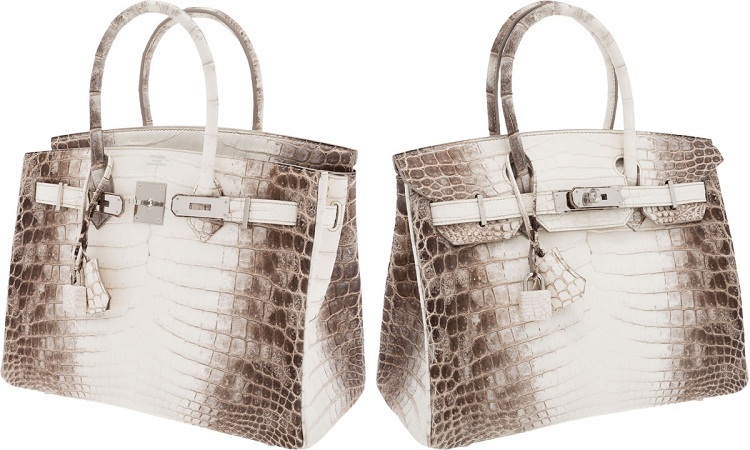 11th place: Leiber Precious Rose Bag is an original bag made in the form of a rose flower strewn with 1016 colorless diamonds, the total weight of which is 42.56 carats, 1169 sapphires of light pink color and 800 tourmalines. This jewelry, presented in the form of an exquisite accessory, was created in just one copy and is valued at 92,000 USD.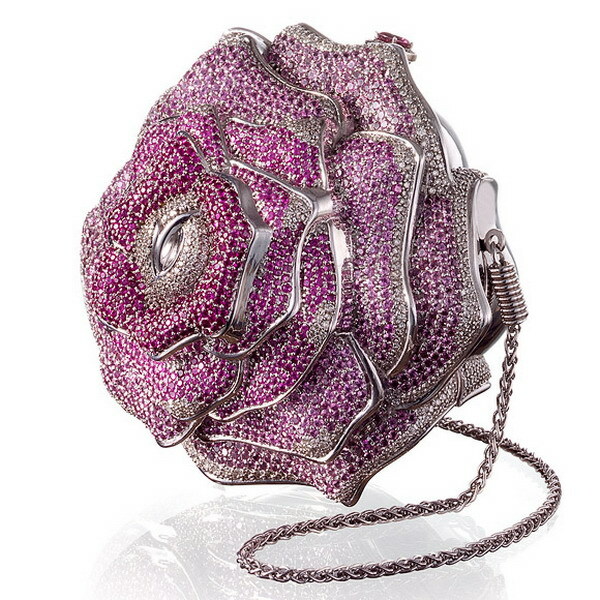 10th place: Shiny Braise Red Porosus Crocodile Birkin Bag from Hermès - a bag of red glossy crocodile leather with palladium fittings, sold at the auction "Heritage Auctions event" in Dallas, Texas, in 2011 for 95 600 dollars.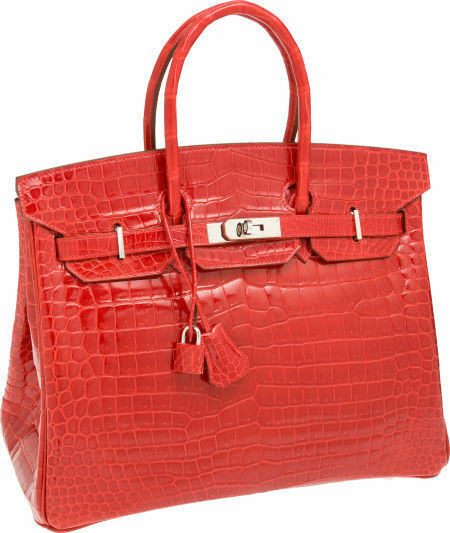 9. Cleopatra Clutch is an exquisite accessory from the prestigious Lana Marks trade mark, produced in the amount of just one copy per year. The bag is made of crocodile leather, painted silver-metallic coating. Made from 18-carat gold, the clasp of this model is covered with 1500 black and white diamonds. In 2003, at the Oscar awards ceremony, a luxurious accessory from Lana Marks was adorned with the outfit of actress Sherliz Theron. The cost of Cleopatra Clutch is 100,000 conventional units.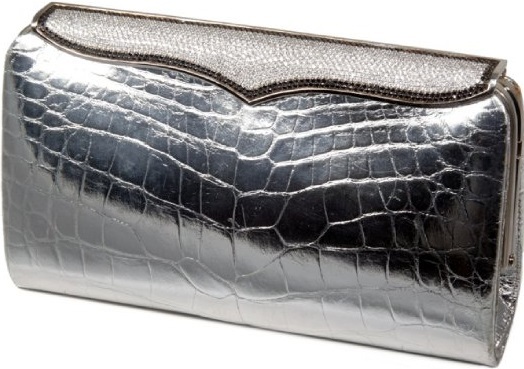 8th place: Matte Brighton Blue Porosus Crocodile Birkin Bag is a bag of the famous Hermès line, made of matte blue crocodile skin and decorated with details of palladium. The cost of this work of design art is 113,525 USD.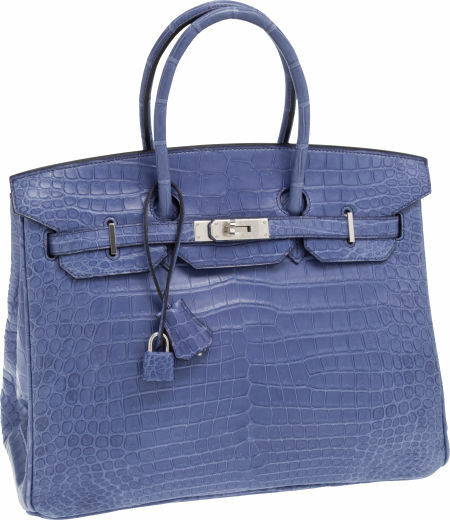 7th place: Diamond Birkin Handbag - the creation of the already known trademark Hermès, made of glossy black crocodile leather. The bag is framed with a clasp of white gold, encrusted with colorless diamonds weighing 10 carats. At auction, "Heritage Auctions event" in Dallas, she went under the hammer for 122 500 dollars.


6th place: Urban Satchel Louis Vuitton Bag - a very extravagant work of a fashion brand, made from a rather unusual material - urban garbage.subjects of city residents' activities like a plastic bottle, sticking plaster, a pack of cigarettes, tea bags, tickets and plastic cups Who would have thought that such an unordinary art composition from designers Louis Vuitton would be valued at 150 thousand dollars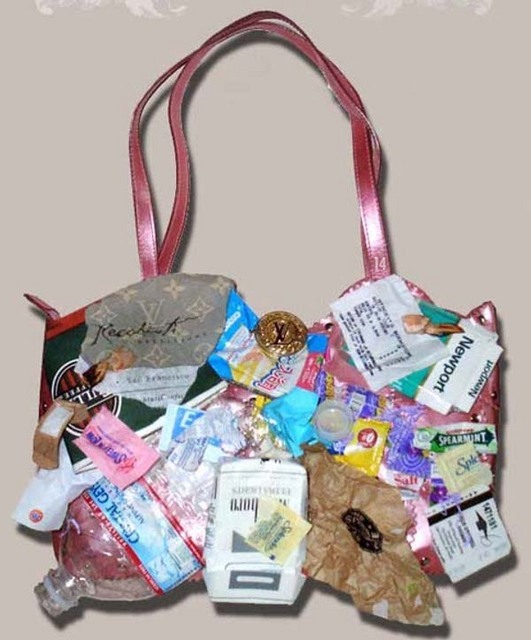 5th place: HermèsCrocodile Birkin bag - sumfrom glossy red crocodile leather with details of 18-karat white gold and inlaid with diamonds In 2011, at an auction in Dallas, Texas, an unknown buyer purchased this luxury accessory for $ 203,150 Originally, the Birkin bag belonged to a wealthy woman from Florida, which she acquired in 2006, but after Hermès offered her the same version of the bag in black, she decided to sell the old model through the auction house.


4th place: Lana Marks Cleopatra Clutch - another work by a famous American designer, made of white crocodile skin. Clutch is an elegant accessory, the clasp of which is made of 18-carat yellow gold and is encrusted with 776-colorless diamonds. In 2007, at the Oscar Awards ceremony on the red carpet with Lana Marks Cleopatra Clutch, actress Helen Mirren appeared. This product is estimated at 250 thousand dollars.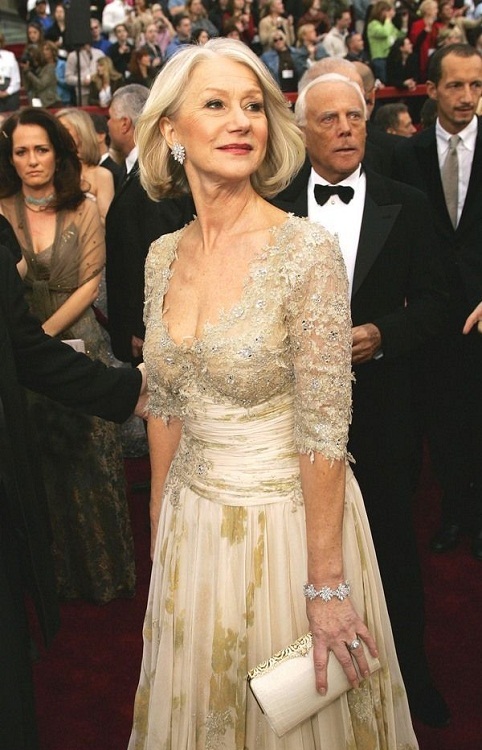 3rd place: Chanel Diamond Forever classik bag - a classic bag of a great fashion house, made of crocodile leather and decorated with a scatter of 334 diamonds totaling 3.56 carats. Inlaid with a gemstone clasp and an element of the handle of an elegant accessory from Chanel are covered with 18-karat white gold. In total, only 13 copies of the exclusive model were made, 5 of which found their owners in the US.The cost of Diamond Forever is 261 000 dollars.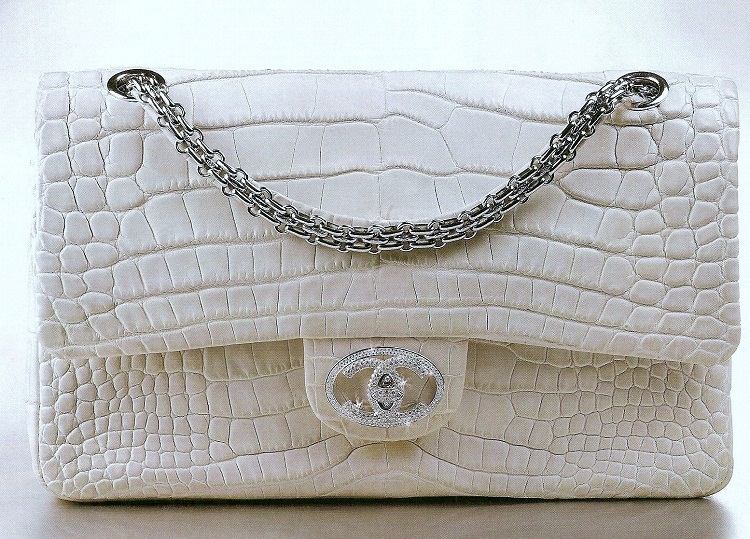 2 nd place: Ginza Tanaka Platinum Handbag is a truly luxurious accessory from the great Japanese designer, which has no analogues anywhere in the world. A bag made in a single copy is a product of pure platinum, encrusted with 2182th colorless diamonds, the total weight of which is 208 carats. This treasure from Ginza Tanaka is especially due to the fact that all his precious stones can be temporarily removed and worn as separate ornaments. So a diamond-strewn handbag strap turns into an elegant necklace or bracelet, and a centrally located 8 carat stone, framed with smaller diamonds, turns into a pendant or brooch. In 2008, an unrivaled accessory was sold for a very impressive amount - $ 1.9 million.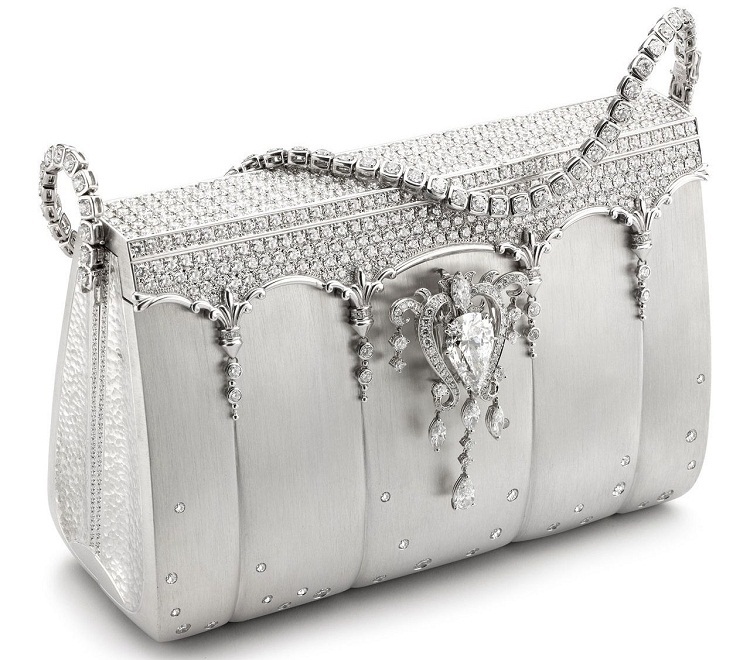 1st place: The Mouawad 1001 Nights Diamond Purse is the creation of the world famous house Mouawad, which in 2010 rightfully took its place in the Guinness Book of Records as the most expensive women's bag in the world, which is estimated at a colossal 3.8 million dollars. The heart-shaped accessory was made by hand from 18 carat gold and 4517 diamonds( 4356 colorless, 105 yellow, 56 pink) with a total weight of 381.92 carats. Thousands of precious stones are lined with an artistic design throughout the entire area of ​​the bag, which, according to one of the owners of Mouawad, should charm with the complexity of making, as well as the tales of Scheherazade captivated with their boldness and passion. To implement the idea of ​​Robert Mouad and do such a filigree work, ten masters of the company in total took four months of full employment and 1100 hours of continuous work.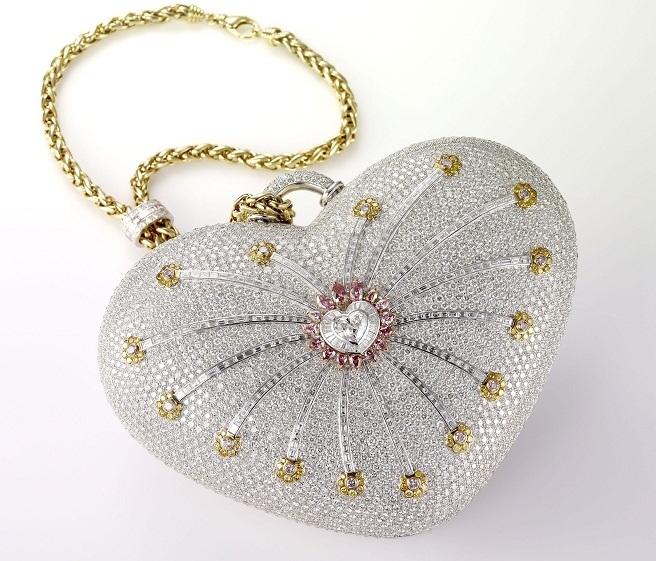 Since the XVIII century, when the flowering of fashion for women's bags of lace and precious stones began in France, the main function of this accessory has evolved into something more than the transportation of personal belongings. Over the years, popularity and prestige of women's bags have grown rapidly, and even today no fashionista can consider her image to be complete without the presence of a designer bag. Products from famous world brands are often created from incredibly expensive materials, for example, from precious metals or crocodile leather, are decorated with diamonds or simply bear the name of a fashion house, which can greatly affect their value. So in pursuit of the new creation of the popular designer, women are ready to give quite large sums, sometimes bordering on the sky-high.

We present to your attention the top 21 most expensive women's bags in the world.

21st place: Jackie Crocodile Shoulder Bag - the work of the renowned Italian brand Gucci, which is a bag of crocodile leather, decorated with details of pure gold. The cost of the accessory is 32 thousand USD.