Someone remembers the outgoing year sharp changes in the ruble exchange rate, someone - a military operation in Syria and a conflict with Turkey. But Time Magazine remembered this year as rich on useful novelties and made a rating of the most incredible inventions of 2015.
We present to you the top-7 technological novelties that make the world better, smarter and, in some cases, a bit more fun.
Contents:
7.
hoverboard 6.
bionic headphones 5.
advanced bodyscope 4.
new generation child's monitor 3.
underwear for critical days 2. Frying pan that teaches you to prepare
1. Eco-friendly car
7. Hoverboard
Do you remember the board on which Marty McFly flied in 2 and 3 parts "Back to the Future"?Soon it will cease to be fiction. Arca Space Corporation already accepts pre-orders for the ArcaBoard's hoverboard, which is equipped with 36 powerful fans and is capable of lifting a person weighing 110 kg to a height of up to 30 cm. The cost of such a device is 19. 900 dollars. The time of work until "pumped up" - only 6 minutes, after which you need recharging. And the weight of the board is rather big - 82 kg.
6. Bionic headphones
If you hear unbearable noise, there are two options: to plug your ears, or to leave. But with the bizarre headphones Here Active Listening, the third option appears - turn off the noise or reduce to an acceptable level. The device's processor is synchronized with the application for the smartphone, so users can manually select which frequencies they want to filter. This means that you could stand on the subway platform and conduct a normal conversation, not paying attention to the noise of the train. The project at Kickstarter has already raised 635,189 dollars. The headphones themselves will cost 200 dollars.
5. Improved stethoscope
There is one aspect of medicine that is more art than science. This is the way to listen to the heartbeat. Doctors for a long time relied only on their ears and memory to detect abnormalities with the help of a stethoscope. But it is necessary to connect the smart Eko Core adapter to the stethoscope, as the sound of the heartbeat can be downloaded to the smartphone. A special application will analyze the audio and compare it with previous records. This will help doctors detect cardiac abnormalities, and other heart problems that the human ear can not perceive. And the need for expensive tests, such as echocardiography, will also decrease. The adapter costs 199 dollars.
4. The new generation of children's monitor
Is everything alright with the child? The Sproutling device will answer this question. It attaches to the baby's body and monitors the heart rate, temperature and body position in real time and notifies parents, using a mobile application, if there is a reason for alarm. The cost of pre-order Sproutling is 299 dollars.
3. Underwear for critical days
For many years, women have tried to avoid the appearance of stains on underwear during menstruation. Basically, they had to rely on disposable pads, tampons and menstrual cups. But now Thinx panties have appeared, which are equipped with four layers of antimicrobial, absorbent tissue. They can be used many times. There are options for "light days"( absorb as half a tampon), for "medium"( as one tampon) and for profuse periods( absorbency - like two tampons).Deserved third place in the list of the best inventions in 2015. The cost of a pair of such panties( thongs and slips) - 24 dollars.
2. A frying pan that teaches to cook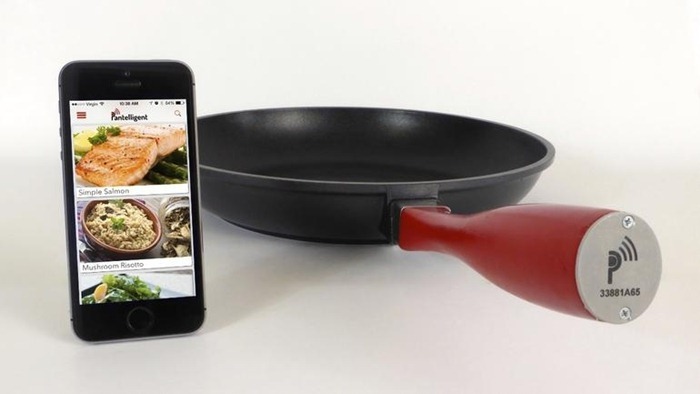 Pantelligent is an invention-find for an inexperienced cook. After you find the recipe in the smartphone application, a griddle equipped with a special heat sensor uses Bluetooth to display cooking instructions in real time on the mobile screen. You will know exactly when you need to turn the meat, for example, to get a middle-cooked steak. The price of a smart frying pan is 199 dollars.
1. Eco-friendly vehicle
The Tesla Model X, introduced in September 2015, is the world's first luxury electric SUV.It can go 400 km on one charge. Features of the car: futuristic rear doors that open like wings of a bird, acceleration to 96 km in 3.2 seconds.and power from 259 hp.up to 772 hpThe cost of an electric crossover is 130 thousand dollars, sales will begin in 2016.