Xiaomi Mi6 64Gb. Review and Feedback of Owners
Xiaomi Mi 6 - the new flagship of the Chinese company Xiaomi. His official sales in Russia started on July 4, 2017.Mi 6 currently has two varieties that differ only in one item, the younger model has 64 GB of permanent memory, the older one has 128 GB.In this brief review, we will consider a more affordable, and therefore more popular model Xiaomi Mi6 64Gb.
Specifications Xiaomi Mi6 64Gb
IPS screen 5.15 inches resolution 1920x1080 pixels, operating system Android 7.1, 64 GB of permanent and 6 GB of RAM, support for two SIMs. There is no support for an external memory card, although 64 GB for an average smartphone user is more than enough. The battery capacity is 3350 mAh. The battery life in the video view mode is 9.7 hours, in the game mode - 7 hours. In terms of autonomy, Mi 6 about 1.5 times exceeds such flagships as the iPhone 7 Plus or Huawei P10.The 8-core Qualcomm Snapdragon 835 MSM8998 processor, along with the already mentioned 6 GB of RAM, give excellent performance: Mi 6 is the world's third-largest smartphone( and the second of Android smartphones), it is second only to HTC U11 and iPhone 7 Plus( antutu rating results.com).There is a fingerprint scanner. There is protection from water.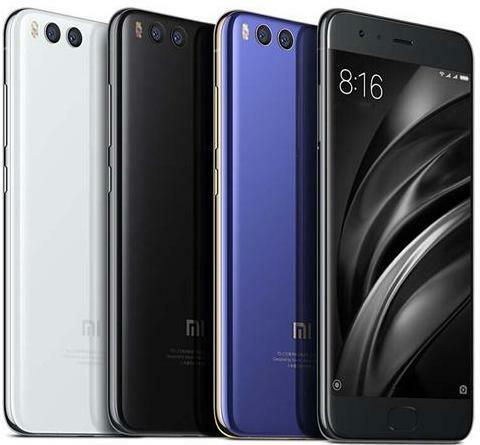 Xiaomi smartphones have always had excellent technical characteristics, but could not boast of an ideal camera. The camera of the new flagship in Xiaomi is positioned as a real alternative to the iPhone 7 Plus. The main camera Mi 6 is equipped with two lenses, a wide-angle and telephoto lens, both with a resolution of 12 megapixels, as well as a 4-axis optical stabilization system. Working in pairs, these cameras allow you to make beautiful and clear pictures in any conditions. The portrait mode allows you to make clear and high-quality photos. The Mi 6 has a portrait lens with a focal length of 52 mm. A camera with 2x optical zoom allows you to take great landscapes, and a 10x digital zoom can capture even small details from a long distance. Mi 6 with 4-axis technology of optical image stabilization makes clear pictures, catching even the smallest vibrations. Built-in accelerometer and gyroscope allow to stabilize the slopes and movements of the smartphone during the shooting.
Front camera received 8 megapixels and a new firmware. The technology of beautiful filters Beautify 3.0 reacts differently to men and women - it changes the appearance of men a little less. Women reduce cheeks, smooth the skin and slightly increase the eyes more.
Portal hi-tech.mail.ru in the June comparison cameras flagships in 2017 put the camera flagship Xiaomi as many points as Sony Xperia XZ Premium. At the same time, Mi 6 managed to bypass the flagship of ASUS company - ZenFone 3 Zoom, which is positioned as a camera phone.
So, the new flagship of Xiaomi has a good camera and autonomy, as well as excellent performance. All this at a price is half that of Samsung or Apple's flagships. In this case, lovers of large screens this model will not work - the diagonal of the display is only 5.15 inches.
Xiaomi Mi 6 is among the top 10 best flagships for 2017.
Xiaomi Mi6 vs. Xiaomi Mi5s
Mi6 is the successor of last year's autumn flagship Xiaomi Mi5s .Let's consider, in what differences between them. But first, the technical characteristics of the Mi5s 64Gb: IPS LCD screen 5.15 inches with a resolution of 1920x1080 pixels, Android 6.0 operating system, 64 GB permanent and 3 GB RAM, support for two SIMs.4-core processor Qualcomm Snapdragon 821. Battery capacity 3200 mAh. There is support for LTE.There is no support for an external memory card. There is a fingerprint scanner( under the screen).
Main camera: 12 megapixel with autofocus and flash, Sony IMX378 sensor, 1.55 micron pixel size, f / 2.0, 5 lenses, video is recorded in 4k. Front camera 4 megapixels, pixel size 2 microns, f / 2.0.
Xiaomi Mi5s at one time caused some bewilderment among fans of Xiaomi, tk.innovations were not so much, and in some ways the Mi5s took a step backwards compared to the Mi5, for example, with a newer model, the camera became worse. However, in the case of Mi6, it is obvious that Xiaomi did a lot of work on the errors, becausethe new flagship differs from the Mi5s very much: the new Android is not particularly surprising, but the updated processor + twofold increase in RAM gave an incredible performance boost and, as already mentioned, brought the Mi6 into the top three of the most powerful smartphones in the world today. The battery also became more powerful, albeit not much. The chambers underwent radical changes. The main became double and finally began to shoot at the level of camera phones, the front also significantly added in quality( for example, megapixels became twice as large).Therefore, there is no doubt that now it is necessary to buy Xiaomi Mi6, and not clearly unsuccessful Mi5s.
Price
Average price Xiaomi Mi6 64Gb in Russia - 27 000 rubles. Buy Mi 6 64Gb on AliExpress can be for 25 thousand rubles( shipping to Russia is free).
Reviews
Today Xiaomi Mi6 64Gb received 64% of fives for reviews in the Yandex Market . The following are reviews of the owners of the Xiaomi Mi6 64Gb from various sites.
see also The best smartphones Xiaomi