OUKITEL K10000.Review and Feedback of Owners
OUKITEL K10000 is the only smartphone with a capacity of 10,000 mAh. This is 5.8 times more than the 6th iPhone. What does this mean in practice? The fact that OUKITEL K10000 will work without recharging for several days with intensive use, so the problem that the phone suddenly discharges, for this model is not relevant. The 4PDA portal titled the review of this model is very eloquent - "Beast Power in Metal".The review said that the smartphone for five days of active use( photo and video, Internet surfing, checking social networks, publishing photos in Instagram, watching videos on YouTube, reading books and continuous background music player) was discharged to 17%.When watching high quality video at the maximum backlight brightness and the "Flight" mode on, the smartphone is completely discharged in 21 hours and 33 minutes. For one hour of the game in Lara Croft: Relic Run with the wireless connection and data transfer enabled, the battery lost only 3%.
OUKITEL K10000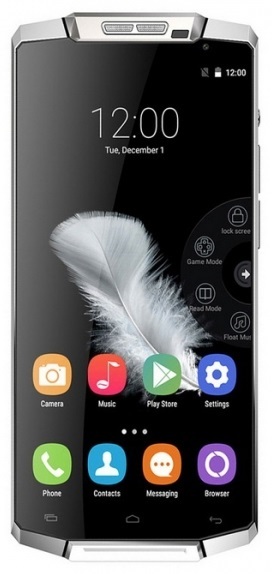 This model can perform functions not only of a smartphone, but also of a portable battery( for this purpose, the OTG cable is included), because with the OUKITEL K10000, according to the manufacturer, you can fully charge three iPhone 6 Plus and still have10 percent charge.
Comes with a smartphone is a charger for 9V / 2A, which provides charging from zero to 100% in just 3 hours 47 minutes.
OUKITEL K10000 takes the first place in the ranking of the best smartphones with a powerful battery.
Other technical specifications: a 5.5 inch screen with a resolution of 1280x720 pixels, an operating system Android 5.1( it is planned to upgrade to the 6th Android), 16 GB of permanent and 2 GB of RAM, there is support for an external memory card up to 32 GB,cards. The main camera is 13 mp, the front camera is 5 mp. In general, the ratio of "price-quality" is excellent.
The average price in Russia is 8,800 rubles. Buy OUKITEL K10000 on AliExpress can be for 7,9 thousand rubles( shipping to Russia is free).
Today, according to the reviews in the Yandex-Market, the OUKITEL K10000 model scored 55% of fives.
Below are reviews of the owners of the smartphone OUKITEL K10000 from various sites. For publication, only useful and informative reviews are selected, both positive and negative.