A loft in any room looks somewhat unusual. This is despite the fact that this style has been actively used in interior design since the end of the last century. Someone considers it unacceptable for children, but, according to others, this is the best option for decorating a room for a toddler or teenager.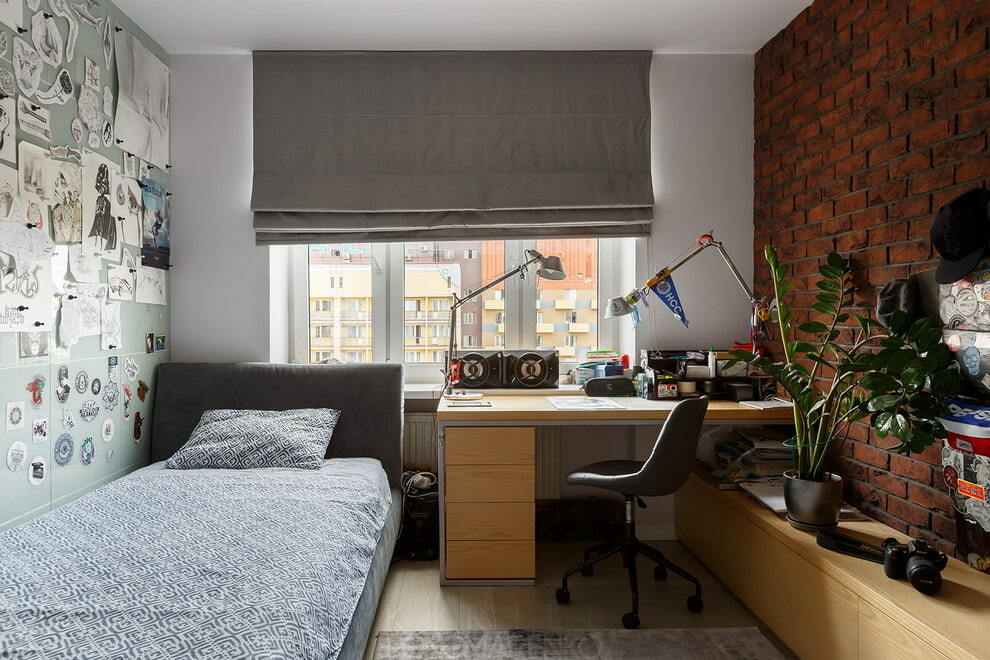 The main task of the design of a loft-style nursery is to organize the most open and free space.
Style features
Content
Style features

Loft-style nursery zoning

Choosing a color

Walls, floor and ceiling

Lighting

Furniture

VIDEO: Interior of a children's room in the loft style.

50 options for decorating a children's room in the loft style:
The interior in this design becomes like an attic, where you can embody any, the most daring and non-standard ideas. Therefore, more often it is in demand for teenage rooms.
Thanks to the competent use of such an adult stylistic direction, you can achieve a fashionable and comfortable interior, both in the room of a teenager and a baby.
For some reason, most of us are sure that it is possible to embody stylish loft ideas only on a large area. But this is not the case. A sense of spaciousness can be achieved with the help of furniture, the color of finishing materials and the correct location of light sources. And it is not necessary to carry out serious dismantling work.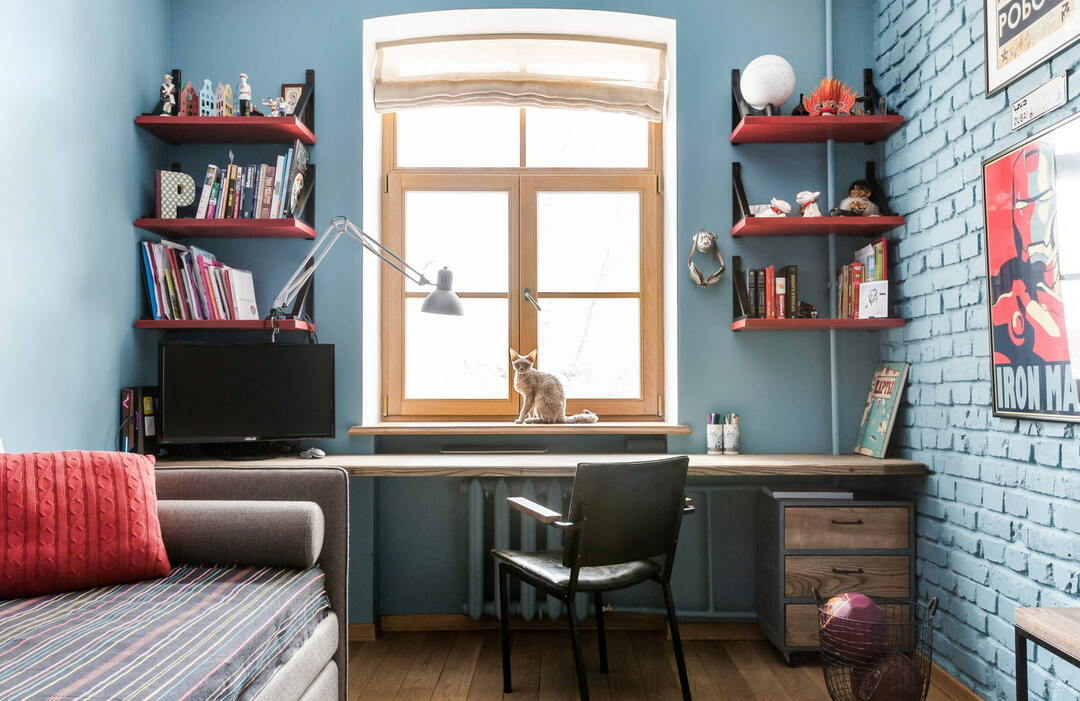 The room has rough surfaces and sloppy finishes.
Characteristic features of a loft-style nursery:
Plenty of free space;
Lots of light;
Unfinished walls;
Combination of modernity and deep antiquity;
The presence of metal structures of various shapes and sizes;
Natural finishing materials: stone, wood.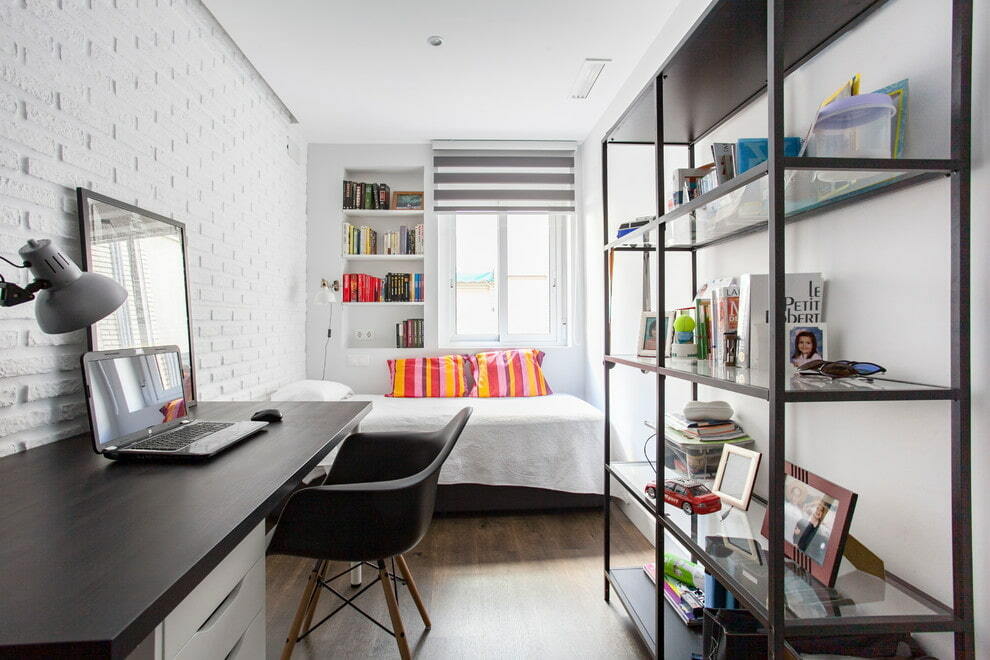 The use of wallpaper imitating plaster, shabby or bare unpainted walls is encouraged.
The history of the emergence of this style, as a separate direction in design, is extremely simple. Economic and industrial areas began to be allocated for living quarters. For a creative person, such a space is a field for the embodiment of bold and incomprehensible ideas for many. Therefore, very quickly, brickwork and open communication lines began to be perceived not as an unfinished renovation, but as a stylish solution in the decoration of the premises. The walls, as a rule, were left completely unfinished. Brickwork and concrete surfaces are essential companions to a loft.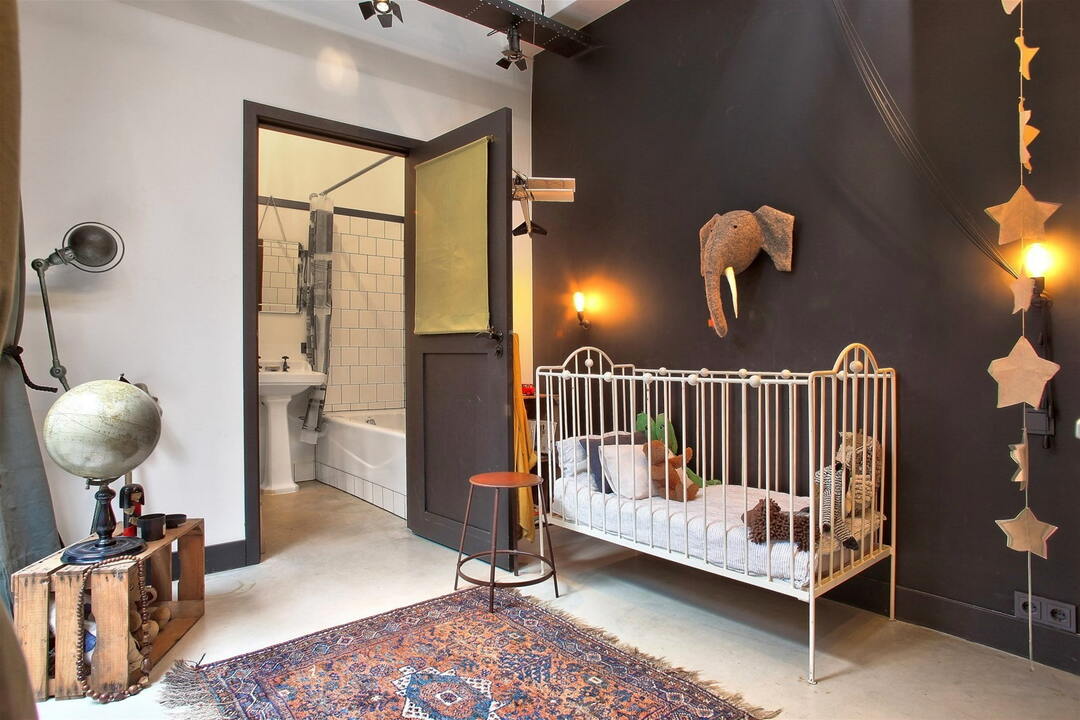 For decoration, it is appropriate to use open communications, pipes and open ceilings.
Also, the style is characterized by a minimum amount of furniture, only the most necessary. This means that it is quite possible to create such a design solution for 10-12 square meters.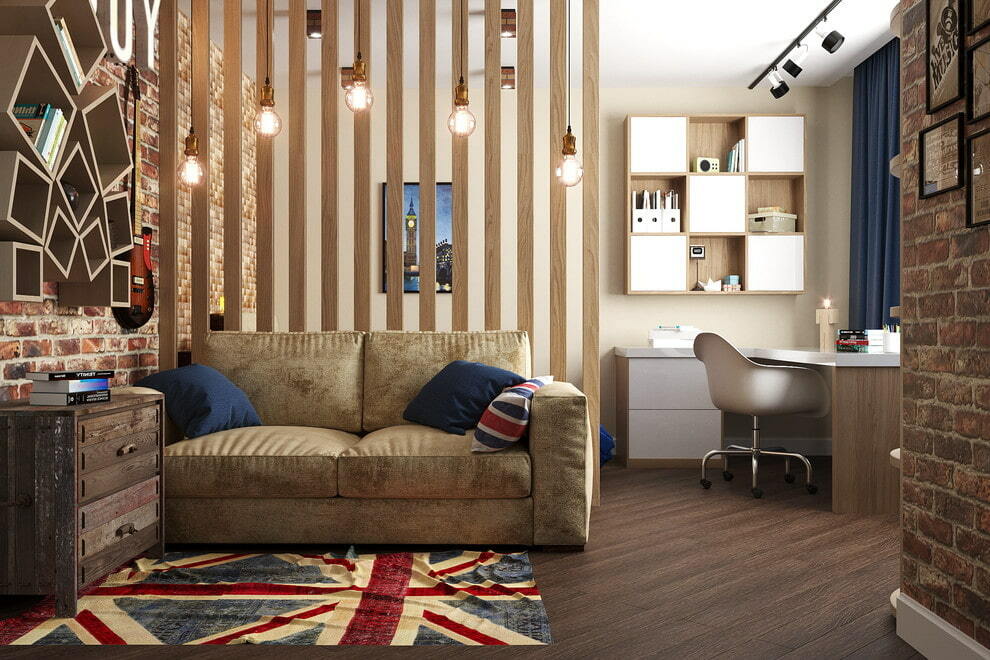 It is important to have functional furniture of a simple form with aged surfaces.
Taking into account some of the nuances of decoration and decor, you can create an amazingly beautiful and functional room for a teenager.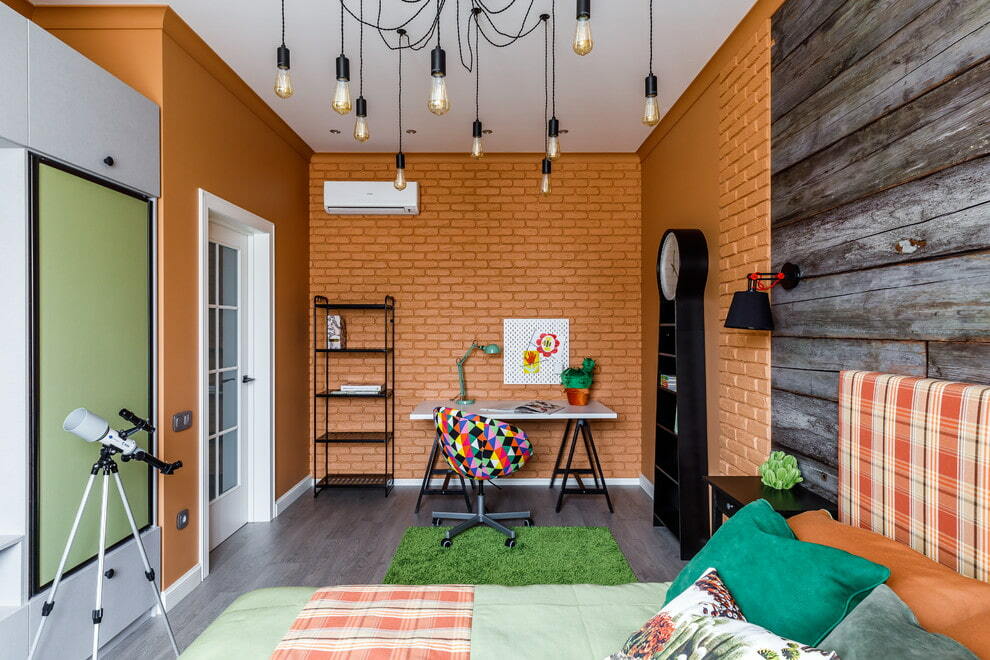 The loft makes it possible to combine old and modern objects.
Loft-style nursery zoning
In order for the child to like his room, and he wanted to be in it, it is important to correctly organize the available space. Immediately, we note that successful zoning is possible not only in large rooms, but also on modest square meters.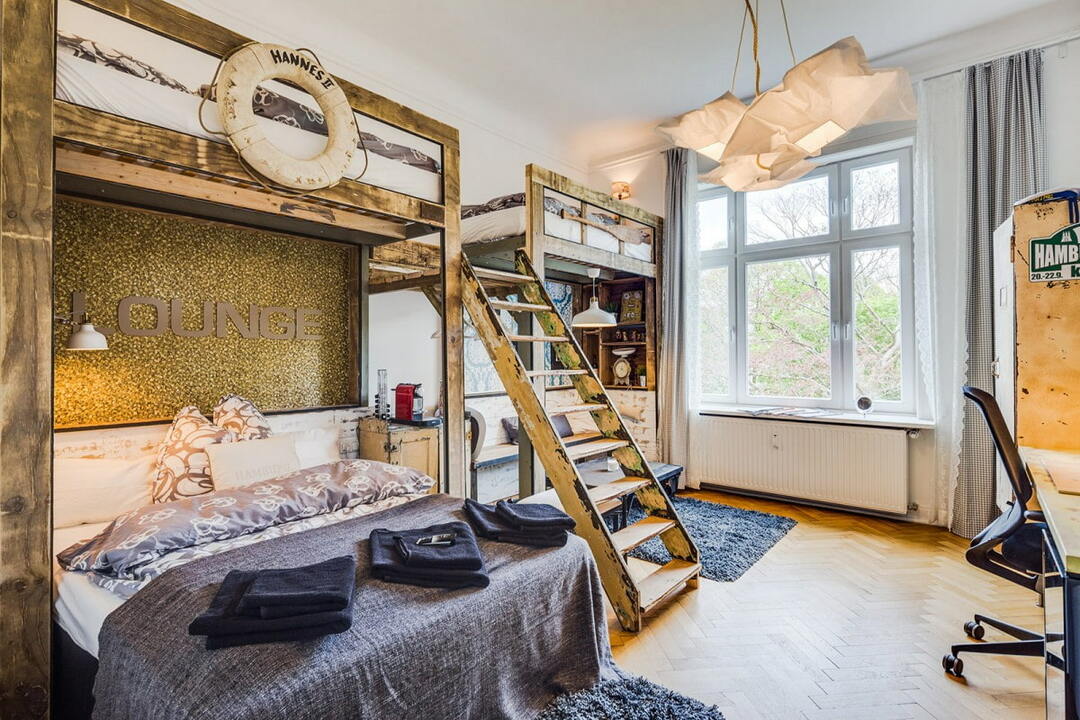 Usually in the loft style there are gray, white, beige, terracotta tones.
In a loft-style nursery, the division of space into zones is not done with the help of additional interior elements (partitions, screens and shelves), and the play of color, lighting and the correct arrangement of required items furniture. You can also zoning using a combination of different textures of flooring and wall decoration.
For a nursery, it is not advisable to use a too dark and gloomy scale, as it can contribute to a depressing atmosphere.
Practical zoning is achieved using multifunctional furniture. So, the bed can be combined with storage space and look like a bunk object with a horizontal surface at the top (sleeping place) and many compartments and shelves below.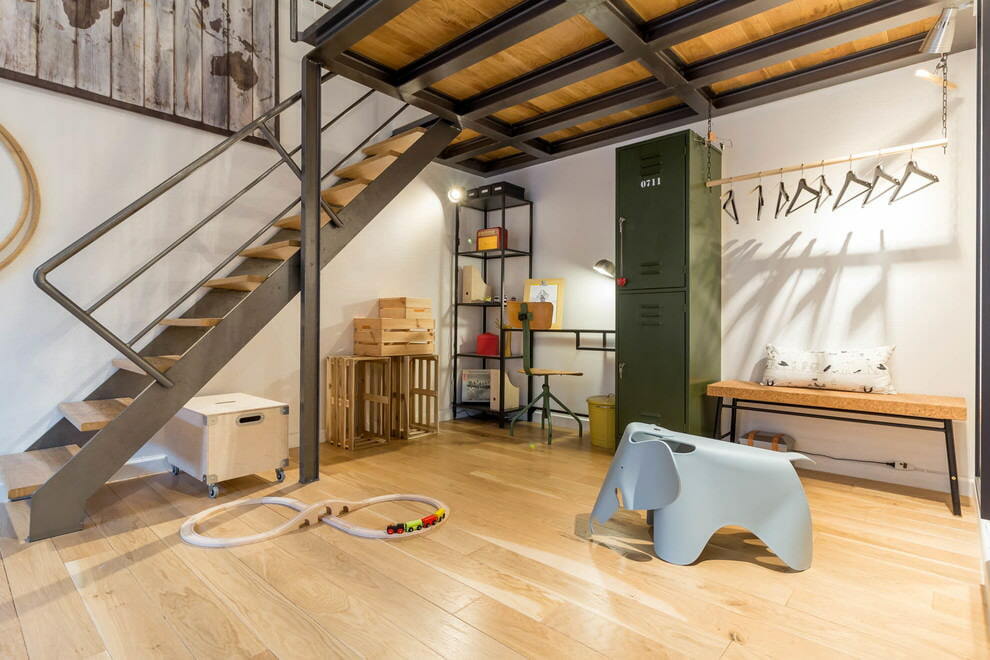 White is an indispensable tool for creating a spatial illusion.
Another option for using a two-tier structure is a workplace on the lower "floor", and a sleeping area on the upper. The main thing is that the stairs to the upper tier are comfortable and safe. Since, as practice shows, the upper tier is used not only as a sleeping place, but also as a secluded corner for playing hide and seek or other entertainment.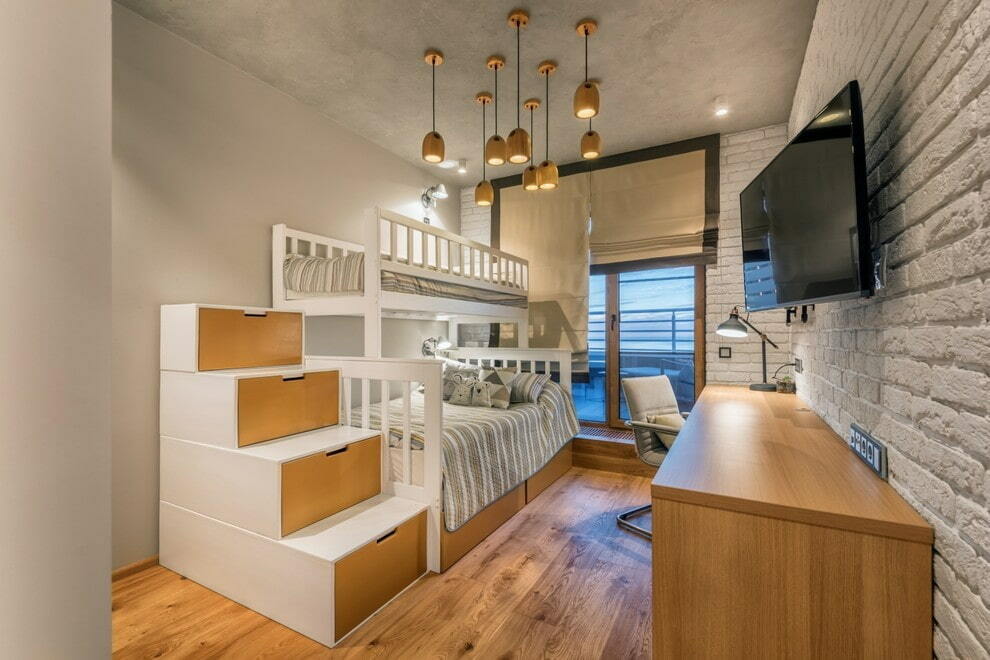 For the nursery, items are chosen that have several functions at once.
Choosing a color
Today, color solutions for a loft are more democratic than when this style appeared. Decorating the walls in dark colors, and even more so for a children's room, is not the best solution. But a modern loft does not require this. The right solution is muted shades, diluted with bright accents of yellow, red, blue and green.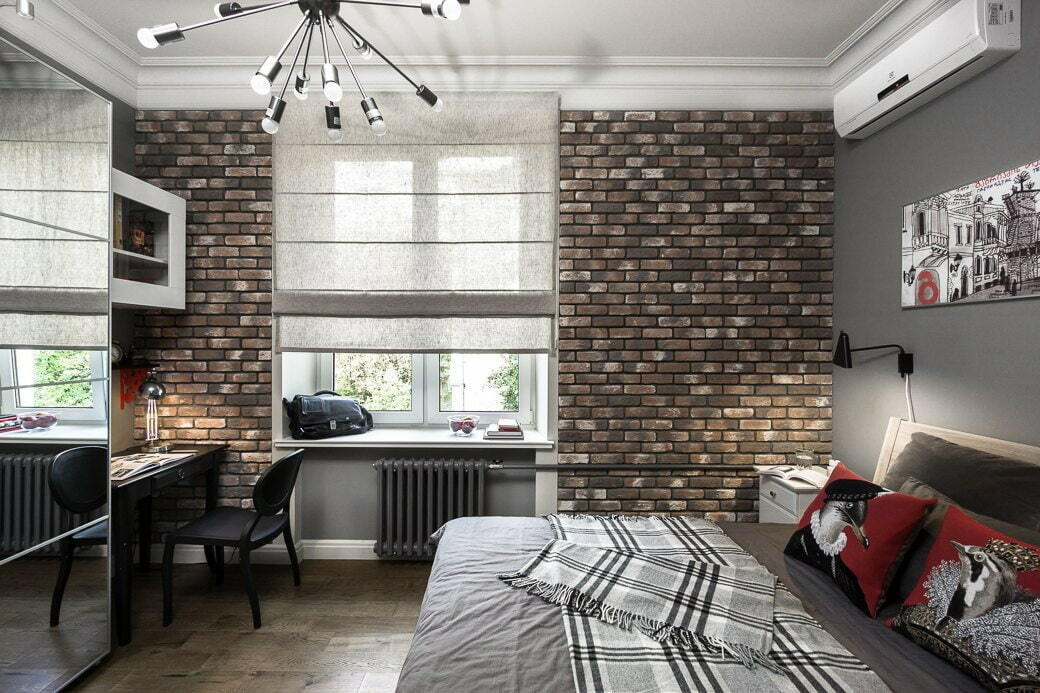 The cabinet can have glossy or mirrored fronts, this allows you to add depth to the room.
Usually brown is chosen as the base. This, as they say, is a classic of the genre, and only then other colors are added. By the way, even the decoration of a children's room is not a reason to mix shades in unlimited quantities. Ideally, there should be no more than three colors.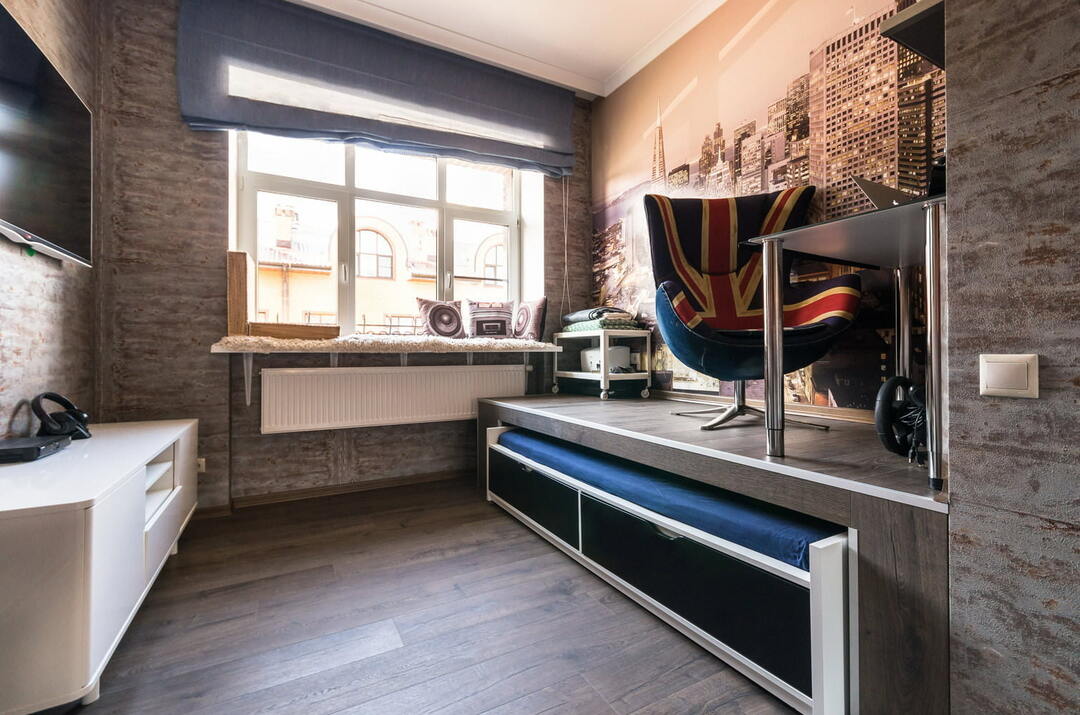 In order not to overload the room, a closed storage system is installed.
The modern range of lamps allows you to make competent zoning of the nursery and using a multi-level arrangement of light sources. So, in the working area, this is necessarily a table lamp, next to the sleeping place - a night light (it is better if it has several modes lighting), in the play area you can install a laconic lamp on a bracket so that it can be positioned as it is convenient for the given moment.
The bed deserves special attention, it should be made of environmentally friendly material, such as wood.
Walls, floor and ceiling
Since this style "welcomes" only natural materials, we choose wood for the floor. No linoleum will "get along" with this simple yet complex design. Also, forget about carpeting around the entire perimeter. The only thing allowed is a small rug where the child will play. It is better if the carpet is shaggy, light or dark gray. The size is small, but it should be positioned so that it does not touch walls and pieces of furniture, and there is a gap of at least a few centimeters.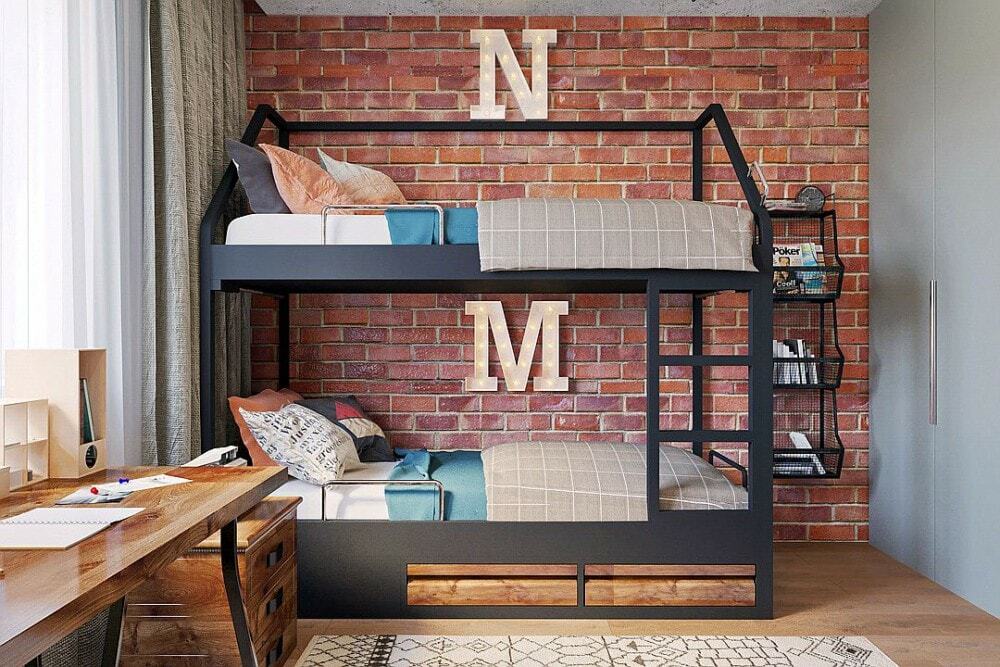 An obligatory element of a loft is brickwork or other materials with its imitation, such as wallpaper or plaster.
It is better to choose beige paint for finishing the ceiling. There are at least two explanations for this decision: such a design will look much better than ordinary plaster, but at the same time there will be a feeling of incompleteness, and this is the main sign loft. Alternatively, the ceiling can be finished with natural wood.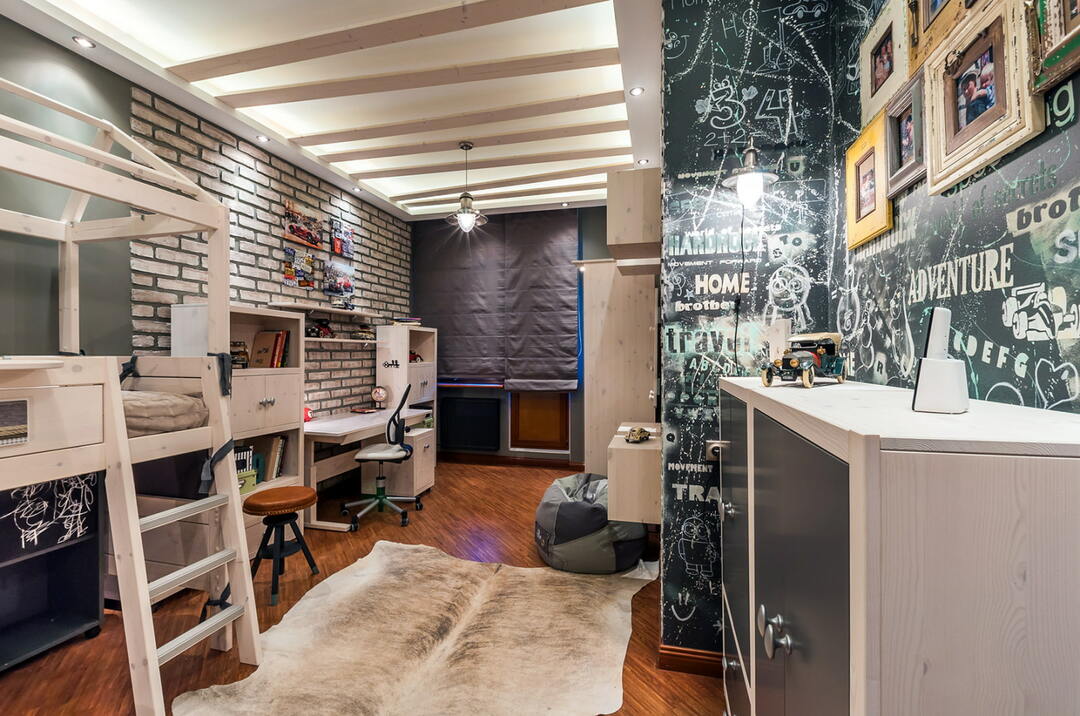 In an apartment with a high ceiling, the surface can be decorated with beamed ceilings or their imitation, painted in black or brown tones.
Moving on to finishing the walls, remember that at least one of them should remain "rough", with brickwork. If a finished apartment is being designed in the loft style, then one wall will have to be finished in this way. This is not easy, since the masonry should look as natural as possible, and between the "bricks" there must be "concrete" visible.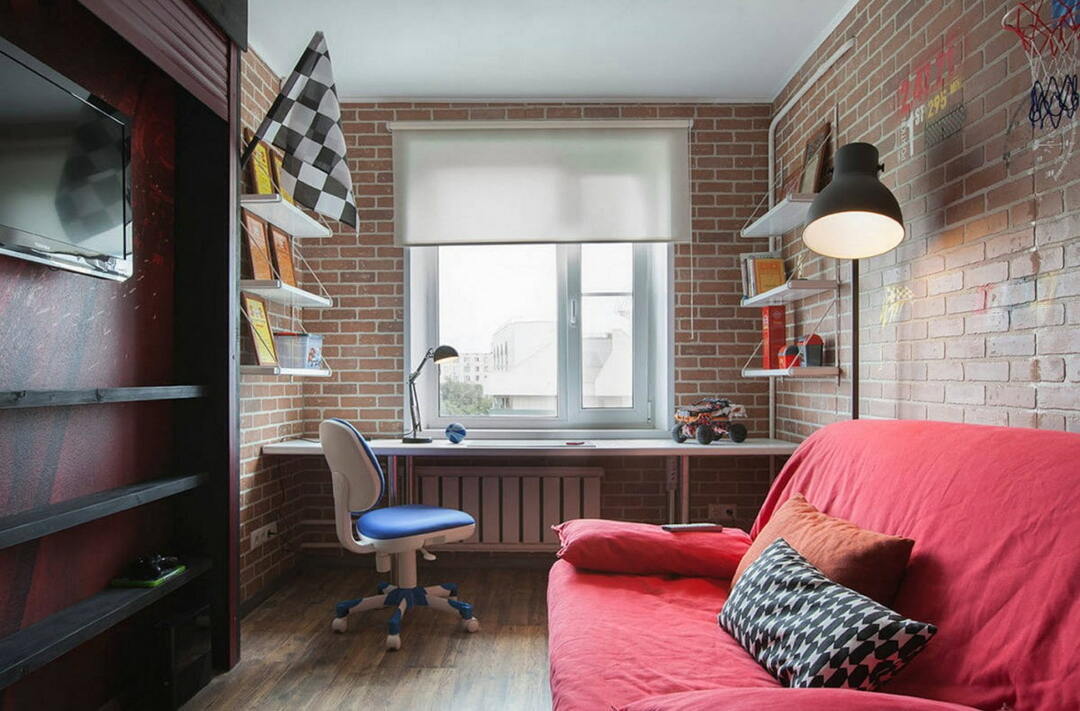 The floor surface is faced with a wooden or parquet board with a slightly worn surface.
The loft style is the perfect solution for creative people. Teens who choose this style for their personal space are guaranteed to be creative. Therefore, it is very important to leave room for them to implement their ideas. Perhaps it will be a free wall on which the "owner" of the space decides to hang his paintings or photographs. Or maybe this place will be occupied by posters depicting your favorite band or comic book heroes. In general, let him decide for himself. The main thing is to have a place to implement your ideas. A loft-style room for a teenager provides such an opportunity.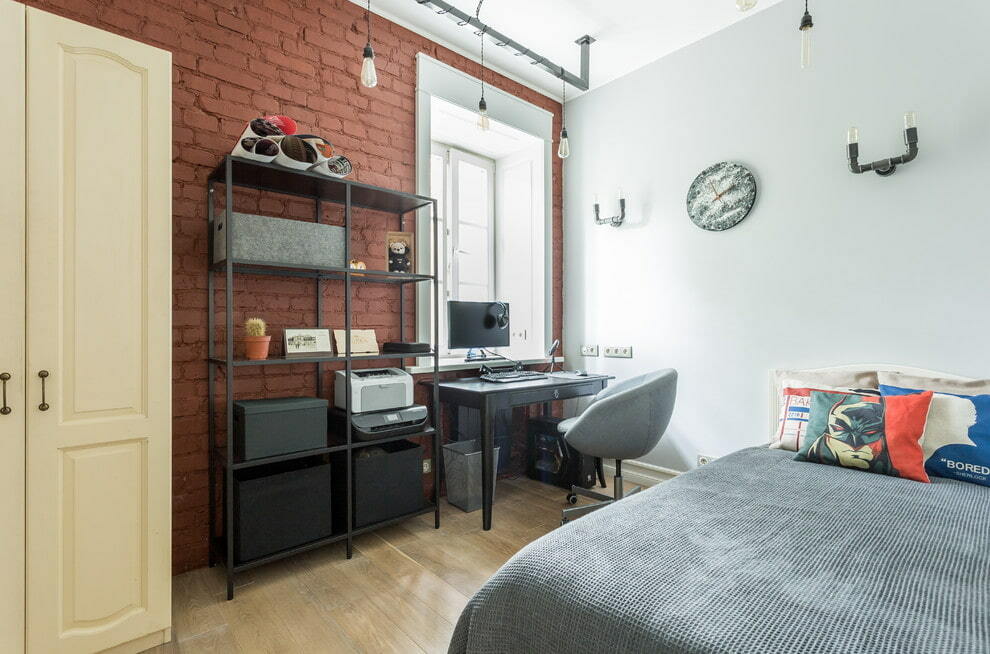 The design assumes textiles in natural colors.
Lighting
The appearance of a room is directly related to the quality of lighting. For the nursery, you can apply different options:
Small bulbs;
Suspended structures in the form of ropes;
Antique chandeliers;
Metal lamps of various shapes and sizes;
Fan-equipped models;
Conventional table lamps.
Textiles can be decorated with large drawings that set the room in a special urban mood.
Large letters or backlit stars look very unusual in the loft style. Such an element is both practical and very effective.
Furniture
Loft-style furniture is another story. Having undertaken to design a nursery in this style, you will have to follow it to the end.
A distinctive feature of interior items in this style is the natural materials from which they are made. As a rule, unpainted wood is used. Designers recommend even in a loft-style nursery to use furniture in neutral shades, and if you need bright accents, do them with a bedspread, carpet, picture or other auxiliary elements.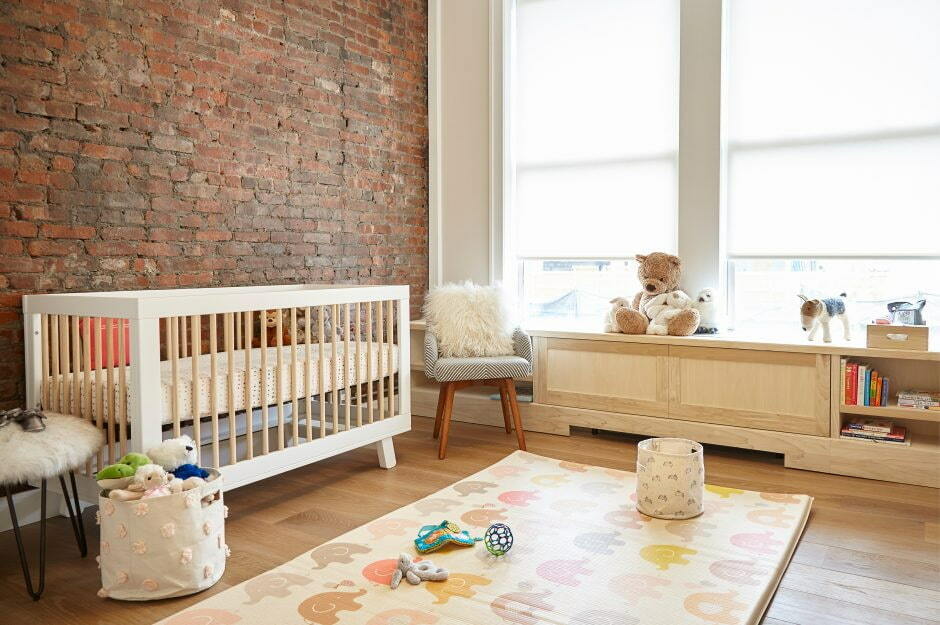 In the photo there is a white crib made of wood in a loft-style room for a newborn baby.
Furniture items must be laconic and functional. And better - multifunctional. For example, a bed with built-in bedside tables for storing things or bed linen, a folding table and chairs.
Bunk furniture is also suitable: there is a sleeping place at the top, a work area or cabinets and shelves at the bottom.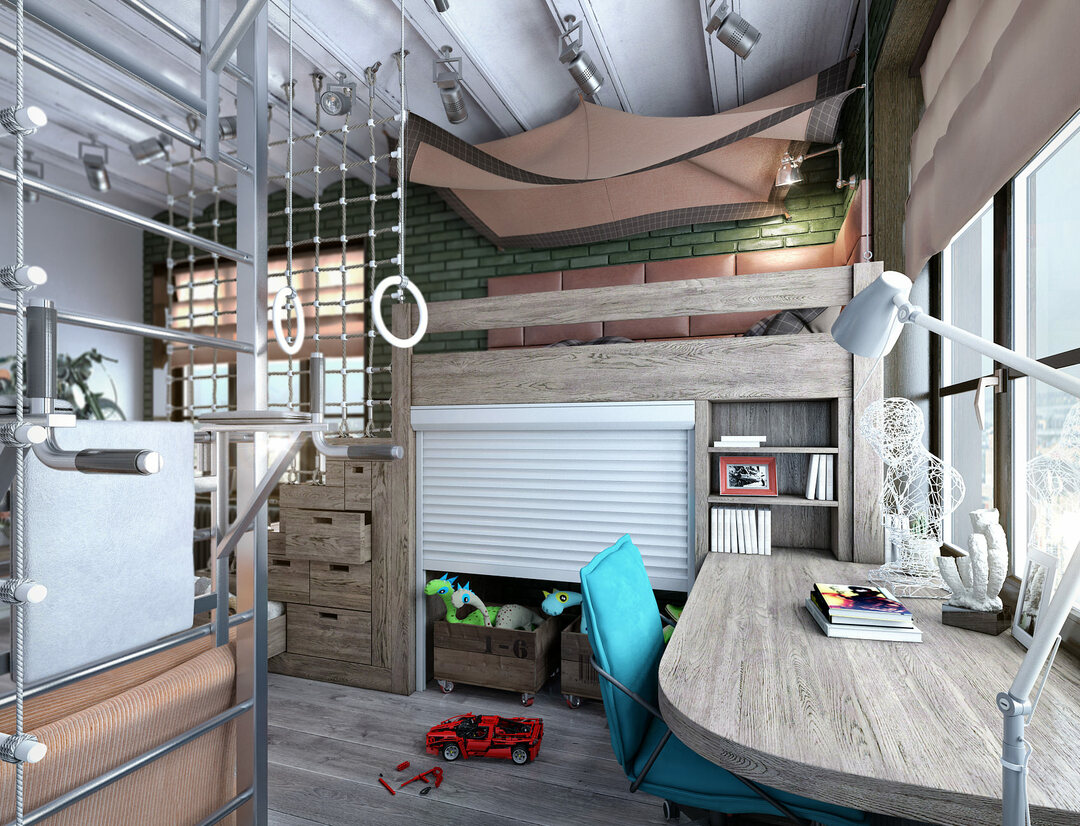 The study area should be spacious enough. It is desirable to place a large wooden table in it.
There shouldn't be a lot of furniture in this style. Therefore, the simplest loft interior is "friendly" with built-in wardrobes or hanging shelves of a simple design.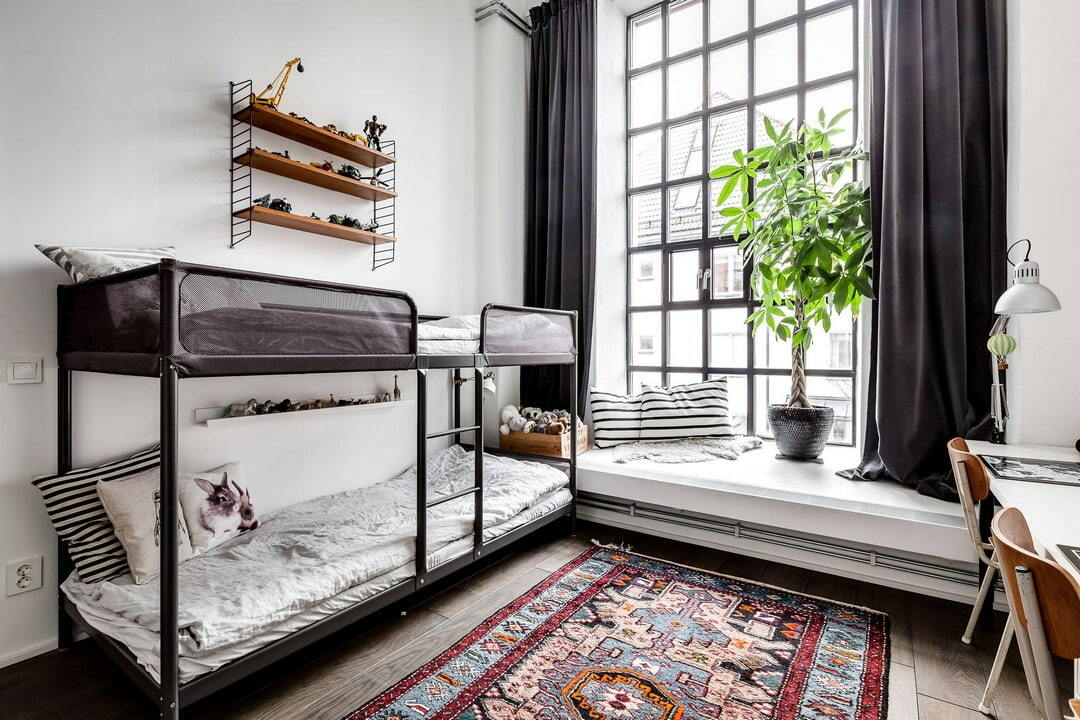 For windows, blackout curtains in rich deep colors are selected.
An interesting fact: the loft perfectly "gets along" with non-standard pieces of furniture. For example, poufs of an unusual shape, frameless bean bag chairs, transforming furniture. All these elements will help create an unusual and pleasant atmosphere, so that the child does not want to leave his personal space.
Bed
This interior detail deserves special attention. After all, the more complete your child's rest is, the more fruitful and active his day will be. Important: do not neglect the appearance of the bed. If your child doesn't like the bed visually, take the time to choose what he likes. Also, the model should harmoniously fit into the overall interior.
As lighting elements, it is appropriate to install lamps with a classic, urban and minimalistic design.
There are several types of baby beds for the loft style:
Single bed with metal or wood frame;
Daybed with wrought iron walls;
Bed with a lifting mechanism (mounted under the ceiling);
Loft bed;
The bed is on a wooden platform.
Each of these models has its own advantages and disadvantages.
The interior of the room is complemented by shelves arranged in a chaotic manner and provide an opportunity for the child to independently fill them with the necessary decor elements.
Don't buy massive wall beds for this style. Although such models have a number of additional functions, they will look cumbersome in a children's room.
An unusual, but beloved by many loft may well exist in the vastness of the children's room. Especially teenagers will love this free, minimalist and very user-friendly design. In addition, the loft leaves room for the realization of the child's creative abilities, which means it will have a positive effect on his development.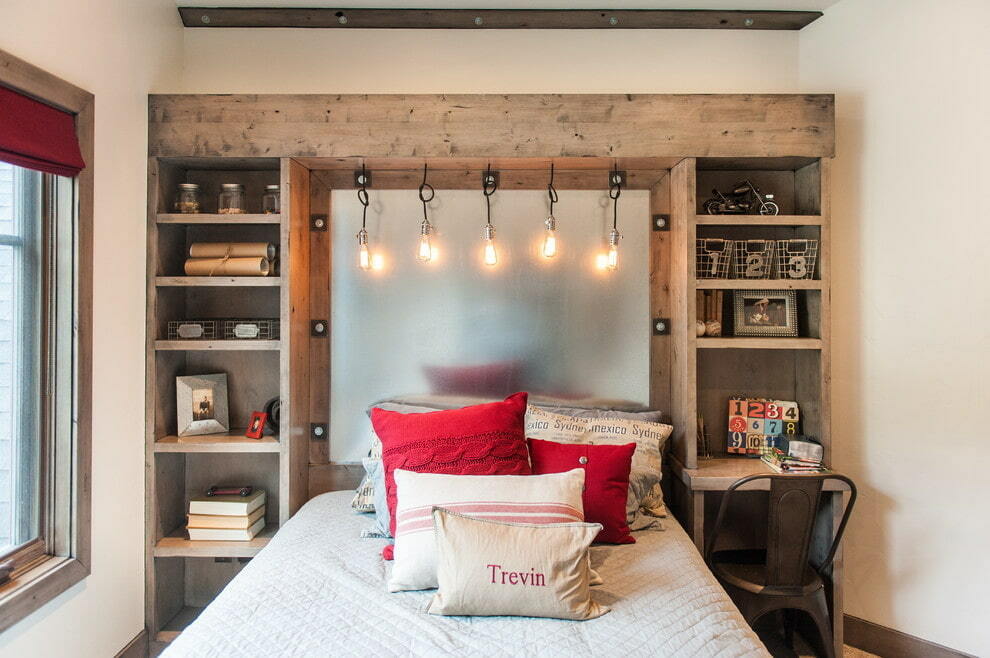 A loft-style nursery presents a very unexpected interior solution that always looks original and non-trivial.
VIDEO: Interior of a children's room in the loft style.
50 options for decorating a children's room in the loft style: